Advanced Silicon Group (ASG) is one of 20 medtech startups chosen as finalists in the 7th annual M2D2 $200K Challenge. CEO Marcie Black told us the story behind their innovation and shared their vision for its future. 
What is the innovation you've entered in the M2D2 $200K Challenge?
ASG is enabling drug developers to measure the concentration of biomarkers in patients' blood, giving an early indicator in clinical trials.
What inspired you to develop your device?
We learned about the amazing promise in therapeutics including personalized medicine, targeted treatment for cancer, and immunotherapy. However, while many types of therapies have made significant progress, the diagnostics to compliment these therapies were too expensive, not sensitive enough, or too slow to really help large portions of the population. While ASG's technology was originally developed for solar cells, we realized this same technology could also be used to make low-cost and highly sensitive bio-detectors. Our work to understand the market for therapeutic diagnostics led us to seeing the very expensive and inefficient process of drug discovery. We were thus inspired to use our technology to accelerate the screening process, eliminating ineffective drugs from further evaluation at an earlier stage in the process.
What are the most significant barriers you've faced and overcome? 
We have a platform technology to sensitively measure the concentration of proteins and/or DNA in small sample volumes. One of our largest challenges was in finding the best market for our sensor. Everyone will take a sensor that is more sensitive, but we wanted to find a market where we are solving a real pain point and for which we could capture some of the value we bring to the market.
Can you share a "Eureka!" moment—a breakthrough in the development of your idea?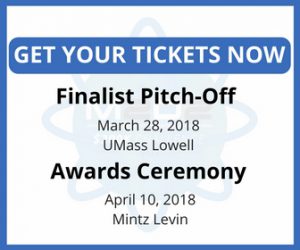 Others are using nanowires for biosensing, but the way they contact the nanowires is expensive and has a low throughput, making it unlikely that those nanowire sensors will ever be made in mass production.  Our "A-Ha!" moment was when we realized that we don't have to electrically contact both sides of the nanowire to be able to tell what is happening on the wire's surface. Instead, we make the nanowires so that they are vertically aligned and are electrically contacted with each other. This device design allows us to put millions of nanowires per sensor instead of the 5 to 10 nanowires used in the other designs.
If you win, what's next?
We are partnering with CRLs and biopharma companies to design a single test that measures all of the relevant biomarkers. We will then need to quantify the sensitivity and specificity for each of the relevant biomarkers.
Learn more at www.advancedsilicongroup.com
You're invited to meet ALL the finalists in person at the two upcoming events that will conclude the Challenge:
Challenge Pitch-Off—Wednesday March 28 at 5:00 pm, University Crossing, 220 Pawtucket St., Lowell
Finalist Awards & Networking Event—Tuesday April 10 at 5:00 pm, Mintz Levin, 1 Financial Center, Boston
For more information and tickets, visit https://www.eventbrite.com/e/m2d2-200k-challenge-finalist-pitch-off-awards-ceremony-tickets-43307428685