Meet Versatope, one of 20 medtech startups chosen as finalists in the 7th annual M2D2 $200K Challenge. SVP Ly Phan described their innovation and shared the story behind its inspiration and development.
What is the innovation you've entered in the M2D2 $200K Challenge?
An immuno-therapeutic and vaccine delivery platform made from probiotic exosomes (extracellular vesicles)—designed by nature and customized by Versatope to deliver immunity.
What inspired you to develop your device?
Our idea originated at Cornell University when, one day in a hallway, Matt DeLisa, one of our founders, asked Dave Putnam, another founder, "Dave, do you think we could use probiotic exosomes [outer membrane vesicles] for therapeutic applications?" Dave hadn't heard of them before, so Matt explained them as extracellular exosomes derived from bacteria. Dave went back to his office for a while and realized these could be useful for vaccines and a new way to tailor the immune response to different therapeutics.
What are the most significant barriers you've faced and overcome? 
We struggled with the safety issue for quite some time before realizing we could engineer out the endotoxin activity that triggers through toll-like receptor-4 (TLR4) and causes bad reactions in people. Before successfully addressing the safety concerns, we thought our device would be restricted to animal uses, but now we are looking forward to administering our therapeutics and vaccines into human patients.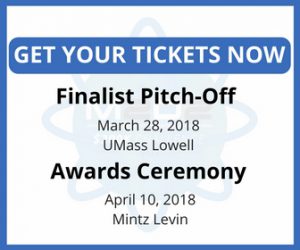 Can you share a "Eureka!" moment—a breakthrough in the development of your idea?
When the CDC successfully treated ferrets against infection with the human pandemic H1N1 California 2009 strain!  After that experiment, Dave had the realization that the exosomes had the real potential to become a vaccine and therapeutic delivery system for human diseases.
If you win, what's next?
The company will have the lab space it needs to get started on the process development work that is required for the testing of the technology in people. We will also coordinate meetings with the sponsors of M2D2, who will be our business advisors and potential pharmaceutical partners. This is a critical step because the survival of our company depends on ensuring that we have the proper steps in the right order.
Learn more at www.versatope.com
You're invited to meet ALL the finalists in person at the two upcoming events that will conclude the Challenge:
Challenge Pitch-Off—Wednesday March 28 at 5:00 pm, University Crossing, 220 Pawtucket St., Lowell
Finalist Awards & Networking Event—Tuesday April 10 at 5:00 pm, Mintz Levin, 1 Financial Center, Boston
For more information and tickets, visit https://www.eventbrite.com/e/m2d2-200k-challenge-finalist-pitch-off-awards-ceremony-tickets-43307428685