NERv Technology, Inc. is one of 20 medtech startups chosen as finalists in the 7th annual M2D2 $200K Challenge. Co-founder and COO Amr Abdelgawad explains how they've developed and advanced their idea.
What is the innovation you've entered in the M2D2 $200K Challenge?
NERv is developing an implantable biochip to detect anastomotic leakage, the leakage of gastrointestinal fluid into the abdominal cavity, in real-time.
What inspired you to develop your device?
NERv's idea began from the pains and worries of the mother of Youssef, our CEO. She was an Ob/Gyn surgeon and growing up, Youssef often heard her say how she was constantly worried that her patients might suffer from post-operative complications. Utilizing his background in Nanotechnology Engineering, Youssef started working on a solution to combat the challenge that his mother and other surgeons faced in their day-to-day work.
What are the most significant barriers you've faced and overcome? 
Developing an implantable biochip that can identify biomarkers and transmit information from inside of the body, without causing harm to the patient was definitely a major challenge. Our device is complex in nature and has many technical components that require experts to develop the technology. Therefore, our team at NERv identified early on what we didn't know. We partnered up with researchers at the University of Waterloo to develop aspects of the technology where our team lacked the expertise. In doing so, the company retained 100% of the IP while expanding our team with a strong technical advisory board.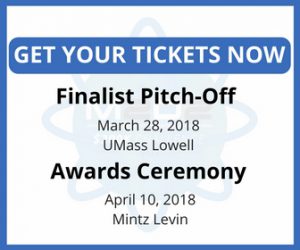 Can you share a "Eureka!" moment—a breakthrough in the development of your idea?
Our breakthrough moment came when we integrated the different pieces of the puzzle (biosensors, wireless communication module, electronics, and battery), successfully detected the presence of fluid from our biosensors, and transmitted and displayed the information on a smart device.
If you win, what's next?
Our next steps involve finalizing the development of a biocompatible housing for the entire device, then initiating in-vitro testing. The results obtained will help us optimize our biosensors and solutions even further.
Learn more at www.ne-rv.com
You're invited to meet ALL the finalists in person at the two upcoming events that will conclude the Challenge:
Challenge Pitch-Off—Wednesday March 28 at 5:00 pm, University Crossing, 220 Pawtucket St., Lowell
Finalist Awards & Networking Event—Tuesday April 10 at 5:00 pm, Mintz Levin, 1 Financial Center, Boston
For more information and tickets, visit https://www.eventbrite.com/e/m2d2-200k-challenge-finalist-pitch-off-awards-ceremony-tickets-43307428685