Prapela is one of 20 medtech startups chosen as finalists in the 7th annual M2D2 $200K Challenge. To learn more about their innovation, we interviewed John Konsin, Prapela co-founder and CEO.
What is the innovation you've entered in the M2D2 $200K Challenge?
Prapela is an infant sleep tech company integrating stochastic vibro-tactile technology into medical and consumer products that help newborns breathe and relax.
What inspired you to develop your device?
The inspiration for my decision to create Prapela is my stepson. Shortly after reviving him from a near-fatal overdose, I decided that I could pay it back and introduce a product to help fight the consequences of our opioid epidemic. Opioids hijack your brain. Beating addiction is hard.  Beating it while caring for a newborn exposed to the drugs you took during pregnancy is near-impossible.
Neonatal Abstinence Syndrome (NAS) is a problem that has significant short-term and long-term consequences for Medicaid. More than 50,000 newborns will be treated for in utero drug exposure this year at a cost of $3 billion to our healthcare system. The Prapela SVS baby box can help these newborns (and their caregivers) before, during, and after withdrawal, improving care and reducing costs.
What are the most significant barriers you've faced and overcome? 
The most significant barrier to overcome has been convincing health care practitioners and consumers that vibration can be therapeutic for newborns. Most people think products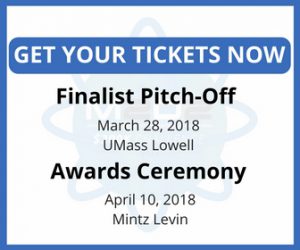 using vibration are gimmicks, but independent clinical trials have proven our vibration improves cardiorespiratory function and relaxation in opioid-exposed infants. Additionally, another independent study confirmed the technology improves breathing and oxygenation in preemies.
However, we are FAR from overcoming the barrier in people's minds that vibration is a gimmick. Which is why we want to win the award—to do more studies, improve word of mouth, get the product out, and get testimonials from moms, dads, physicians, nurses and health care workers.
Can you share a "Eureka!" moment—a breakthrough in the development of your idea?
Our "Eureka!" moment came last summer when we realized putting our clinically proven (developed at UMass and Harvard) vibration in a baby box instead of a bassinet would be more affordable and useful to our customers, accelerate our time to market, and reduce our development costs.
If you win, what's next?
If we win, we will introduce our product this year and complete some supporting studies to provide more proof that we help newborns breathe, relax, and sleep.
Learn more about Prapela at www.prapela.com.
You're invited to meet ALL the finalists in person at the two upcoming events that will conclude the Challenge:
Challenge Pitch-Off—Wednesday March 28 at 5:00 pm, University Crossing, 220 Pawtucket St., Lowell
Finalist Awards & Networking Event—Tuesday April 10 at 5:00 pm, Mintz Levin, 1 Financial Center, Boston
For more information and tickets, visit https://www.eventbrite.com/e/m2d2-200k-challenge-finalist-pitch-off-awards-ceremony-tickets-43307428685