Cam Med LLC is one of 20 medtech startups chosen as finalists in the 7th annual M2D2 $200K Challenge. Co-founder Larry Alberts tells us about their idea and the story behind it.
What is the innovation you've entered in the M2D2 $200K Challenge?
Like a bandage yet actively controllable, the Evopump will greatly improve compliance for people frequently taking injectable medications.
What inspired you to develop your device?
My co-founders were engineering grad students working in the area of microfluidics, and the uncle of one them had been struggling to manage the medication regimen for treating his diabetes, and he passed away. They thought they could apply their research to helping others facing similar challenges. They saw the potential for applying microfluidic designs with materials that were typically rigid but when made ultra-thin were flexible, to develop a pump mechanism that could be as thin and flexible as a bandage.
This could then be used as part of an automated system to inject medications like insulin, but for the user, it would be as unobtrusive as wearing a bandage. When they showed me the design concept, it resonated with me because I'd seen my own mother having to contend with injectable medications for much of her adult life. I realized, wouldn't wearing this pump be so much easier? So we decided to try to commercialize this and established
Cam Med.
What are the most significant barriers you've faced and overcome? 
While our pump looks quite simple—essentially, it's just various layers of formed plastics bonded together with some control electronics thrown in—it's actually a highly sophisticated device whose small size and intricate structure have presented numerous design and fabrication challenges. For example, the pumping action is driven by electrolytically-created gas pressure, which needs to be tightly controlled, especially for delivering medications like insulin which might be delivered in doses of a few microliters.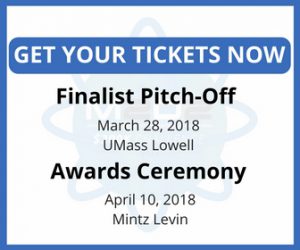 To drive the pump precisely, we have to account for things one might not typically expect to happen during electrolysis, measure them in real time, and compensate accordingly so the pump delivers as it should. Also, we're highly constrained in the materials we can use that are in contact with medication, to be sure they are compatible. We want the device to be flexible, so we can't use glass. The plastics we can use are typically also quite rigid, but when we form them in extremely thin layers, they retain sufficient flexibility. But then we have to be able to bond these ultra-thin layers together without destroying them in the process! So it's been very useful to leverage facilities and equipment available at M2D2 and at the Plastics Engineering Department of UMass Lowell.
Can you share a "Eureka!" moment—a breakthrough in the development of your idea?
We'd started with a design that would be manufactured in a way that's fairly similar to how other pumps are made, with costly assembly processes and scores of tiny components. However, taking inspiration from semiconductor manufacturing, we realized that we could re-design the pump so it can be made instead using the continuous flow, "roll-to-roll" production processes of thin plastic films that get shaped on the rolls and then are bonded together and finally cut into individual devices. This approach can drive production costs down by 80% or more. Ultimately, we're trying to bring to market an automated, sophisticated pump that costs less than a pen, widening market access to technologies that could greatly improve medication adherence.
If you win, what's next?
We've been very happy at M2D2 since we moved here in January 2017, with access to great interns from UML and a very supportive environment. Winning would help to ensure that we can remain at M2D2. We aim to complete our first, robustly tested prototype in the coming year, and we'd devote the next year to getting it ready for feasibility clinical studies.
You're invited to meet ALL the finalists in person at the two upcoming events that will conclude the Challenge: