For our second day in London, the class took a ride on the iconic double decker bus. We each had tickets that could get us a ride on any double decker for the entire day. Before boarding the bus, we had our first time experience with the transit called the Underground. We were able to get our own Oyster cards and put money on them just like how we would at home in Boston to take the T. We took the train to the Victoria stop and boarded the bus.
The bus took us to go see monuments that included the Horse Guards Parade, Buckingham Palace, Westminster Abbey, Big Ben and the Houses of Parliament, and the London Eye.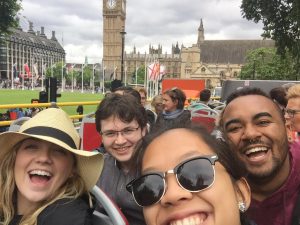 A group of us chose to get off at Piccadilly Circus. Piccadilly Circus is known as the Times Square of London. Seeing all the big banners and new buildings being mixed up with the old style looking buildings looked funky, but in a good way. There we escaped to a cute pub where I have been dying to eat my first plate of Fish and Chips. It was delicious although I have to say that I am not a Mushy Peas kind of girl.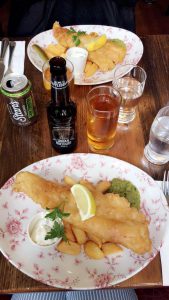 After eating, my group and I walked down cozy cobblestone roads that took us to different book stores, art shops, and cafes. There was one point where we walked into a book store and probably spent a little bit close to an hour just looking at art and design books. Such great students we are.
Probably my favorite part about Piccadilly was finding London's Chinatown! I am a sucker for going to Chinatown in every city that I visit. It's really cool seeing how each Chinatown I see has similar but also different characteristics. You are usually always welcomed with an arch or arches that are decorated beautifully. Then you can choose from a ton of places to eat. What I love about Chinatowns are that they don't just have Chinese establishments, but Vietnamese, Indonesian, Thai, Korean, Japanese, etc. cuisines that bring a wide variety of people together. I personally think food is the best way to connect with others.
Tomorrow we will be going to the Wax Museum and the British Museum. Interested to see how I can apply my Art History knowledge to these museum visits.
-Sheila