One thing you must do if you visit France is to go to Versailles to see the Palace and the gardens. We got up very early in order to get our bus to the Palace an hour and a half away. The tour tickets include transportation by bus that has additional commentary. The route the bus takes will go by the Louvre, around Concorde and under the Arc de Triomphe. We never did get to walk the Champs-Elysses and see the Arc de Triomphe up close, but I was able to get some really nice pictures from the bus.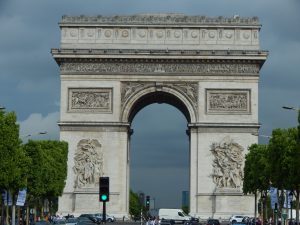 The Chateau de Versailles is a marvelous building outside and in. It's also really huge, which makes sense since it's where the royalty of France once lived. There's a courtyard for the counselors separated by a golden gate that houses the royal courtyard within.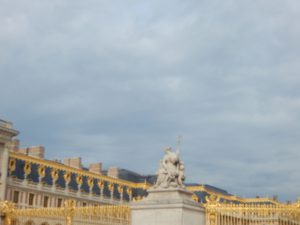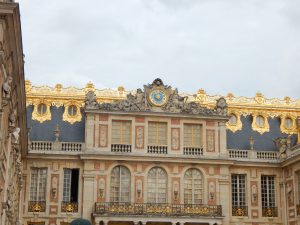 The tour brought us through many of the waiting rooms and ballrooms that were used by the royal family, along with the King's private and public bedroom and the Hall of Mirrors. At the time, there was work being done in the Queen's bedroom so we were not brought there.
The waiting rooms were all themes around different gods/goddesses that helped to display Louis XIV's power and wealth. The visitor would move from room to room, waiting in each one for an indefinite amount of time before they could see the king. The ceilings were covered in paintings of great battles and events, and in the middle was a scene portraying the God/Goddess that the room was themed around. Even the doors were gold-leafed to match the ceiling trimming. (I believe the room below was themed around Mars, the god of war and vengeance)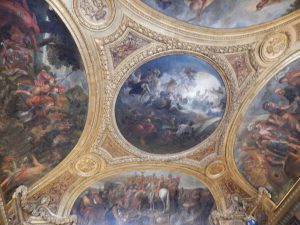 King Louis XIV had a public bedroom that was used as a way to show off as people waited to meet him in the throne room, and a private bedroom that he actually used for personal use.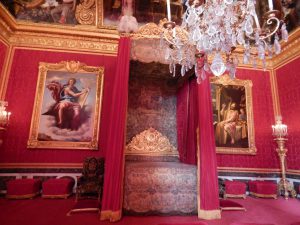 Louis XIV's private bedroom was placed in such a position that the sun's rising shown in through his windows every morning. This was very fitting for the Sun King.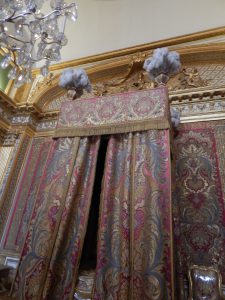 The Hall of Mirrors is a large gallery featuring 17 mirrors that reflect 17 windows that look over the gardens. The idea was to feel surrounded by nature. The art in the gallery include paintings and sculptures of gods and goddesses.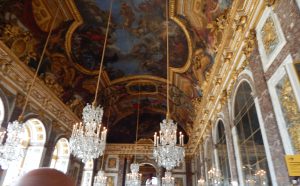 Once the tour is over, there's an hour of free time to either explore the gift shops or the gardens. I chose the gardens, which are so vast that an hour isn't nearly enough time. There were many sections to the gardens but I stayed rather close to the palace.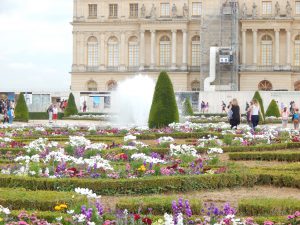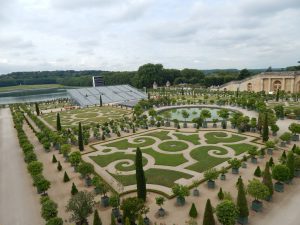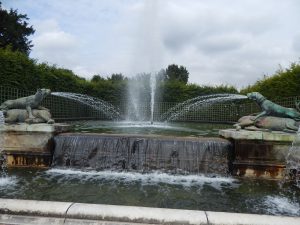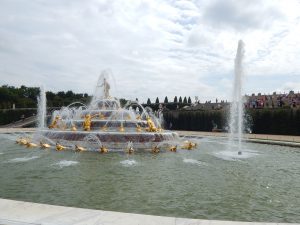 If you do decide to go to Versailles, the tour is great! However, if you want more time to roam around the gardens, it may benefit to go on your own. You just need to wait in a very long line.