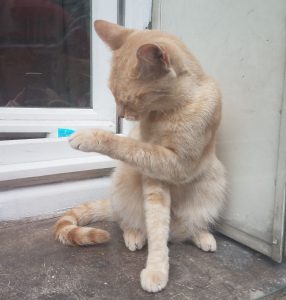 Look! We saw a cat while we were passing by the window of a house! There's been quite a few dogs around (some really well behaved ones not on leashes! But no poodles yet?) but seeing this cute feline was good part of my day. Especially since we had gotten lost trying to get to the right subway station. We headed in the opposite direction… whoops my bad. But we did get to see the Eiffel Tower at a distance! It was nice preview of what we would be seeing later in the day.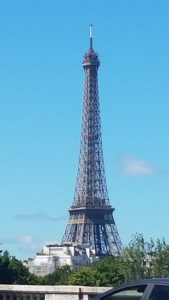 We were trying to get to the flea market in Vavnes but I was admittedly holding the map wrong. Hey! No one told me which way to orient it… how was I to know the River was in front of us and not behind us? Also I was following the bus stops since the Svres-Babylone station is also a bus stop. Except the map was reverse. You'd think the stops would be oriented in the correspondence to the actual direction the bus is going? Well it was a good learning experience and a pretty nice detour honestly. Though definitely NOT a seven minute walk… They do say the destination is only half the journey!
We did finally make it Vavnes, I think. We made it to a farmer's market in the area, although they were 30 minutes away from closing and thus packing away their goods.
There were lots of produce stands, meat stands, cheese stands (obviously, it's France), jewelry/clothing stands and even a fish stand! There were also stands selling cooked food to eat as well as flowers for gifting or decorating homes. Of course there were a few stands for tourists. I bought a trilby at a hat stand! Yup what most people mistake for a fedora is actually a trilby. (Shout out to my friend, Mike W. back at UMass for this information!) I think this Parisian printed hat is a perfect addition to my trilby collection! And no I didn't buy the earrings, they were a gift from my Aunt who knew I was going to Paris this summer!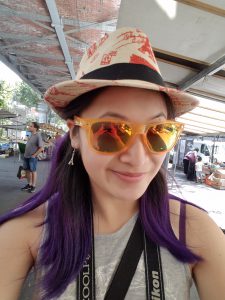 There were a lot of pretty flowers. I wish we could bring them home, but as an environmental student, that isn't a good idea. We could've bought some for the hotel room though…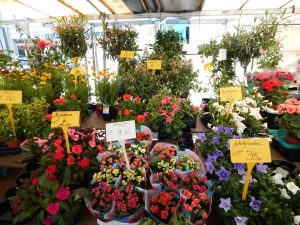 Roses of Paris! I am starting to pick up on some French!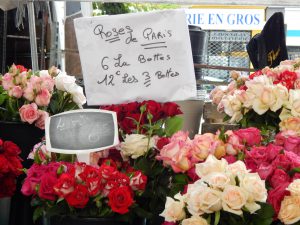 After the farmer's market, we ate at another one of those corner cafes. I got a Limonade, which tastes really good but it's not like lemonade back home. It's clear and bubbly like sprite. But it's not Sprite because some restaurants have Sprite listed separately. I also got an ansiette grenelle salad. The roast beef on the bread was nice and chewy!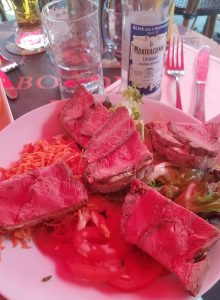 This was all before we went for our Eiffel Tower and River Seine tour. But that is going to be the next blog post since this one already has a lot! So stay tuned and remember I also have other pictures and posts on my Facebook (Lily Green) and Instagram (@lilgreenmonster)!