After checking into our hotel and dropping our bags off, we had a good three hours to kill before our room was actually ready for us. Considering how tired we were from the plane trip, we decided to go grab a bite to eat. Over on the next corner was a cafe with outside seating. Cafe Saint Germain. (It seems to be a popular trend for there to cafes on corners of intersection with outside sitting). Our waiter was very nice! He took a selfie on my mom's phone!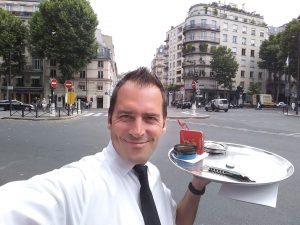 The first thing we tried was a dish that is very "Parisian" as my mom says: croque monsieur and croque madame. Below is my croque monsieur which is basically their version of a ham and cheese sandwich. The croque madame has a fried egg on top of it. I don't like eggs very much, so I let my parents be the judge of that version. They were all very tasty!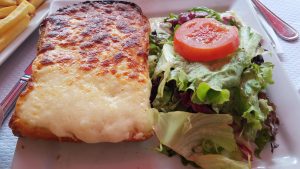 We walked around a bit, just sort of window shopping until it got closer to 2pm for check in. The view from the hotel is amazing. We're right on the main road and opening the window door allows for a nice breeze and the sounds of traffic, especially at night.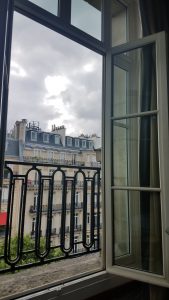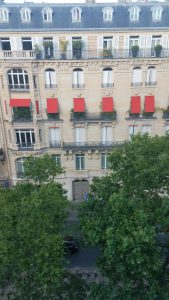 We all took a nice nap until 6pm. It was a well deserved on too!
The last thing we did that day was walk to Latin Quarter, which is a general area of schools, shops, and restaurants. The 20 minute walk was mostly just looking at the shops until we found a place to eat dinner. I did buy a postcard for my friend on the way. Oh and I bought macarons from Maison Georges Larnicol! Yum 🙂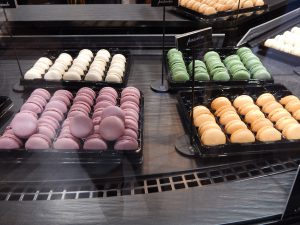 One of the weird things we talked about as we sat down for dinner at Rendevous Saint Germain was that it was still bright out. The sun didn't start to set until 10pm! No wonder the French eat such a later dinner.
My dad tried escargot! I passed on trying one. I'm not a fan of snails when they're alive, nevermind cooked up and ate.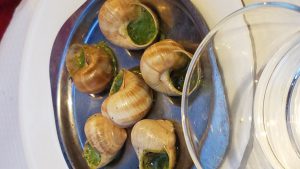 We went to a crepe stand for dessert and I got a nutella crepe. It was nice and warm and chocolatey.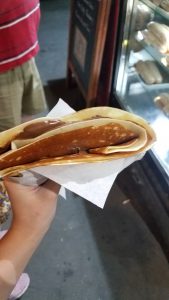 Good way to end the day I say.