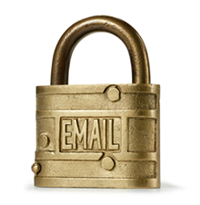 By leveraging the Proofpoint appliances we have today, which are responsible for scanning messages for spam and viruses, we are able to provide UMass Lowell users with the ability to send encrypted email whenever necessary.  Proofpoint works seamlessly with our existing email Exchange servers as it encrypts email leaving the University's private networks and heads out onto the Internet.
The features of the system include:
UML faculty and staff will be able to encrypt sensitive email and attachments (if included) to recipients outside of UMass Lowell
External recipients of secure email will receive a message in their current email inbox that they have received email from UMass Lowell and will be directed to retrieve their email from a secure website.
External recipients register and login to the secure email systems before being able to view or reply to secure email(s).
External recipients will have the ability to reply to secure email received including file attachments.
How does secure email work?
Secure email at UMass Lowell works in the following manner:
The sender (UMass Lowell employee) designates that the email should be secured by either typing the word "[secure]" at the beginning of an email's subject line or by selecting the "Send Securely" button within Outlook when ready to send the message.  The remainder of the email can be typed normally and attachments can be added as needed.  The "Send Securely" button must be downloaded and installed from the IT software website.
The system recognizes that the email should be secured and then sends it out as an encrypted attachment or URL.
The secure email server sends the recipient an email notification that they have received a secure email from someone in the UMass Lowell community. This email directs them to click on the attachment or URL to view the encrypted message.
The recipient opens the attachment or URL and is prompted to provide their password in order to view and/or reply to the message. (If this is the first time the recipient has received a secure email, they will need to complete a one-time registration process and assign their designated passphrase first.)
Check out the following documents to learn more about Secure Email:
Frequently Asked Questions          How to Send Secure Email        Helpful Hints