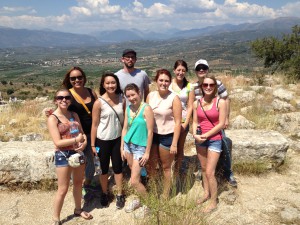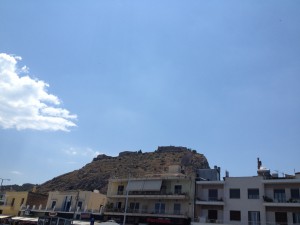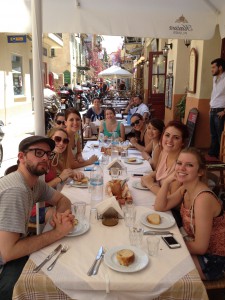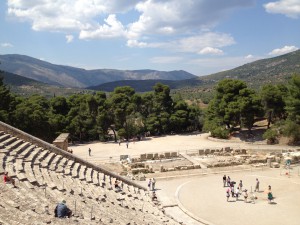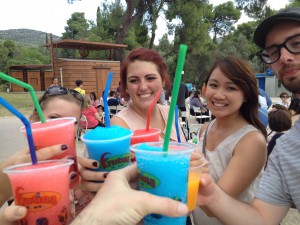 Several years ago, I traveled with family members to Ireland. While much of the trip did not live up to expectations, we had one glorious, fairly impromptu day of touring on the Ring of Berea in County Cork that thereafter became known as "The Perfect Day in Ireland," or PDI for short. This day—which included kayaking with seals, meandering through the ruins of two castles that were privately owned and which we had all to ourselves aside from grazing cows, a harrowing (but well-worth-it) gondola ride to tiny Dursey Island, and then tea and scones at small café overlooking Kenmare Bay—has long set a travel standard for me (and a very high bar). On Saturday, June 12 our outing to Mycenae, Nafplio, and Epidaurus came very close to matching that legendary day. From the moment I hopped aboard our little touring van, I had a smile on my face and a premonition of good things to come.
Although we were thrilled with our Delphi tour guide, she had nothing on Hera, who spent the entire day with us, imparting historical, cultural, political, economic, and geographic knowledge from our pick up at 8:00 AM (well, there were some stragglers) to drop off at 6:30 PM. Our morning started with coffee near the impressive Corinth Canal. Snapping a picture of two from the crowded little foot bridge is obligatory, except perhaps for those who are squeamish about heights. We arrived at the historic site of Mycenae, a citadel that Agamemnon once called home. Although the ruins are somewhat limited, the panoramic views of mountains and see were absolutely stunning, and we couldn't have asked for better weather. We concluded our tour of Mycenae to a very impressive tomb (for whom no one really knows) dating to about 1,250 BCE.
Then it was on to Napflio, which served as the capital of the Hellenic Republic during the Greek War of Independence, for a walking tour and lunch. The city features an impressive fortress on top of a very high hill, and a charming "old quarter" with architecture mostly dating from the revolutionary period (early 19th Century). After walking around a little, we headed for Vasili's Taverna, where a traditional Greek meal awaited us, including Greek salad, spanakopita, and oven-baked lamb. An hour and a half and several courses later, we were all happy, relaxed, and satisfied, if not a little stuffed. But when Hera suggested that we visit an authentic Italian gelateria nearby, somehow we all managed to find room for (a second) dessert!
Our final stop was at the theater and healing center at Epidaurus. The theater is still in use, and, although the stage itself was destroyed long ago, the stadium seating is largely intact. The steps to the top offered quite a work out, and the last stretch was a little too steep for some folks, but the views from the top were worth it. At the theater, we met some very well-behaved junior high students from New York—I was very impressed by the teachers and chaperones who brought 12- and 13-year-olds across the Atlantic! The ruins of the Healing Center were of particular significance to the Nursing Students, who had been looking forward to this portion of the trip for months. Given it was a long day spent largely on our feet, the long ride back to Aghia Paraskevi was mostly spent napping. We all returned "home" (i.e., to the residences) in agreement that this had been one of our very best days here. This is my third visit to Greece, and it certainly ranks among my favorite days.