On November 30th, The Rist DifferenceMaker Institute held the 4th Annual High School Idea Challenge from 9 a.m.-1 p.m. at the UMass Lowell Mark & Elisia Saab Emerging Technologies and Innovation Center.
To kick-off the event, Gina Mustoe, teacher at Westford Academy, gave opening remarks. She then passed the stage to Provost Joe Hartman, who shared inspiring words to the students about of the importance of making a positive impact in the world by developing creative ideas.
Next, David Vatalaro, Rist DifferenceMaker Fellow, Rist DifferenceMaker Institute, presented an overview of DifferenceMaker, sharing the benefits and opportunities the program offers. Then, Tom O'Donnell, Senior Director, Innovation Initiatives, UMass Lowell, introduced the judges and emceed the event.
The judges were Nick Jarek (Rist DifferenceMaker Co-Op, Rist DifferenceMaker Institute), Donna McFadden (Massachusetts DECA State Advisor), Tom O'Donnell, and Wynn Wiggins (Co-Founder, Vital Sensing Patch).
After the judge introductions, the event began. The audience was excited to hear the creative ideas from each high school student team. Each pitching team had 5 minutes to present, followed by 5 minutes of judge Q&A. The judges deliberated after all of the presentations!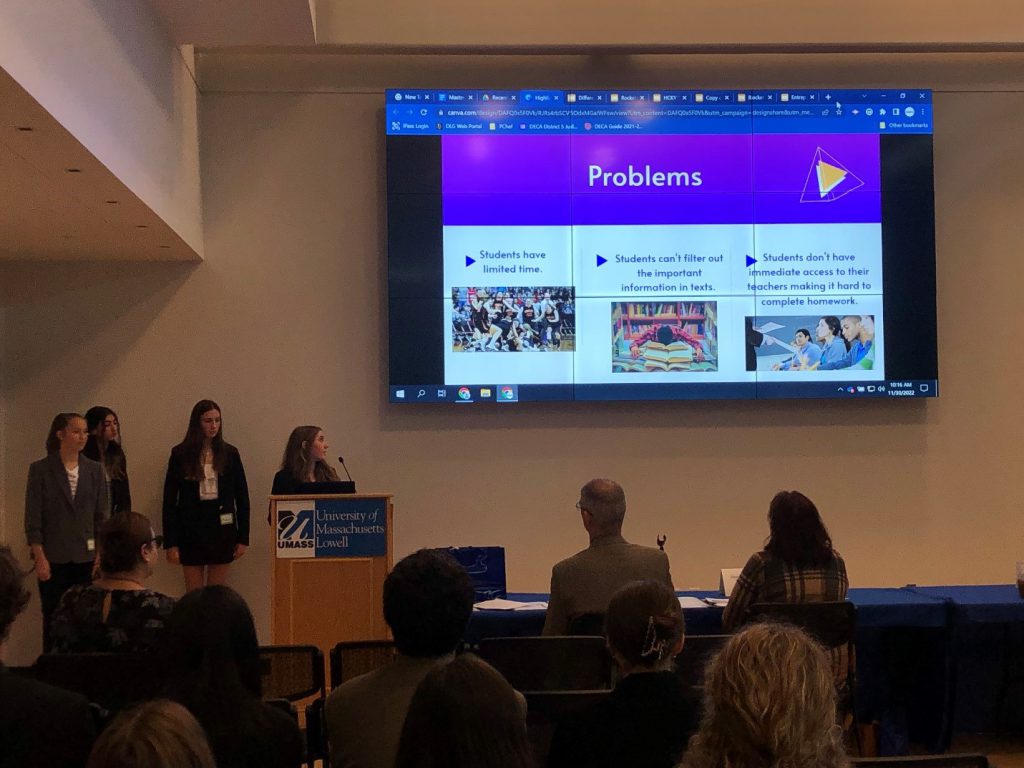 Congratulations to all teams that presented and won awards!
1st place, $500 – Braydon Gray, Gabriel Silva, and Catherine West, Chelmsford High School – "The Hcky Stick" – A collapsible hockey stick made from high quality plastic that is easy to store.
2nd place, $300 – Laney Beahn, Sara Lewis, Grace Mathieu, Ava Mills, and Chloe Vescio, Blackstone Regional High School – "Medimate" – A sanitizing device that kills bacteria from shoes.
3rd place, $200 – Isaac Cho and Dan Ottesen, Westford Academy – "Sleepytime Supplements" – a pack of milk and cookies with melatonin and valerian to help users with falling asleep.
After the presentations, lunch was served, and round table mentor meetings took place between past DifferenceMaker teams and the high school teams. Each high school team had a 15-minute mentor session with the DifferenceMaker college students, in which they got the opportunity to speak with every mentor.
Thank you to the past DifferenceMaker teams who volunteered their time to support and inspire the high school students:
Minds with Purpose, Jeurys Santiago
UMass Lowell Japanese Student Association, Mina Lam
Vital Sensing Patch, Haris Kum and Wynn Wiggins
Rist DifferenceMaker Co-Op, Nick Jarek
Thank you to DECA Inc. for sponsoring the event prizes. Another thanks to all partnership schools and teachers involved in this collaboration.