On December 1, 2021, DifferenceMaker held the 9th Annual DCU/Manning School of Business Innovation Contest from 6:00 – 8:30 p.m. at University Crossing, Moloney Hall. To kick off the event, Dean of the Manning School of Business and Event Emcee of the evening, Sandra Richtermeyer provided welcoming remarks.
After the remarks, the finalist judges were introduced. The judges for the evening were:
– Dave Carter, Director of Information Systems Infrastructure, DCU
– Sandesh Parulekar, Director of Information Systems Development, DCU
– Barbara Russell, Co-Founder/Managing Partner, Cap W Global Advisory/Investment Banking Group
– Mike Zuccaro, '83, Vice President, Financial Planning and Analysis, Akebia Therapeutics
Once all judges were introduced, the event began! Six student finalist teams were given 5-7 minutes to present their ideas, along with 5 minutes of Q&A from the judges. The teams that presented were:
– Chain Bank, team members Aymaan Shaikh and Hirschfield Ssozi
– Credit Champs (Hands Free ATM), team members Benjamin McClure and Nick Paolilio
– Labor as a Service, team leader Kevin Zhang
– Simplicity Bank, team members Yeaharne Hout, Saema Nazar, Monica Nguyen, and Heer Patel
– StockToMe, team members Matt Allen, Matthew Kinash, and Jackson Sterrett
– Trade Bozz, team members Toney Benny and Sabastian Pascal
Each semi-finalist team member won $100. Each team's idea ranged from topics such as teaching children and young adults on financial literacy, blockchain technology, stock & trading opinions, and more. After each pitch, judges asked questions to help them further understand the ideas. The judges ranked each team based on how clearly they explained their executive summary, mission statement, business goals, market analysis, how they would utilize funding, and project timeline.
Following the presentations, judges went to a separate area to deliberate the final winner. During this time, all attendees got food, networked with each other, took photos, and further discussed the inspiration and details of the ideas that were pitched.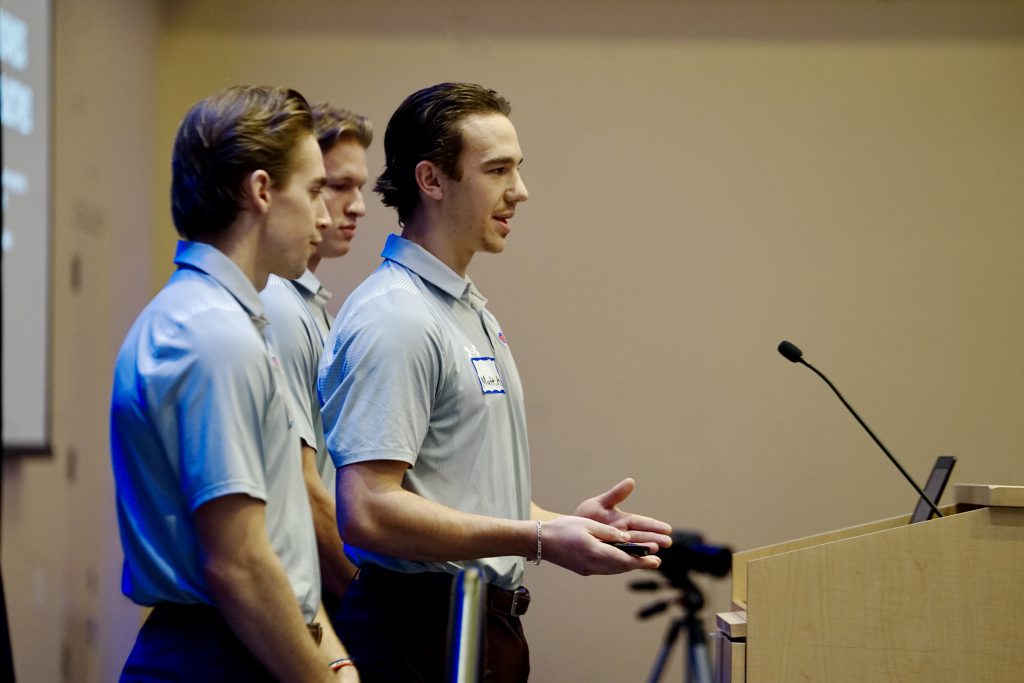 Around 8:15 pm, the judges returned to announce the final award. Congratulations to team StockToMe for winning the final prize of $500 per team member! They also automatically advance to the DifferenceMaker Preliminary Pitch-off this spring.
In total, DCU awarded $2,900 to student teams at this event. Watch a recap of this event here.
Interested in pitching an idea and getting funding? Applications for the 10th Annual $50,000 Idea Challenge are open now – apply today!