This week was last DifferenceMaker Boot Camp session. Students presented their research regarding partners, key resources, key activities, and costs, as well as their business model canvas. Students discussed how many prospective consumers they talked to throughout the boot camp, and what their top three findings were.
In doing further research and summarizing their findings, students are able to develop parts of their ideas based on innovations suggested by customers. The benefit of these conversations includes a more well-rounded product that is proven by the customer that they want through their interviews, as well as the opportunity to come up with further ideas due to consumer inputs.
For example, after interviewing 24 potential customers, nurses and children, Apple a Day found that individuals like the idea of mobility and safety features, and also to expand the idea, young adults would be interested in a mobile app with reminders for use. They also found that they wouldn't be able to implement their product which is a portable stylish pill case, with nurses in schools, and it would only be used personally by students. If they hadn't interviewed prospective customers, Apple a Day wouldn't have known that the desire for a mobile app was there, and they also wouldn't have known about the complications of implementing the product into schools.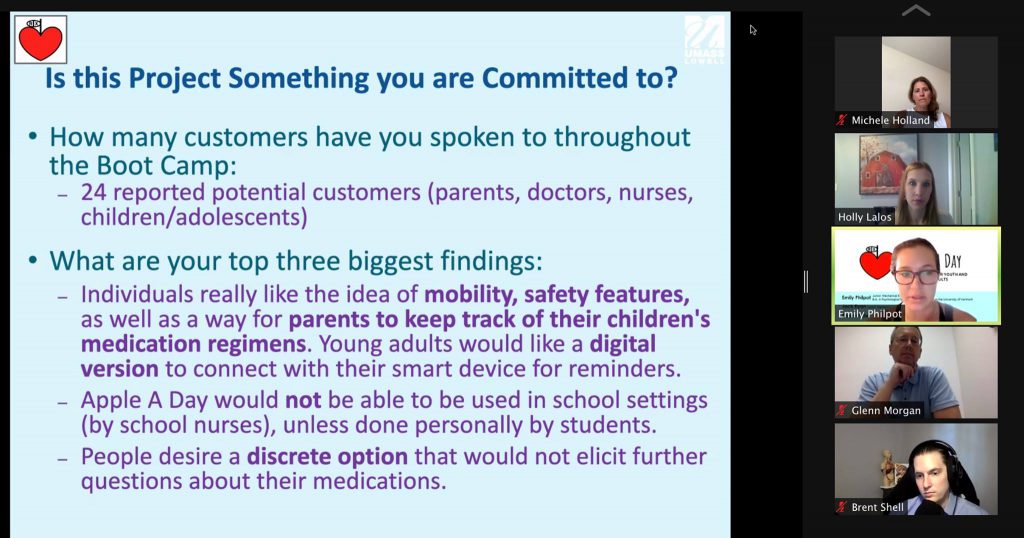 To show off their current business functions, ideas and future prospects, the business model canvas for each team was displayed which showed the boot camp advisors everything from the team's unique value proposition to the key resources they will need for business success.
The guest speaker for this Boot Camp was Rajia Abdelaziz '16 Kennedy College of Sciences and Francis College of Engineering, 2016 DifferenceMaker Idea Challenge, Innovative Technology Solution Winner, $4,500, and the CEO of InvisaWear. InvisaWear was past DifferenceMaker team that had gone through DifferenceMaker and became wildly successful today. Rajia gave the students an overview of her emergency device that is hidden within their stylish jewelry as well as the history of her business and development since winning DifferenceMaker.
Over the past few years, CBS News, Fox News, and Good Morning America featured invisaWear on their news outlets. They also have grown to making over $1 million dollars in revenue in a single year as well as hiring their fifteenth employee just last week. Most recently they were featured on QVC which is a huge achievement for any product to attain as well as acquiring a partnership with ADT, the #1 name in security, to combine some of their services.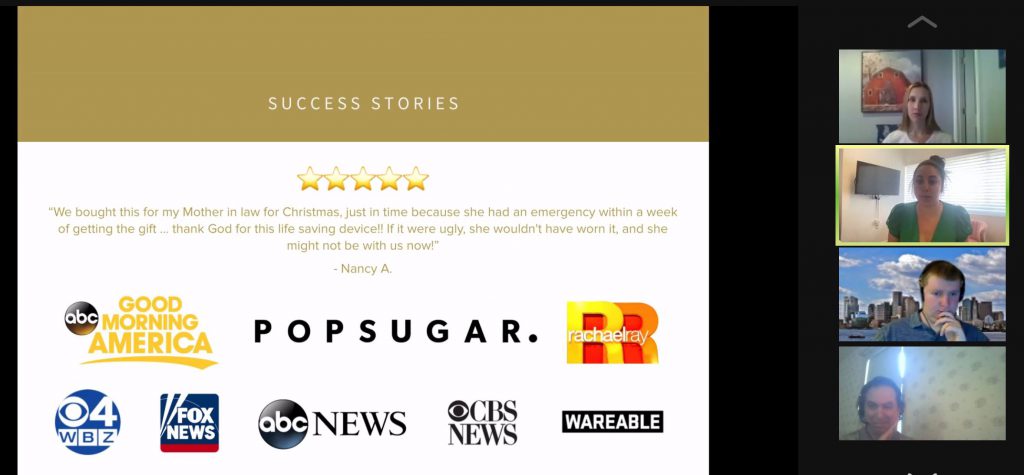 Rajia explained that her and her business partner Ray Hamilton '16, Francis College of Engineering, turned down job offers from Dell and Google and fought against the doubt of family and friends. As they plowed along doing research into their customer base as students just have throughout this Boot Camp, they too found that their market could expand farther than just college-aged women.
When InvisaWear went through the Boot Camp, they were able to interview workers in night-shift positions, realty, and other sectors where women can be found in challenging and compromising situations. This research directly correlated to a shift in their focus and expansion of their customer base in turn driving further success, which was exactly the takeaway for students of todays boot camp.
Thank you to Rajia for guest speaking and for being a Boot Camp advisor this year. Another big thank you to the other Boot Camp advisors who helped guide the student teams: