On March 24, DifferenceMaker held its' second annual High School Idea Challenge from 2 – 5 p.m.
To kick-off the event, Gina Mustoe, a teacher at Westford Academy, gave opening remarks. She then passed the stage to Holly Lalos, Entrepreneurial Initiatives Program Director of the DifferenceMaker program. Holly presented an overview of DifferenceMaker, sharing the benefits and opportunities that the program offers.
Then, Tom O'Donnell, Senior Director of Innovation Initiatives at the UMass Lowell Innovation Hub, provides welcoming remarks as well. He introduces the opportunities that UMass Lowell provides, and explains additional resources related to entrepreneurship, such as the Makerspace, Innovation Hub, and various networking opportunities. Tom also introduced the judges, each of whom were former DifferenceMaker Idea Challenge Finalists.
The judges for the afternoon were:
– Rajia Abdelaziz, Innovative Technology Solution, a $4,500 prize, at the 2016 $50k Idea Challenge. She is now the CEO of invisaWear.
– Tyler Cote, Campus-wide DifferenceMaker, a $6,000 prize, at the 2017 $50k Idea Challenge. He is the Founder of Operation250.
– Tatiana Tompkins, Honorable Mention, $2,000, at both the 2019 and 2020 $50k Idea Challenge. She is a member of two teams, Protected Pin & NoSno Mat.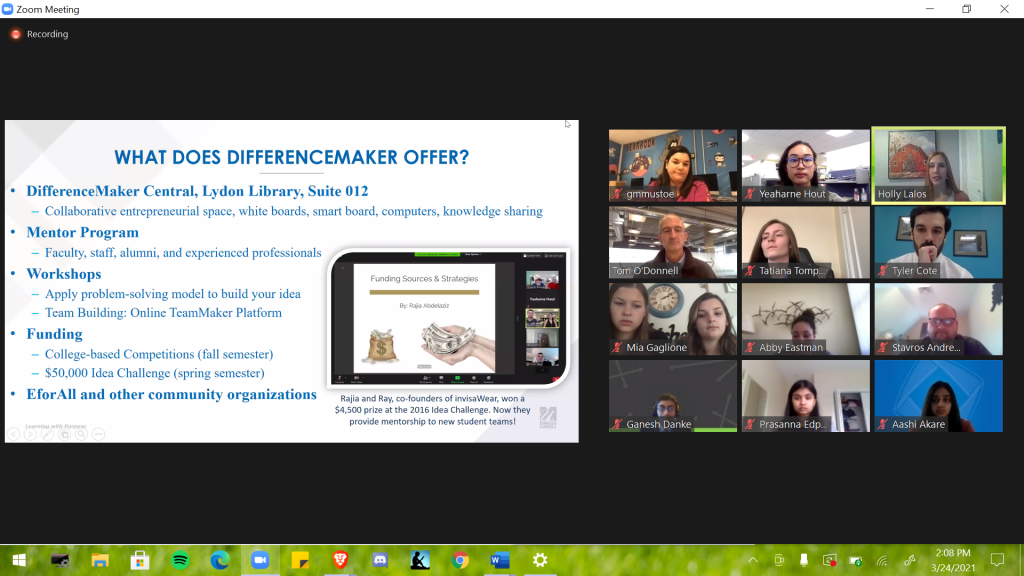 After the judge introductions, the event begins! Everyone was looking forward to hearing the creative ideas from each high school student team. After each presentation, judges asked the team questions to help them further understand the idea.
Abby Eastman, representing Nashoba Regional High School, went up first. Her idea is Pandemic Pack. Many students have anxiety about the lack of resources due to COVID-19, which inspired her for this idea. Her product is an all-in-one pack containing essentials such as hand sanitizer, face masks, cough drops, etc. This way, you have all the resources you need during a pandemic in one package. Bonus: your pack can be customized with products with your school logo!
Next, Mia Gaglione and Ava Gilligan, representing Tewksbury High School, pitched. Diabetes is a huge problem, and they noticed how the condition impacted their loved ones' day to day lives. Their idea, InsulWatch, is a modern-day watch designed to monitor and regulate the effects of insulin in your body.
The bottom of the watch has built-in space for insulin patches and replacement needle trays, making it accessible to manage your blood sugar levels anywhere. This product can also sync with an app. With the app, it alerts users when their blood sugar levels are low.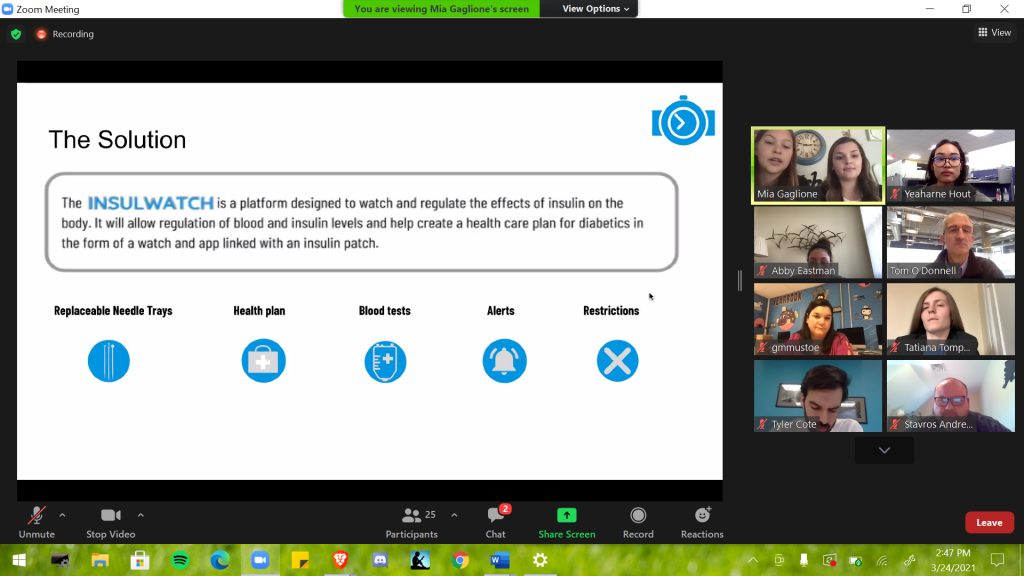 Next, Ganesh Danke, a student from Chelmsford High School, presented. His idea is known as "Clean Crate." He noticed that ordering healthy food online is not possible, and that there are many commission fees associated with current options. However, Clean Crate is a revolutionary food delivery service specializing in providing clean, healthy food from local farms. Deliveries will be scheduled weekly, with no high commission fees – just a monthly subscription. This business model supports local farmers, helps people eat locally grown produce, and is a convenient option for anyone, even busy people.
Finally, Westford Academy students Prasanna Edpugani and Aashi Akare pitched their idea, "Signal Map." Signal Map is an application that works alongside a product known as a Raspberry Pi 4 Model B, which provides live data about your WiFi signal. This can eliminate the frustration of slow internet when sharing with others, allowing you to recognize spots with the strongest/weakest WiFi signals in your home.
After all the presentations and judge Q&A, the judges went into a separate room to discuss the winners. While in the main event room, Tom encouraged everyone to network and asked the student teams what inspired them to create their idea. Many of the teams noticed issues in their day to day lives and thought about solutions that could solve them. They utilized what they learned in their classes and applied it to their projects. Very impressive!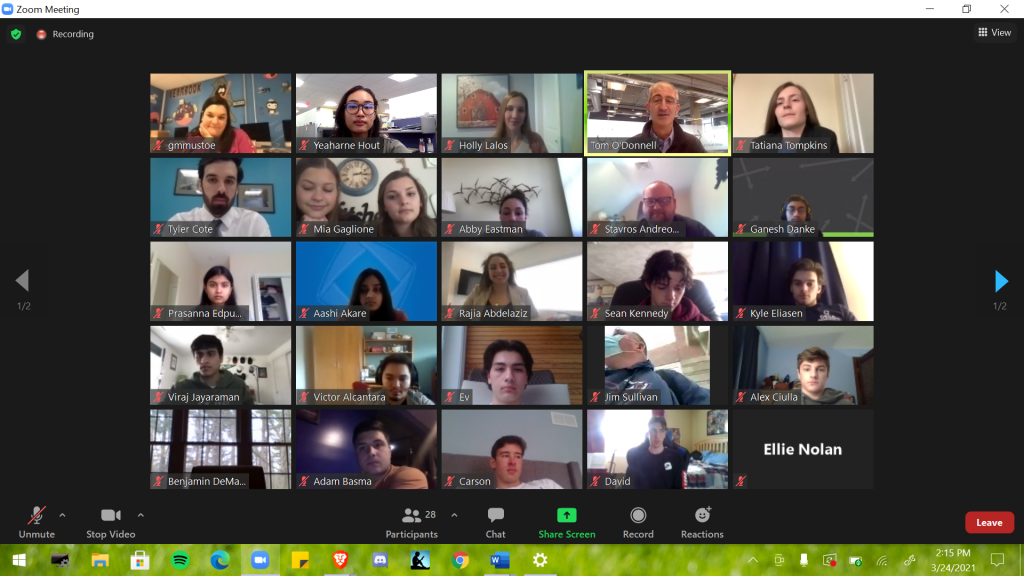 Then, after deliberation, the judges came back to announce the winners. Congratulations to all teams that presented this afternoon!
1st place – $500, Aashi Akare and Meghana Edpuganti, Westford Academy – "Signal Map"
2nd place – $300 Ganesh Danke, Chelmsford High School – "Clean Crate"
3rd place – $200, Mia Gaglione and Ava Gilligan, Tewksbury Memorial High School – "InsulWatch"
Honorable Mention – DifferenceMaker gear (t-shirt, pen, lanyard, water bottle, notebook) – Abigail Eastman, Nashoba Regional High School – "Pandemic Pack"
Huge thank you to DECA Inc. for sponsoring the prizes for this event. And, another huge thank you to all of the partnership schools and teachers involved in this exciting collaboration effort.