On December 3, 2020, DifferenceMaker held its' DCU Manning Innovation Contest Finals. At this event, six student finalist teams pitched their ideas to solve problems related to banking and finance.
The event opened up with welcoming remarks from Sandra Richtermeyer, Dean of the Manning School of Business. She then introduced Thomaz De Moura, Innovations Manager at Digital Federal Credit Union, who also said some opening words.
After the welcome, the judges for the evening were introduced. The judges for the evening were:
Andrew Knaebel, Director of Information Systems Infrastructure, DCU
Sandesh Parulekar, Director of Information Systems Development, DCU
Barbara Russel, Co-Founder/Managing Partner, Cap W
Joseph Vaillancourt, '90, '01, Manning School of Business, Managing Partner of Venture Enterprises, LLC and the President of Cyclyx International, Inc
After the judges were introduced, the show began! Six student finalist teams each pitched their idea, followed by a five-minute judge Q&A session. The teams that presented were:
Borrowed Pay Cut, Kevin Zhang
Cash Transfer, Aiman Baig, Abhi Kiran, Danny Nguyen, Fazil Soharwardi, Haris Waqar
Millennial Finance Educators, Amy Michelin, Craig Williams
Paper Trail, Yeaharne Hout, Edward Morante
SearchIn, Md Sadman Islan
Track It, Yuhan Sung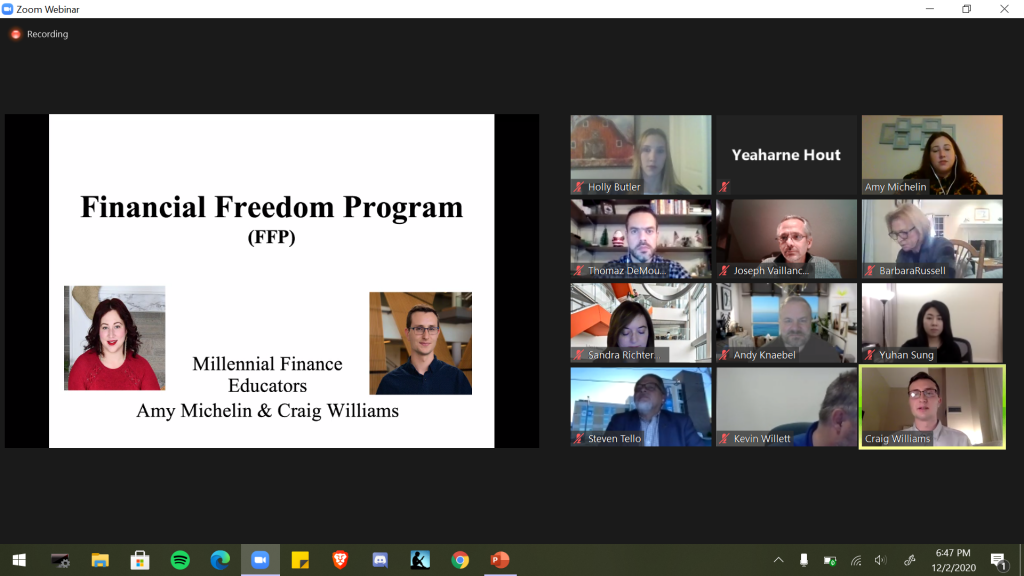 All teams shared amazing and creative ideas. They ranged from educating young adults on how to be financially free, creating an app that teaches people about financial education with the ability to earn cash, bank to member transfers, and more.
Once all the teams shared their ideas and answered follow-up questions from the judges, it was time for the judges to decide the first-place winner. Each finalist team earned $100 per member as a prize, and the top finalist team earned $500 per member. The judges broke out into a separate breakout room to deliberate.
While the judges were deliberating, Dean Richtermeyer encouraged the student teams to network on platforms such as LinkedIn. This was a great way to make new connections – virtually!
When the judges came back from their deliberation room, the first-place finalist winner was announced! The top finalist for the night was team Millennial Finance Educators. They pitched the amazing idea of the Financial Freedom Program. This program would teach teenagers and young adults about financial literacy, allowing them to develop good habits that will lead them towards financial independence in their futures.
A total of $2,200 was awarded to student teams!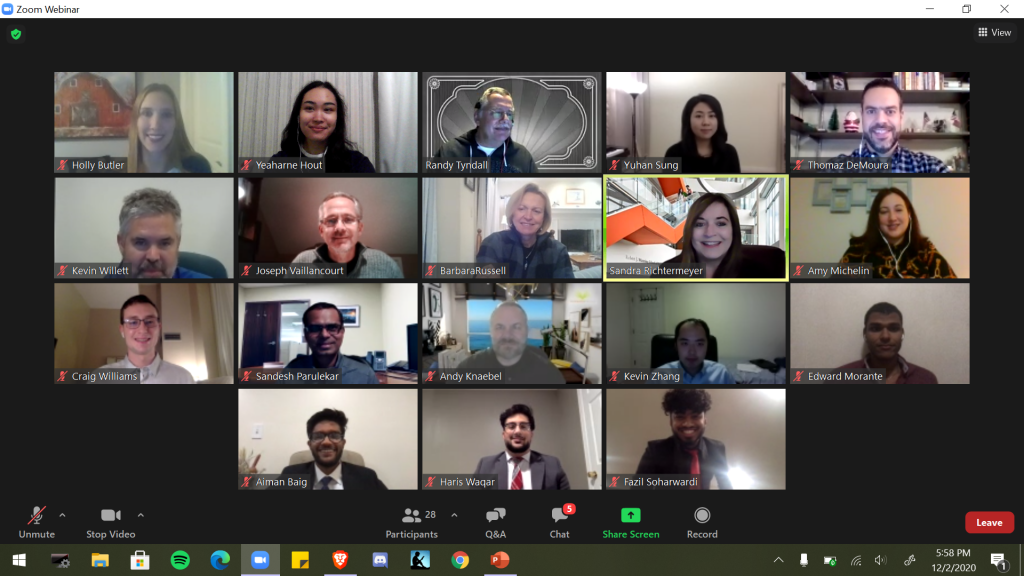 Congratulations to all student teams that made it as a finalist for this competition! We encourage you to apply for the DifferenceMaker Spring 2021 $50,000 Idea Challenge. This challenge is open to students of all majors, with ideas about any topic. The application is open now and will close on February 12, 2020. Apply here.