On January 7, 2020, four Rist DifferenceMaker® student teams pitched at DECA. This event took place at Durgin Hall on South Campus at UMass Lowell. DECA prepares emerging leaders and entrepreneurs for careers in marketing, finance, hospitality and management in high schools and colleges around the globe.

High school students from neighboring schools such as Nashoba Regional High School and Tyngsborough High School, visited the UMass Lowell Campus to pitch their own entrepreneurial start-up projects that they have been working on for months. During the interlude period while the judges were tallying their votes, our Rist DifferenceMaker Teams pitched their current start-up projects and companies.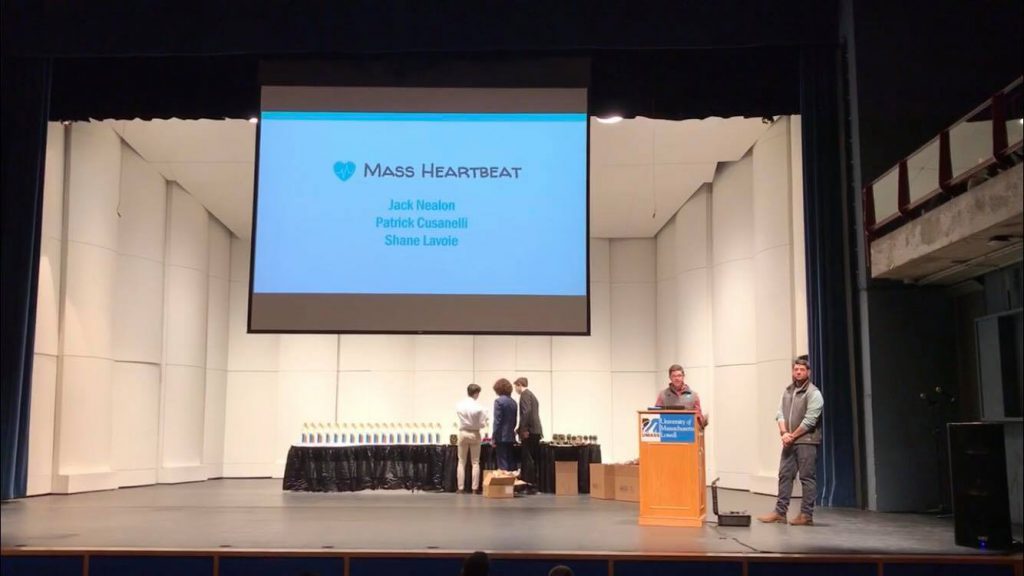 The four RIST DifferenceMaker teams that pitched were:
ETRA Lock – 2018 DifferenceMaker Idea Challenge, Honorable Mention; a $2,000 prize. ETRA Lock is a RFID device that allow users, mainly individuals with physical limitations, to autonomously lock and unlock their doors by proximity.
Mass Heartbeat –   2018 DifferenceMaker Idea Challenge, Contribution to a Healthier Lifestyle winner; a $4,500 prize. Mass Heartbeat conducts heart screenings that detect underlying conditions that people may not be aware of, and is brought in an affordable manner to schools across Massachusetts
RE-VIVE – 2019 DifferenceMaker Idea Challenge, Honorable Mention; a $2,000 prize. RE-VIVE is a wearable auto-injection system to administer Naloxone to those suffering from a drug overdose.
VotED – 2019 DifferenceMaker Idea Challenge winner, Significant Social Impact winner; a $4,500 prize. VotED is a voter education app that makes learning about current politics simple, fast, and easy.

After all the teams pitched their start-ups, the young entrepreneurs in the audience were asked to vote for their favorite teams using PollEverywhere on their phones. Mass Heartbeat won first place with a top prize of $600, RE-VIVE came in second with a prize of $450, VotED won third and received $250, and ETRALock came in fourth place with a prize of $150.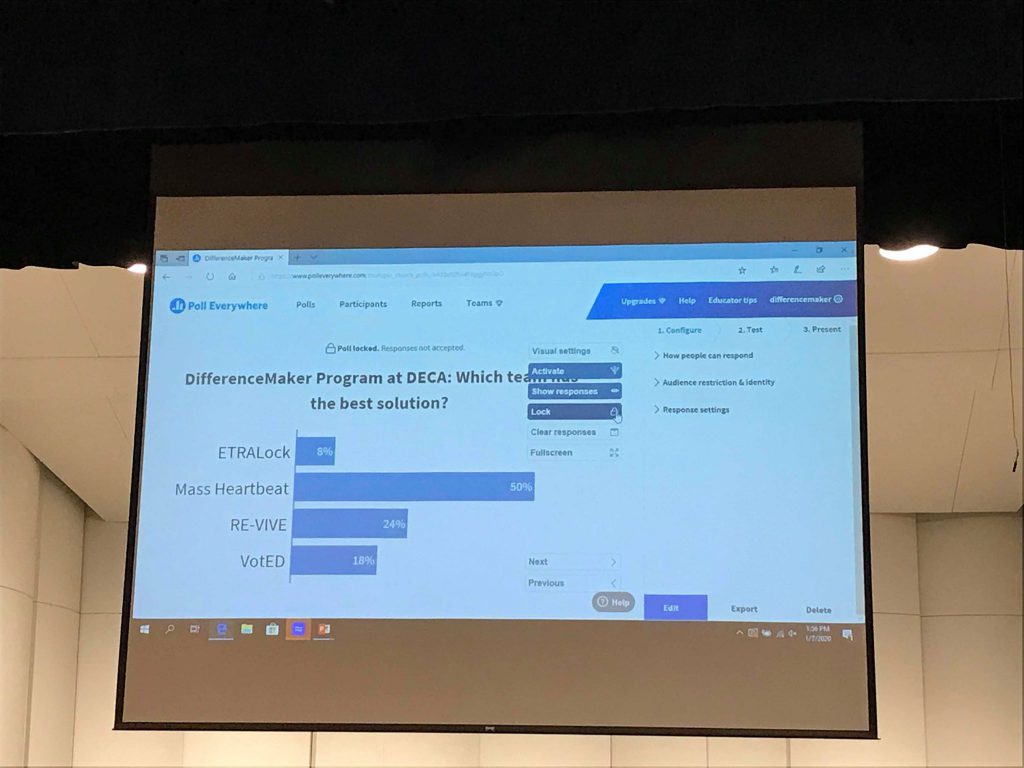 Congratulations to all teams that pitched! Congratulations to all students that participated in DECA and pitched their own projects earlier that day!