On Wednesday, April 24, from 5 p.m. – 8:30 p.m., we held our 7th annual $50,000 Idea Challenge in Moloney Hall, University Crossing. As people began to arrive they had a chance to vote for one of our nine semi-finalist teams to win the Fan Favorite award. There was great turnout of faculty, professors, students, and others to see our ten finalist teams pitch-off for a chance to win a piece of the $50,000!
Congratulations to all of our winning teams!
Fan Favorite – $1,000
Bar Scene- Thomas Kiley, Senior, Computer Science; Hannah Wright, Alumni, Marketing and Entrepreneurship; & Owen Hunter, Senior, Finance.
"The Bar Scene app will act as a one-stop shop for nightlife information in Lowell, including prices, events, and how crowded each bar is in real time."
Honorable Mentions – $2,000
EV Smart (EV 2 EV)- Omkar Bhandakkar, Alumni, Energy Engineering; Hamza Ehsan, Junior, Computer Science; & Rajvi Shah, Senior, Computer Science.
"We want to solve the problem of EV owners worrying about range and charging. By creating an app to connect nearby EV owners with people in need of charging we solve exactly that. With the hardware in place for Vehicle-2-vehicle communications as well we can have short range and long range communications either between mobile phones and users or cars between cars."
OTDSEES (Over Terrain Tactical Scuba Personnel Delivery Device)- Ian Ramsdell, Senior, BA.
"As a scuba diver here in New England it is always a challenge to haul your gear over the extremely uneven terrain that is associated with the best dive sites. This also keeps a lot of disabled divers from being able to enjoy a sport that they love. For a disabled scuba diver, this terrain makes it even more of a challenge. I have developed a device that would either assist the diver by moving the diver's gear to the water or even move a disabled diver to the water or even into the water."
Projected Pin/ ATM Fast App- Conrad Nelson, Junior, Chemical Engineering; Jenna Olander, Senior, Art (BFA); Tatiana Tompkins, Sophomore, Business; & Mohammad Musawear, Freshman, Computer Engineering.
"A faster and safer method to withdraw from an ATM that will save Americans and ATM companies millions of dollars per year. Our method requires a minor integration to the ATM user interface that will help prevent potentially all card skimming and PIN theft that occurs at ATMs."
RE-VIVE (NextStep)- Nicholas Lydon, Senior, Chemical Engineering (BSE); Allison Michell, Senior, Chemical Engineering (BSE); & Derek Jamieson, Freshman, Undeclared.
"This project aims to address the opioid epidemic by preventing fatal overdose. The project consists of a wearable auto-injection system to administer Naloxone to those suffering from a drug overdose. This will help decrease the number of fatal overdoses that tragically occur, and hopefully combat the overall epidemic."
The CAT Mat (Outside In – An outdoor simulation mat)- Michelle Mailloux, Graduate, Physical Therapy; & Katherine Muise, Graduate, Physical Therapy.
"Our product is a mat that will allow physical therapists to treat their patients' deficits throughout the body, from the musculoskeletal system to sensory systems. It will simulate walking outdoors to help patients prepare for community ambulation. Our mat will have a sturdy structure underneath that allows it to be slip-free and be buildable. The pieces will be sized so that they can fit in parallel bars, making them usable to even the most dependent of patients. It will be a great alternative to walking outside when an outdoor environment is not suitable for a patient."
Contribution to a Healthier Lifestyle – $4,500
ECG for Me (Electro Cardio Athletic Patch)- Rachel Harrington, Graduate, Biotechnology; Taylor Mellen, Graduate, Biotechnology; & William Bizilj, Graduate, Biotechnology.
"Design wireless electro cardio patches that work with the Apple Series 4 watch to display an ECG capable of detecting underlying heart conditions."
Jack. M. Wilson First Product to Market Award – $4,500
Jamfuze (Music Web Platform)- Stephen Wahome, Alumni, MBA; Christopher Sinclair, Junior, BBA; Michael Adrien, Senior, Sound Recording Technology (BM).
"We are aiming to create a music website/market place connects local artist with the services they need to build and accelerate their music careers. These services will range from finding local studios, engineers, videographers, beats, and much more. The key is eliminating the search cost for these artists by providing a one stop shop platform."
Sutherland Innovative Technology Solution – $4,500
USe Cart- Max Ushakov, Graduate, Electrical Engineering; Daniel Falcone, Senior, Business; Moya Alhayek, Junior, Electrical Engineering; & Shanice Kelly, Junior, Mechanical Engineering.
"The future shopping cart that makes the shopping faster, easier for customers, pushing the self-checking to the new level. The smart shopping cart will create the better experience of doing your grocery, and it will reduce the time that you spend in a store. Technology inside will help a customer to navigate through the piles and have a shopping list on a screen connected to theirs accounts. Let's make the future of shopping enjoyable."
Significant Social Impact – $4,500
VotED- from Middlesex Community College: Michael Dignan, Sophomore, Business Administration; Gillian Inglis, Sophomore, Business Administration; & Olivia Reposa, Sophomore, Business Administration.
"A voting education app. It informs voters about what is on their ballot in the upcoming election and will notify them when there is an upcoming election. They can also decide if they want to learn about town meeting and other political events in their town."
Rist Campus-wide DifferenceMaker – $6,000
Benji Ball- Benjamin McEvoy, Sophomore, Business; Gavin Donohue, Sophomore, Engineering; Tristan Naboicheck, Freshman, English; & Edward Morante, Sophomore, Education.
"This is a Baseball training tool that will be composed of a bat and ball with the ball having multiple sides, each side showing the different outcome of an at bat. The bat has a bigger barrel since this game/training tool is designed for children and special needs kids to be able to learn the game of baseball in a fun and simplistic way. I already have the first prototype made from a manufacturer in China."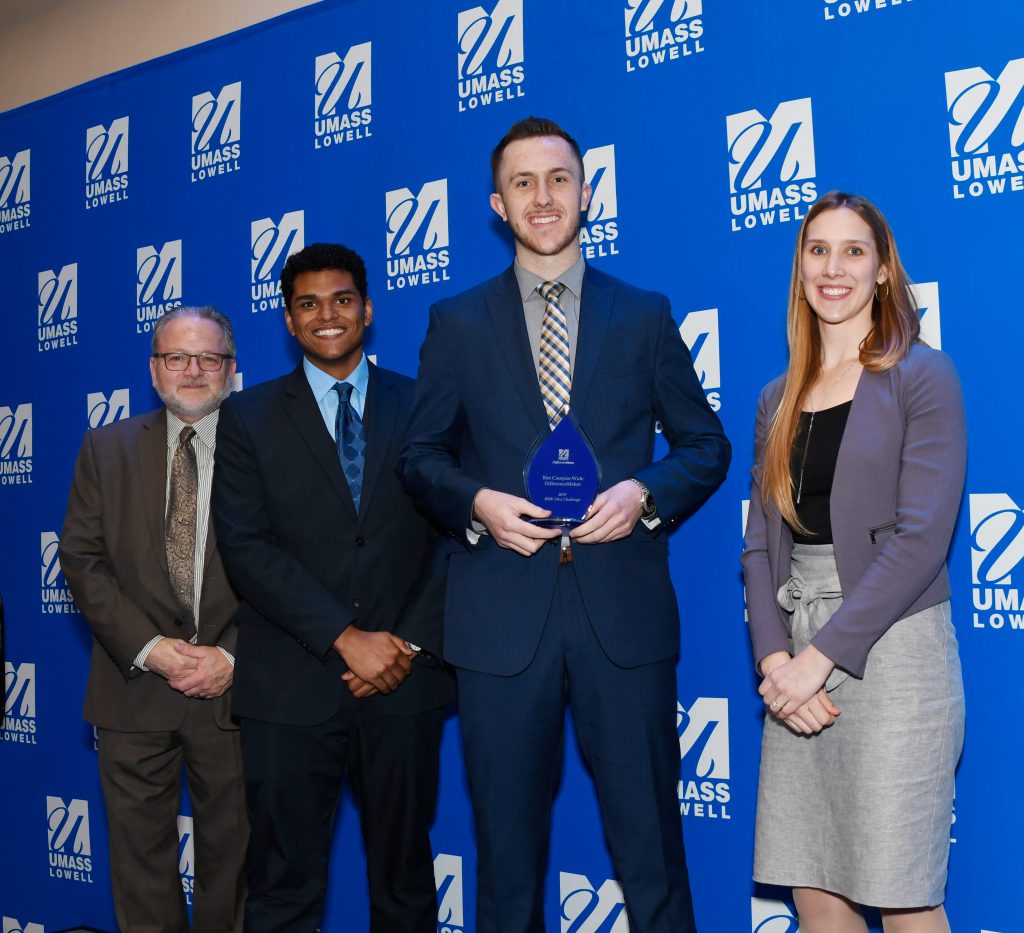 We would like to extend a special thanks to all of our judges for doing an amazing job!
Jim Barry '88, Kennedy College of Sciences, President and CEO of InspireMD, Inc.
Lorna Boucher '86, Manning School of Business, Chief Marketing Officer of Instinet
Mary Burns '84, College of Fine Arts, Humanities & Social Sciences, Principal of Splash Media Group Boston, LLC
Jim Regan '88, Manning School of Business, President and CEO of Digital Federal Credit Union
Brian Rist '77, Manning School of Business, President and CEO of The Smart Companies
Mark Saab '81, '13 (H), Francis College of Engineering, Chief Technology Officer of Vention Medical
Jack M. Wilson, President Emeritus UMass System and Distinguished Professor of Higher Education, Emerging Technologies, and Innovation at UMass Lowell
Also, a huge thank you to all of our sponsors for supporting the DifferenceMaker program over the years and helping us get to where we are today!
Circle Health
Jim Dandeneau '80
Joseph C. Day Chancellors' Fund
Digital Federal Credit Union
Foley and Lardner, LLP
Joseph P. Donahue '13 (H) Charitable Foundation
Nancy L. Donahue Endowed Fellowship in Values and Ethics
Enterprise Bank
Mitchell Kertzman '96 (H) Endowed Discretionary Fund
Robert J. Manning '84 Endowment Fund (Robert and Donna Manning)
Francis L. McKone '56 '00 (H) Chancellor's Discretionary Endowment Fund
Glenn Morgan '86
Pernick Chancellor's Endowed Discretionary Fund
James Regan '88
Brian Rist '77, Manning School of Business
Spinola Angel Investment Fund for Entrepreneurship
Andrew Sutherland '94
Jack Wilson Endowed Presidential Entrepreneurship Award Fund