The second event in our Workshop Series was held Thursday, February 21st, from 5:30PM to 7:30PM in Lydon Library Room 110. This workshop was focused on Assessing Opportunities and Value Proposition. As over 30 students arrived, some delicious fajitas were being served.
The night began with Faculty Fellow, Professor Brent Shell, from the Zuckerberg College of Health Sciences, presenting about what "Assessing Opportunities" really means. He stressed to the students that there is a market for practically everything, but the question is if there is an opportunity or a need within that market.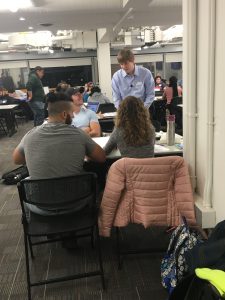 To finish of the night, Faculty Fellow, Professor Neil Shortland, from the College of Fine Arts, Humanities and Social Sciences, presented about the importance of value in a product or service provided. Both Professors kept it a very fun and engaging night, often asking questions and opening the floor to DifferenceMaker® student teams to share how their product and service ideas can bring value to the consumer.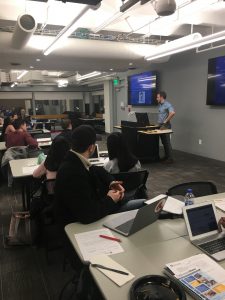 We would like to thank everyone who made it to Workshop 2 and we hope to see you all at our final two workshops:
Developing Business Models: Monday, Feb. 25th
Delivering Your Rocket Pitch: Wednesday, Feb. 27th
 All workshops will be held in Lydon Library, Room 110, North Campus from 5:30 – 7:30PM!
 Dinner is served at each workshop, so please come hungry!