On Wednesday, April 4th at 2:00 P.M., a total of 26 student teams began pitching their ideas to several panels of successful alumni judges. Ten teams would then be chosen as the 2018 Idea Challenge finalists, who will compete for $50,000 on April 25th!
Congratulations to our ten finalist teams!
ClassRoots- Nicholas Norcross, Junior, Business Information Systems & Kevin Seery, Sophomore, Supply Chain and Operations Management. "A peer learning platform that aims to bring classmates together in order to make friends and utilize each other as tools for academic success."
ETRALock- Edwin Taveras, Senior, Electrical Engineering; Michael Silva, Senior, Electrical Engineering; & Robinson Arias Gonzalez, Senior, Electrical Engineering. "A device that could be attached to any door in order to help people easily and safely access their homes key-free."
Iron Legion- George Le, Senior, Computer Science, & Peter Maitland, Junior, Homeland Security/Criminal Justice. "Our objective is to develop an autonomous drone network designed to carry out delivery service, search and rescue, and infrastructure security operations."
Lead-Ex Filter- Lewis Rowles, PhD, Civil and Environmental Engineering, & Arsalan Khalid, PhD, Civil and Environmental Engineering. "This project aims to develop an effective lead removal device for water distribution system."
Mass Heartbeat- Jack Nealon, Graduate, Law; Shane Lavoie, Graduate, Masters of Business Administration; Pat Cusanelli, Alumni, Medical Device. "Mass HeartBeat is an organization dedicated to bringing affordable and convenient heart screening services to students directly at their school, camp, or university. Mass HeartBeat uses state-of-the-art ECG technology to screen students for undetected cardiac conditions that could lead to sudden cardiac death if left untreated."
Personalized Learning- Daniel Falcone, Junior, Business Administration; Jennifer Lee, Junior, World Languages; KavyaKumar Vallurupalli, Graduate, Computer Science; ManojReddy Dumpa, Graduate, Computer Science. "This project is focused around utilizing students personality traits and learning styles to match them with the most optimal professor for each of their classes based off of their teaching style."
PETTY: Pesticide spraying robotics arm- Thanh Hoang, Senior, EE, & Trung Nguyen, Senior, Mechanical Engineering. "A pre-programed small-footprint robotic arm is able to spray exact doses of pesticide in complex farming environment such as apple, plum, cherry (branched tree)."
PlaytList- Sebastian Pascal, Freshman, Business; Isaac Brown, Graduate, Computer Science; Alana Zheng, Freshman, Business; Joseph Ayoka, Freshman, Computer Science. "The focus of this project is to create an app for people with dietary restrictions whether it be health, cultural or religious find restaurants near them that suit their needs."
SASS: Solo Adventurer Safety System- Cameron Edmonds, Senior, Electrical UG- Robotics Minor; Matthew Pelland, Sophomore, Computer Science/Math; Jackson Seal, Sophomore, Computer Science/Robotics; Curtis Sargent, Marketing. "Providing reliable GPS tracking and communication with a timed checking system to make sure the adventurer is always safe."
SolXtrack- Anikitha Sushma, Graduate, Energy Engineering, & Abhiram Authipudi, Graduate, Energy Engineering. "The project involves the extraction of oil from organic waste to contribute towards reducing energy crisis and for applications in cosmetology."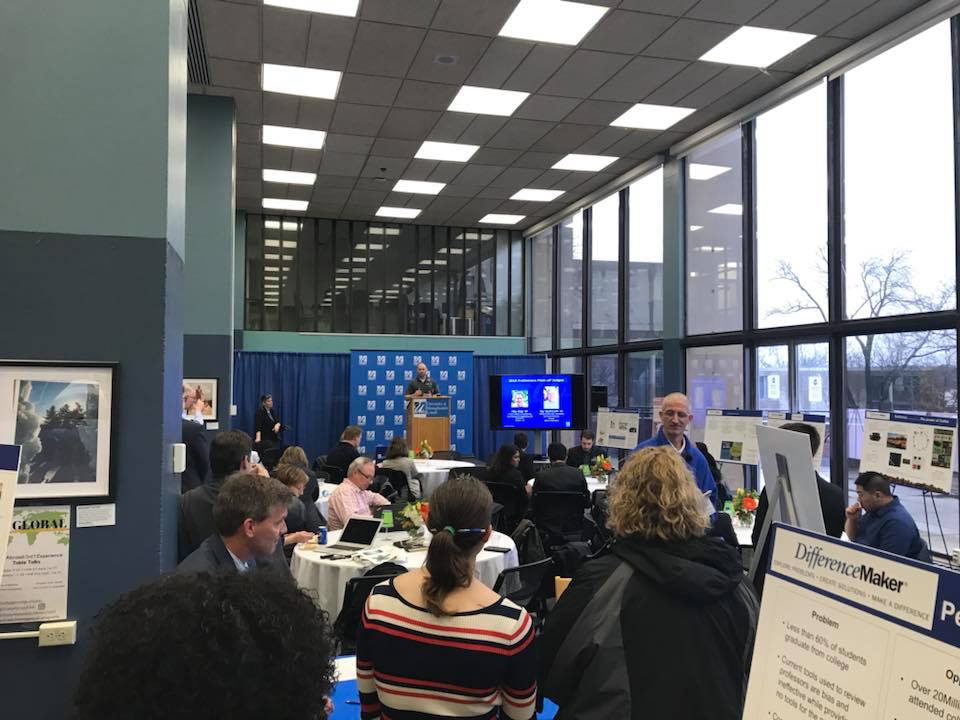 Also, a special thank you to our judges:
Lisa Allocca, Greg Chiklis, Cindy Conde, Josh Entner, Steve Geyster, John Grayson, Dan Keefe, Sarah LaLiberte, Brenda Maille, Paul Makris, Susan di Mari, Chris McKenna, Glenn Morgan, John Norden, Mike Rider, Ray Southworth, Andrew Sutherland, and Ira Turner.
Also, a big thank you to our guest speaker Justin Lozier, a former DifferenceMaker, and founder and CEO of TopaCan!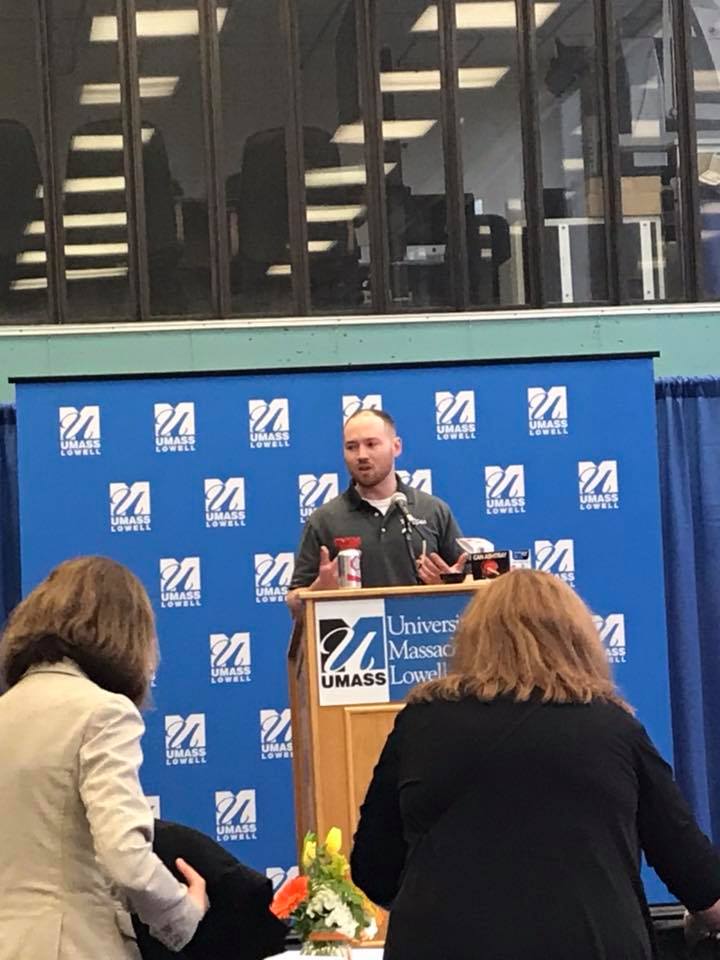 Make sure to come by our $50,000 Idea Challenge on April 25th from 5-8:30 PM in Moloney Hall!