On Wednesday, December 6th, the Fine Arts, Humanities, and Social Sciences Creative Venture Competition was held. Students, faculty, and spectators piled into Room 222 of O'Leary Library to get a glimpse of students brilliant ideas. Student teams presented in front of a panel of esteemed judges who then chose their favorite idea.
To kick off the event, Dean Luis M. Falcón introduced all the judges and a little bit about them.
Judges included: Glenn Morgan, a graduate of the University of Lowell, who then went on to become the founder and CEO of Skyworld interactive until he sold his share in the business last year. He is now full-time consulting on mergers and acquisitions, operations, digital services and account profitability for New England's leading full-service ad agencies; Jack Ford, a graduate of Lowell State College where he earned degrees in Education and History, and eventually completed his masters at Clark University. Jack currently is the principal at JF3 consulting, which provides strategy and acquisition consulting to corporate clients. Lastly, Danielle McFadden, a graduate of UMass Lowell in 2007, who is now the President of the Greater Lowell Chamber of Commerce and has been for over 6 years now.
The first team to present was a one member team of Lindsay MacDonald, a Senior Psychology major, with her idea, Mindsense, an "educational social service that provides schools with mindfulness training using an organic community-based approach to grow an environment of mindfulness in the educational setting."
Next was Team Personalized Learning. Personalized Learning's members included Daniel Falcone, ManojReddy Dumpa, Tejaswini Gaddam, Troy Lamontagne, Michael Nelson, Daniel Santos, Karansinh Thakor, and KavyaKumar Vallurupalli. Their idea is "a web platform that utilizes psychology and adaptive matchmaking that gives recommendations to students based on their personality, learning styles and study habits to find the optimal professor for every class they need to take."
The next team to present was Team Project Pace. The team included members Matthew Chigas, Brenna Ambrose, Kyle Cooper, Daniel Gonzalez, Matthew Levenson, and Colleen Silva. Project Pace pitched an idea for an "online platform for young people to discuss uncomfortable topics surrounding extremism. The platform provides tailored educational contents to a target audience of 13 to 25-year-olds to provide them with tools they need to counter misinformation."
Lastly, Team App Development pitched their idea of "an online platform with people with similar interests, race, career, pass, religion etc. can become connected. The platform primarily targets individuals who are new to a city, people who are postgraduate and are looking to build relationships and attend different activities in the community." App Developments members included Bethsaida Saint-Vil, Information Technology, Graduate and Shamilah Ulysse, Education Administration, Graduate.
First place with a $5,000 prize went to Project Pace!!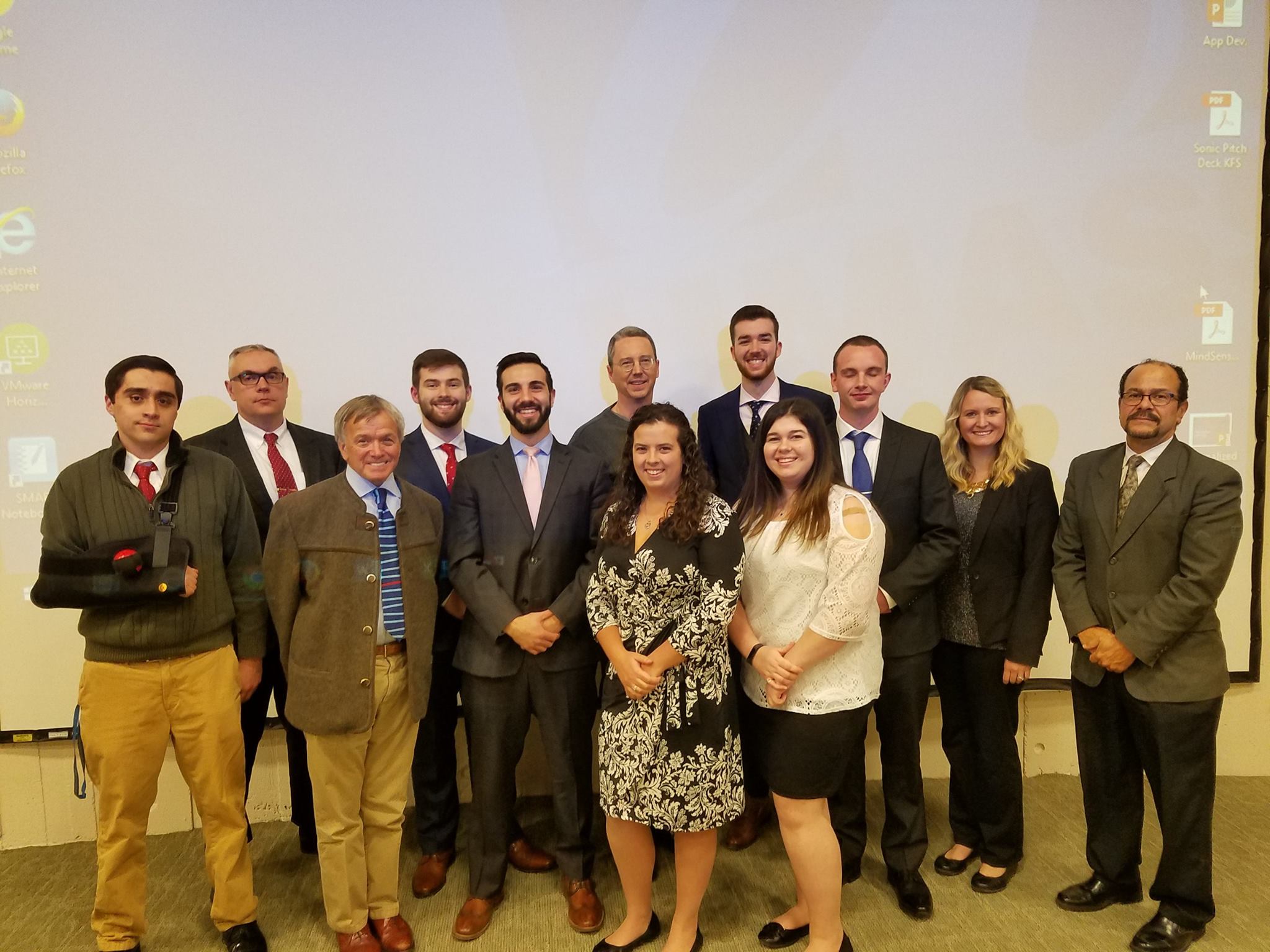 Thank you to everyone for coming and to all the teams who participated! We hope to see teams submit their ideas into our 2018 $50,000 Idea Challenge!