Our last workshop of the 2017 series, Delivering Your Rocket Pitch, was held this past Wednesday, March 1st from 5:30-7:30p.m. in Lydon Library, Room 110 on North Campus. Holly Butler, Director of the DifferenceMaker Program, introduced Steven Tello, Associate Vice Chancellor Entrepreneurship & Economic Developement, as the guest speaker for the evening. While students enjoyed the potato bar, Professor Tello lead student through exercises on how to deliver their Rocket Pitch. After demonstrating a sample rocket pitch, students were given a chance to deliver their own, as well as asking any more questions on how to improve their DifferenceMaker projects!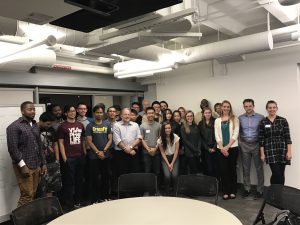 Thank you Professor Steven Tello for attending the workshop!
And don't forget to attend the $50K Idea Challenge this Spring to hear your fellow students' DifferenceMaker Projects!