by Stephanie Sullivan
Taking a deep breath, I walked through the halls of Kripalu yoga retreat center. I would be leaving tomorrow, I knew, so I wanted to bask in the bliss of this no-stress retreat as much as possible. My plan was to bring this peace with me and live like this for the rest of my life.
As you may have already predicted, it didn't happen.
I like the way my yoga teacher herself put it: "It's so nice and peaceful there and I start to really feel like myself again, in the natural state of peace, and then I come home, and the kitchen's a mess, nothing's taken care of, and I'm back in the stress of the real world all over again!"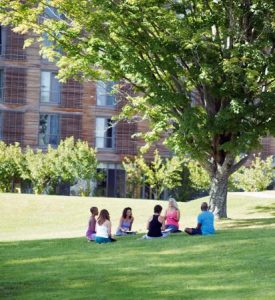 While we would do well to accept we cannot change other people or much of our surroundings, community psychology points to some solutions – as well as an explanation for why that sense of peace doesn't last after experiencing a peaceful environment.
It is no secret that we are influenced by our environments. Social contexts change people's behaviors and basic aspects of a person, particularly group norms. You may have also heard the famous quote by Gandhi, "Be the change you wish to see in the world." Just as your social groups influence you, you also have an influence on that social group (Moos, 2003). So, the peaceful parent can be a positive influence in a hectic home without having to change anybody directly.
Three characteristics of social contexts community psychologists have noted for being particularly powerful are the directions of personal growth, the quality of relationships, and the level of clarity, structure, and openness to change (Moos, 2003). Try balancing these three aspects in the main environments in your life in a positive way as best you can. Having positive and consistent relationships, being clear and flexible, and intentionally promote independence and self-discovery for yourself and those around you will make your social environments very powerful. These characteristics are especially important for parents interested in the well-being of their children, as family life typically has a long-term effect on people (Moos, 2003).
Research has shown that mutual help groups which provide long-lasting relationships, goal direction, and structure often produce powerful results, with or without intervention (Moos, 2003). My yoga teacher and I both felt stressed coming home because the retreat could be compared to an intervention, which lacked the capacity to become an integral part of our lives. When we leave a setting, no matter how powerful, the effect lessens over time – for better or for worse (Moos, 2003). That's why it's important to have long-term relationships with peaceful and happy people if we want those qualities for ourselves.
Through a process called the Transcending Process, we can create an entirely new social context. To be happy and peaceful takes putting in the effort to offset the stressful lifestyle around us with alternative environments that mirror our goals (Moos, 2003). Maybe we can directly work with our families to make home more peaceful, or create a group with like-minded people to work towards our happiness goals.
Finally, we need to be accountable to ourselves for the stressors in our lives, which can have a cumulative effect and make it difficult to be truly happy.
According to the LISRES Adult Form (Life Stressors and Social Resources Subscales), stressors include physical health, the physical conditions of our home and neighborhood, financial problems, negative events, our work environment, issues with our friends, romantic partner, our children, and extended family can all bring us down (Moos, 2003). To be happy, then, we should be sure to care for our physical health to prevent injury and sickness, make the special effort to make our home feel attractive and comfortable, get our finances in order as best we can, make and embrace positive events in our lives, and maximize positivity in our interpersonal relationships.
Life is not a fairy tale and there is no need to put our happiness up to chance. This blog is meant to detail what research demonstrates we can do to alleviate our stress and build happiness. In doing so, the world truly becomes a better place. Life is difficult and stressful enough as it is, and this research shows us that there are tangible ways to prevail. Social contexts are interconnected, and it within our power to make our mark. In the interest of creating a more peaceful and happy world, we can make the choice to stop being part of the problem, and finally become part of the solution – no yoga retreat center required.
#UML #commpsych
References
Moos, R. H. (2003). Social Contexts: Transcending Their Power and Their Fragility. American Journal of Community Psychology, 31(1-2), 1-13. doi:10.1023/a:1023041101850