Our first stop today was to visit John Hill at Vitec. Hayley and I met John during a dinner at Prof. Lewis's house back in April.  We had a very lengthy conversation about how a British product manufacturing manager ended up in Costa Rica.  As it turns out he came expecting to be here for a couple of weeks to set up a new facility.  His two weeks turned into 10 years.  We had the opportunity to tour his manufacturing floor where he has an extremely organized workflow that follows the product down the line to shipping.  His technicians are highly skilled in their specific task, which makes crossing functions almost impossible.  All employees showed a deep pride in what they do, what they make and the company.  In return the company provides at terrific place to work, in which they have earned an award in the top companies to work in Costa Rica.  An award the company is clearly proud of.
Our next stop was at Dos Pinos Dairy Manufacturing facility.  Here we took a quick tour in the van since it was raining, then viewed the industrial equipment used to manufacture the milk, milk products and juices.  The public relations employee on spoke only Spanish, but Juan was quick to volunteer to translate for the entire tour.  Thanks Juan!  We ended our visit with a picture and an ice cream.
Dinner this evening was typical Costa Rican (Tico) fare at a local restaurant.  My dish, the Esparada Monteverde was grilled chicken covered with cheese, fried plantain, salsa and tortillas – something I've never eaten before, but enjoyed every bite.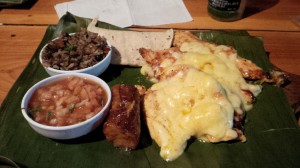 Until tomorrow….
Cindy