The people of Costa Rica are marvelous, very friendly, good spirited, and always aiming to please.  The staff at our hotel continues to reach out to us, and make us use what Spanish we know, for any request.  One phrase I have gotten down at breakfast is Mas Café con leche, por favor?  You can't just have one or two or three or even four cups, it really is just that good.
Today, was a long day, but one filled with much learning and experiences. We first traveled to the East side of town to visit Vitec Videocom Limitada, this company makes television shows, movies and sporting events happen, they produce the worlds best quality cameras, camera accessories and services.  We were able to sit in their board room and ask the tough questions to one of the senior managers of the plant.  Afterwards, we took a tour of one of the most technology advance manufacturing plants in all of Costa Rica.  This plant has also won an award for being one of the best places to work in all of Latin America, and when asked how they did it, Don John informed us that their greatest assets were their people.  They had pride in doing their work and being the best of the best of the best which really showed in their products, and throughout their facility.
After a quick stop at a local mall, which seemed very similar to one you would find in the states, it was off to Dos Pinos, a dairy producing plant.  Upon arrival, we were given a tour of the facility, which was a sprawling complex on a few hectors of land.  The facility consisted of several operations outside of dairy, but related.  Dos Pinos, supported the farmers which had the dairy cows, and had food, along with a farming supply store, additionally, they had a recycling plant where they collected the used packaging of their products to make chairs, desk and roofs.  We then entered their dairy processing plant, where the first thing you saw was a board, tracking their resource use; electricity, gas, water, waste, etc.  Costa Rica is very concerned with preserving nature, and this board was a reminder for all who worked there the goal of the company to be carbon neutral.   The small company had grown into one of the largest dairy producers, now doing business in 16 counties, including China and the United States.  The tour guide again informed us that their success was base on their people and their pride.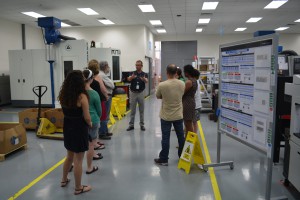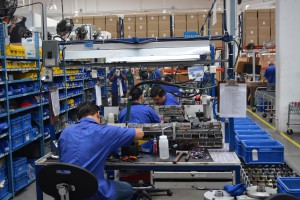 What a powerful force, peoples pride; it can act as a multiplier to create a good business into a great business.  I have always know about American pride, and now  I have been given the chance to see another countries pride, and how it plays a role in their daily life, along with their working life, from highly technical manufacturing to producing milk, it's the people of the company and country that make it great.