Today we got the chance to step out of Portugal and see Spain. Once in Spain, we started with a very traditional meal at Restaurante San Clemente which included starters such as, empanadas, calamari, and prosciutto. There were two choices for main dishes, either pork or fish. I chose fish, something out of my comfort zone and loved it!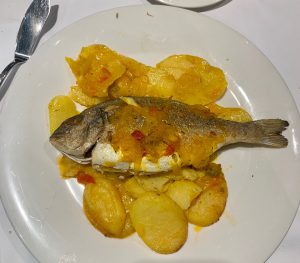 After the meal, we began a tour of the city center, focusing on the Cathedral de Santiago de Compostella. The Cathedral is, in my opinion, one of the most beautiful displays of architecture I have ever seen. It is hard to believe that some parts were built centuries ago. Our tour was given by a local guide was named Diego. This Cathedral is the final point of an over 100-kilometer pilgrimage many people complete each year over many centuries. There are several trails from various countries that lead to the cathedral, for example from Portugal, France, Italy and other parts of Spain.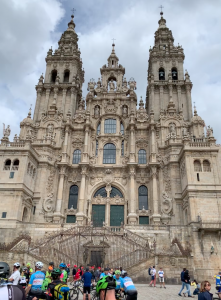 Along the path, pilgrims will follow the "conchas" or shells to the cathedral. Some shells will look different, but either an arrow or the lines of the shell will point to the cathedral.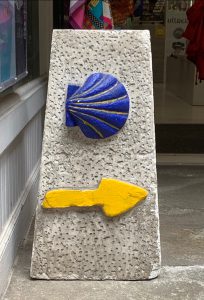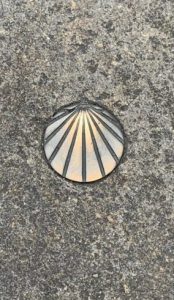 Places that have the shell outside welcome people on the pilgrimage to stay overnight, clean up and eat. At these spots, the pilgrims will get stamps to prove that they have walked the required 100-kilometers. On the tour, we met two Portuguese women that had spent the past four days walking to the Cathedral. Below is one of their cards with each of their stamps.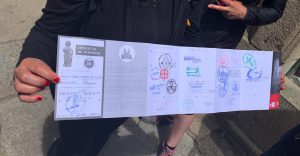 The reason that people come from all over to this cathedral is that it is believed that the bones of Saint James are under the Cathedral. Saint James was a Fisherman that then became a disciple of Jesus, he preached the word of Jesus in Spain. There was a prophecy that Spain would become Catholic due to the actions of Saint James. Unfortunately, he was beheaded, after his death his bones were brought to a crypt under the cathedral, fulfilling the prophecy. 
Shells such as the ones all around the cathedral are also seen in Braga. Traveling to the cathedral and learning the history surrounding it was very powerful for me. Being Catholic made the experience even more special for me. Seeing the influence the Catholic Church has had on every country is breathtaking. I am excited to experience other cities, such as Porto and Guimaraes, in the next nine days.