The Art of Pintxos
Pintxos, a Basque word that might as well mean "small bites," are a staple of the culture here in San Sebastián. On Thursday, July 14th I set out with half of my class to join Professor Julian Zabalbeascoa on a pintxo tour through one of San Sebastián's bustling neighborhoods, Gros. In just one afternoon we hit a total of five bars to experience for ourselves the very unique pinxtos Gros has to offer. I jumped into the day with one goal: eat what's on my plate, and ask Julian what it was only after I ate it. This mindset led to me trying octopus, goose liver, squid and squid ink, as well as pig ear all in one day.
My personal favorite pintxo was called a piquillo pepper stuffed with txipirones en su tinta, which is stuffed peppers featuring squid and covered in squid ink. The black ink was intimidating and if I had gone into Txiki Taberna with any other mindset, I would have probably said, "OMG, gross!" Instead, I took a bite and was introduced to a new world of flavors. The peppers provided a powerful tang, the squid held a rich taste, and the ink was a perfect consistency: neither watery or too thick. As a seafood lover, both my stomach and my heart were full.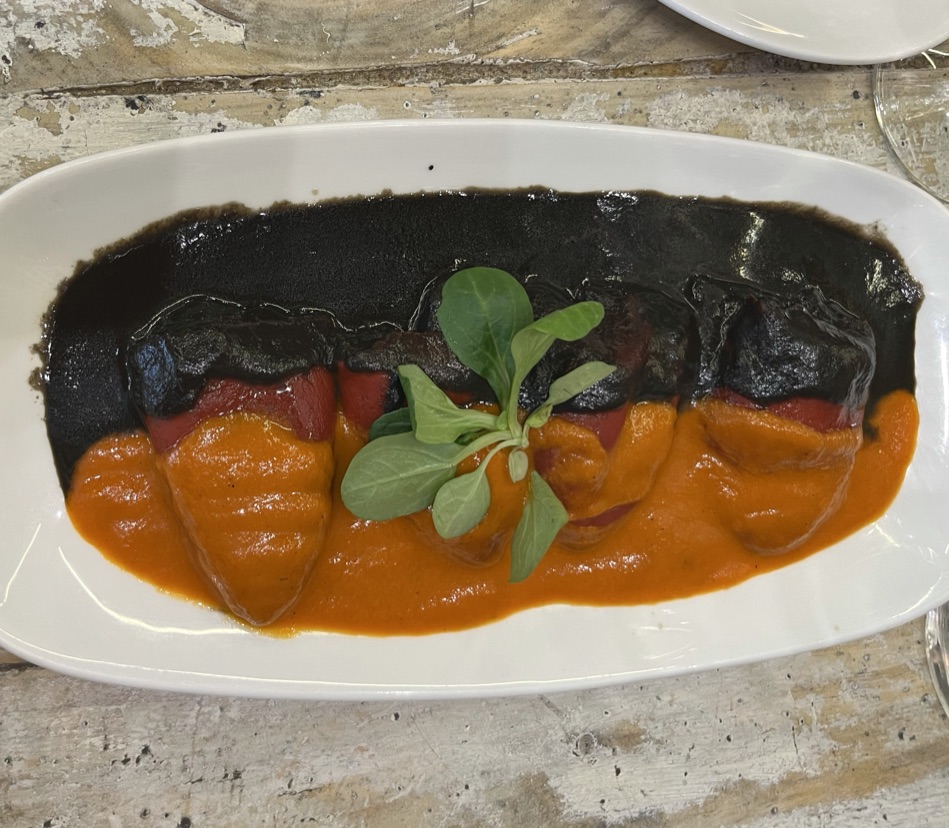 Some of my classmates were not as big of fans of the squid stuffed peppers as I was; however, another seafood pintxo blew their minds and stole their hearts. Brocheta de pulpo y gambas – which means octopus and shrimp skewer – from Bodega Donostiarra consists of octopus tentacles, large shrimp, and roasted vegetables hanging over a baked potato. The mere sight of the brocheta is nothing short of amazing. The combination of the hanging skewers, the bright colors, and the octopus suckers create an overwhelming but breathtaking presentation. This too could have been an, "OMG, gross!" moment, but instead it was one full of excitement as Julian encouraged us to dive into the Basque culture and appreciate the beauty and artwork within the food. The brocheta was several students' favorite dish of the day, ironically including Ardon, who is allergic to shellfish. At the end of our tour he expressed, "I didn't even eat that and I think it was my favorite!"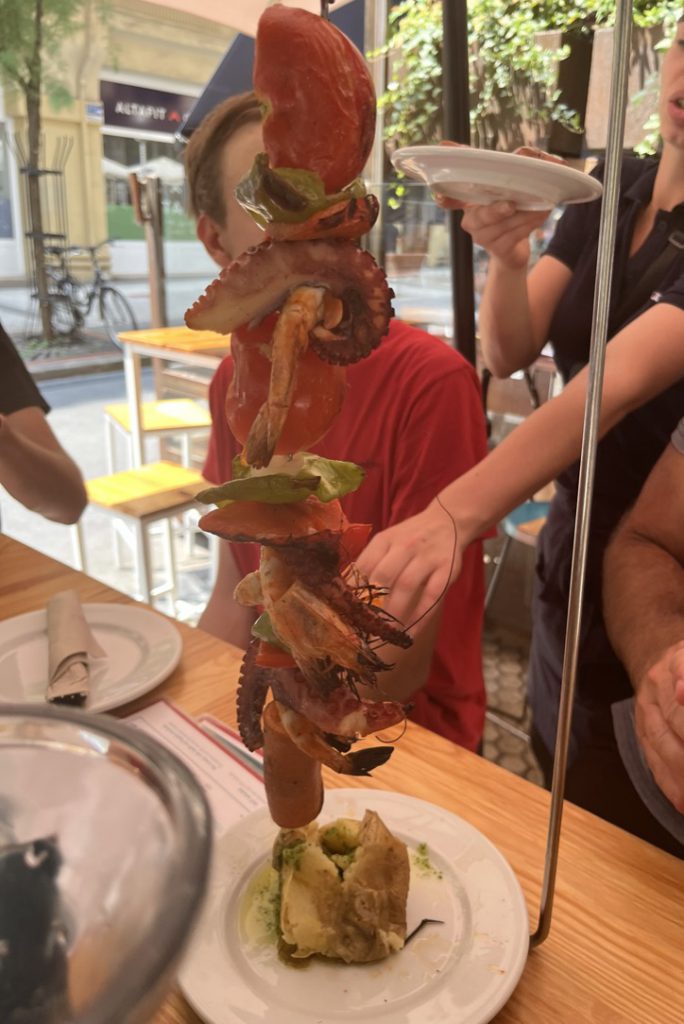 The Authentic Experience
Having the opportunity to explore the neighborhood of Gros for the pintxo tour was – and still is – such a blessing for me. While all of the neighborhoods of San Sebastián are incredible, Gros is unique in the fact that it lacks in tourists and is full of locals. This allowed my classmates and I to truly immerse ourselves in the Basque culture as we surrounded ourselves with the local Basque people. We experienced authentic flavors popular in Basque cuisine full of only the best of the best ingredients, and only when their in-season.
The relationship Basques have with food is starkly different from what we are used to in the United States. As a teenage girl I have grown accustomed to the excessive counting of calories or worry over "unhealthy" foods that is common in America. In San Sebastián, that harmful kind of relationship with food doesn't exist. Here, food is something to enjoy, not tracked. It is an opportunity to be creative, not bland. It is made to honor the traditions of Basque ancestors, not to be a stressor. They use high quality ingredients and very few extra additions such as seasonings or heavy sauces, so the true flavor of what is being presented can shine. Here in the Basque Country, you will never find a dish of squid or octopus that is overpowered, only enhanced.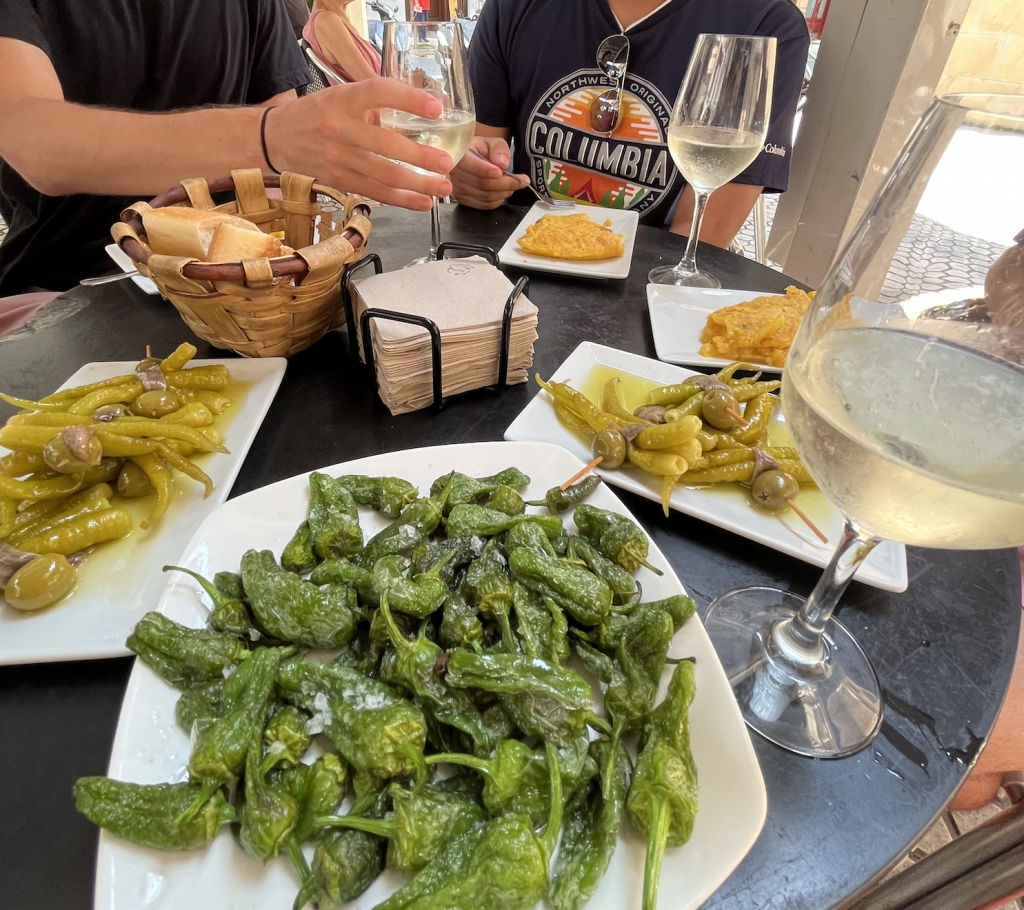 Gutxi ta Maiz
There is a Basque phrase, "gutxi ta maiz," which means "a little bit all the time." I have only been here for five days, but I think I'm beginning to truly understand it. It is essentially a much more beautiful way to say everything good comes in moderation. The tradition of pintxos is a perfect example. It's not necessary to have the biggest or fullest plate on the table in order to enjoy an authentic, tasteful dish. A small bite is all you need. Bigger doesn't mean better, and sometimes a small portion is a blessing. Enjoy the little things, and you just might find yourself enjoying everything. Just like I did with the pintxos in Gros: I enjoyed one small bite at a time and when the day came to an end, I discovered I had really enjoyed a neighborhood, a city, a culture – and that is a blessing.