As Nathan took a bite of the bacalao (smoked cod) pintxo, I asked him for his initial thoughts. "So Good!" he responded with a wide grin as he eagerly awaited another helping. This turned out to be a recurring theme at each restaurant we visited on our Pintxo Tour of Parte Vieja with Professor Zabalbeascoa. While Neil Diamond's classic hit "Sweet Caroline" may not have been written about the food San Sebastian has to offer, the famous refrain aptly describes all the unique dishes we tried.
History of the Pintxo
In Basque, the word "pintxo" translates roughly to "spike" in English, which refers to the mini-skewer holding together pieces of meat or seafood. The pintxo is a Basque invention created around January 1948, when the movie Gilda was controversially released in Spain. As a tribute to Rita Hayworth's beauty, a pintxo with anchovies, olives, and hot peppers was named "Gilda" in her honor, with the spiciness of the dish perhaps reflecting her character in the film.
Pintxos also hold social and economical value in the Basque Country. As a response to the 2008 Crisis Económica in Spain, the idea of "pintxo pote" was introduced. Since pintxos were already an integral strand of the cultural fabric of Spaniards, the pintxo bars offered a special where one could buy a pintxo and a drink for 2 euros, with a limit of one per restaurant. The special helped Spaniards afford their tradition of socializing over food during a time of hardship. The limit also encouraged people to start bar-hopping, which helped spread customers among more restaurants and keep them in business.
Stop 1: Haizea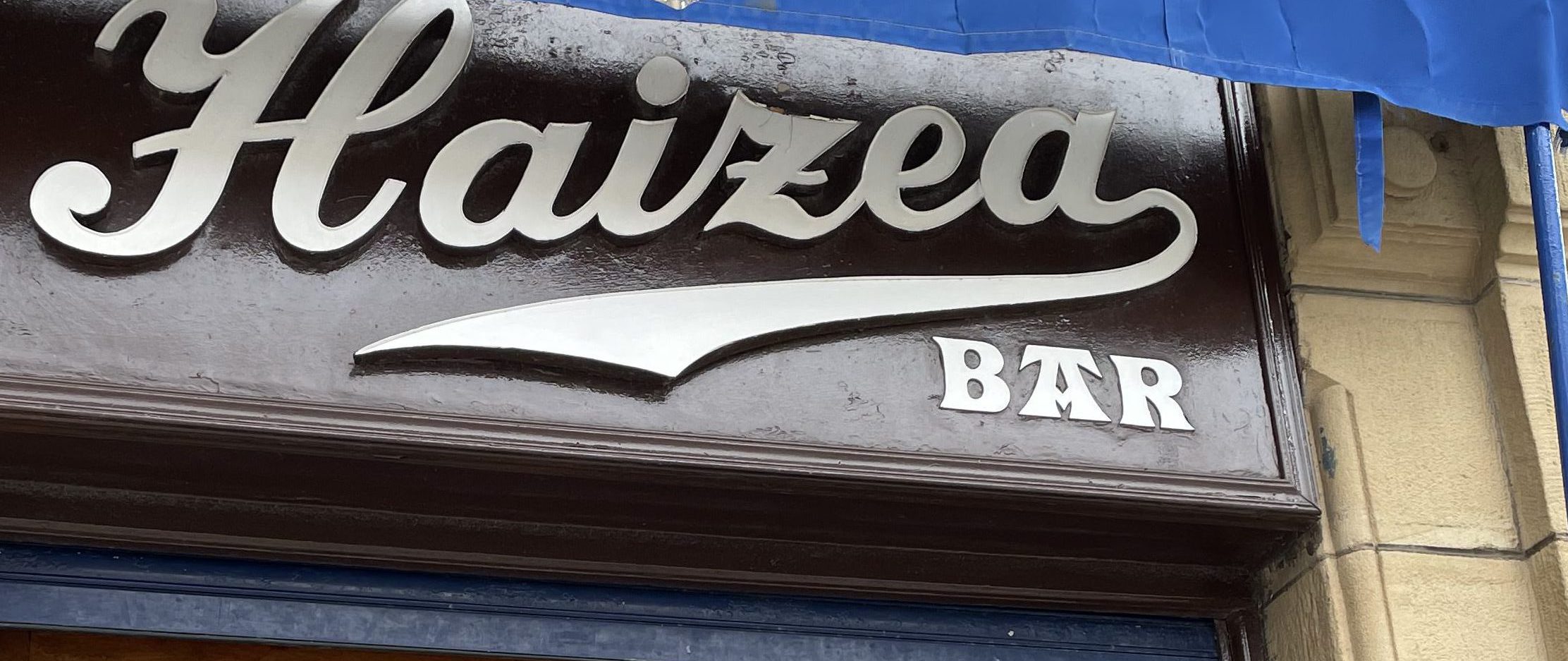 Embarking on our bar-hopping tour, we entered Haizea where Professor Zabalbeascoa was seated at a small table and invited us to join him. While we had no idea what he already ordered for us, we looked forward in anticipation of what was to come.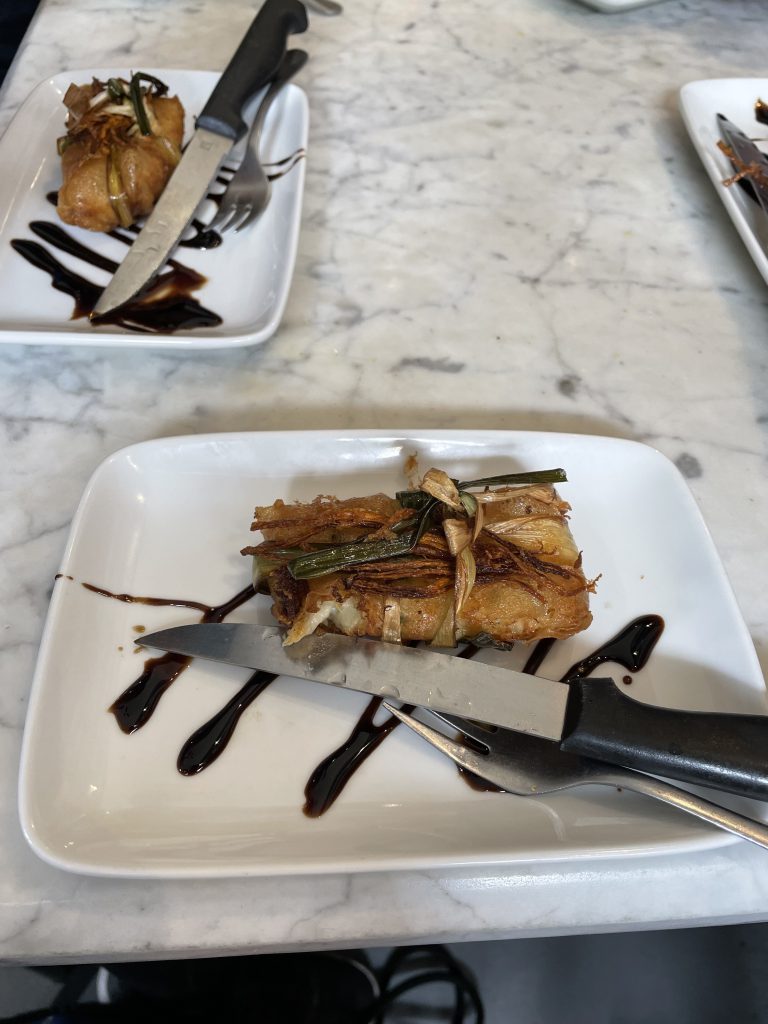 And so it arrived. A beautiful presentation of a plate highlighting the influence of Basque chefs who had studied the culinary arts in France and brought back ideas which elevated Basque cuisine. A brick of bacalao garnished with grilled vegetables and a drizzle of balsamic vinaigrette. Slicing into the bacalao, I was surprised to discover a soft, creamy center wrapped by the crispy skin. The contrasting textures combined with the subtle taste of balsamic vinaigrette created a harmony of flavor that my taste buds couldn't get enough of. Or as Nathan would say, "So Good!"
Stop 2: Borda Berri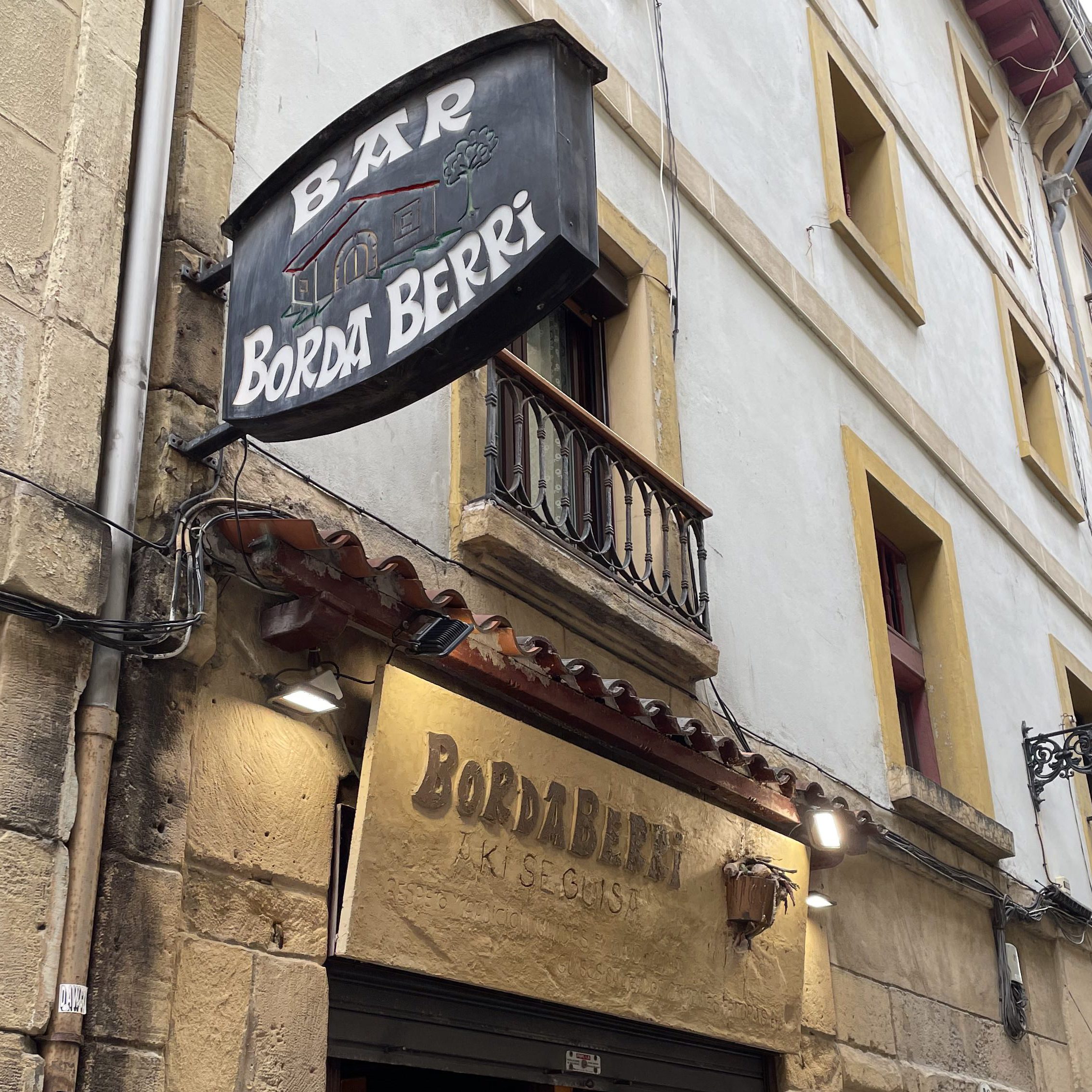 The quality of the bacalao set the bar for the rest of the tour, and I thought there was no way we would try any better dish. I thought wrong. At Borda Berri, Professor Zabalbeascoa warmly greeted one of the waitresses he knew, and he emphasized the link between socializing and food within Basque culture. What sets Borda Berri apart is that they only serve pintxos made to order, instead of the typical bar setup where various pintxos are in display cases for guests to awe at and select from. Here we explored just how far we were willing to stretch our culinary boundaries.
When the first dish arrived, Professor Zabalbeascoa offered a warning to us that previous groups had not been overly enthused with the plate. However, the potential of cod tripe in a creamy parsley sauce simply excited our group. There was an unspoken understanding between our group in that we were fearless in our determination to try food we wouldn't typically eat back home. After devouring the cod tripe, we were presented with more dishes we were not accustomed to: beef cheeks surrounded by potato puree, and grilled pig's ear. A person sitting nearby noticed the pig's ear on our table, and laughed before saying "Good luck, it's very unique…". The group was unfazed by the challenge and enjoyed both dishes, reinforcing our adventurous identity. In particular, the beef cheeks reminded me of the way my family in Morocco slow cooks lamb tagine, ensuring the meat falls off the bone when gently prodded with a piece of bread.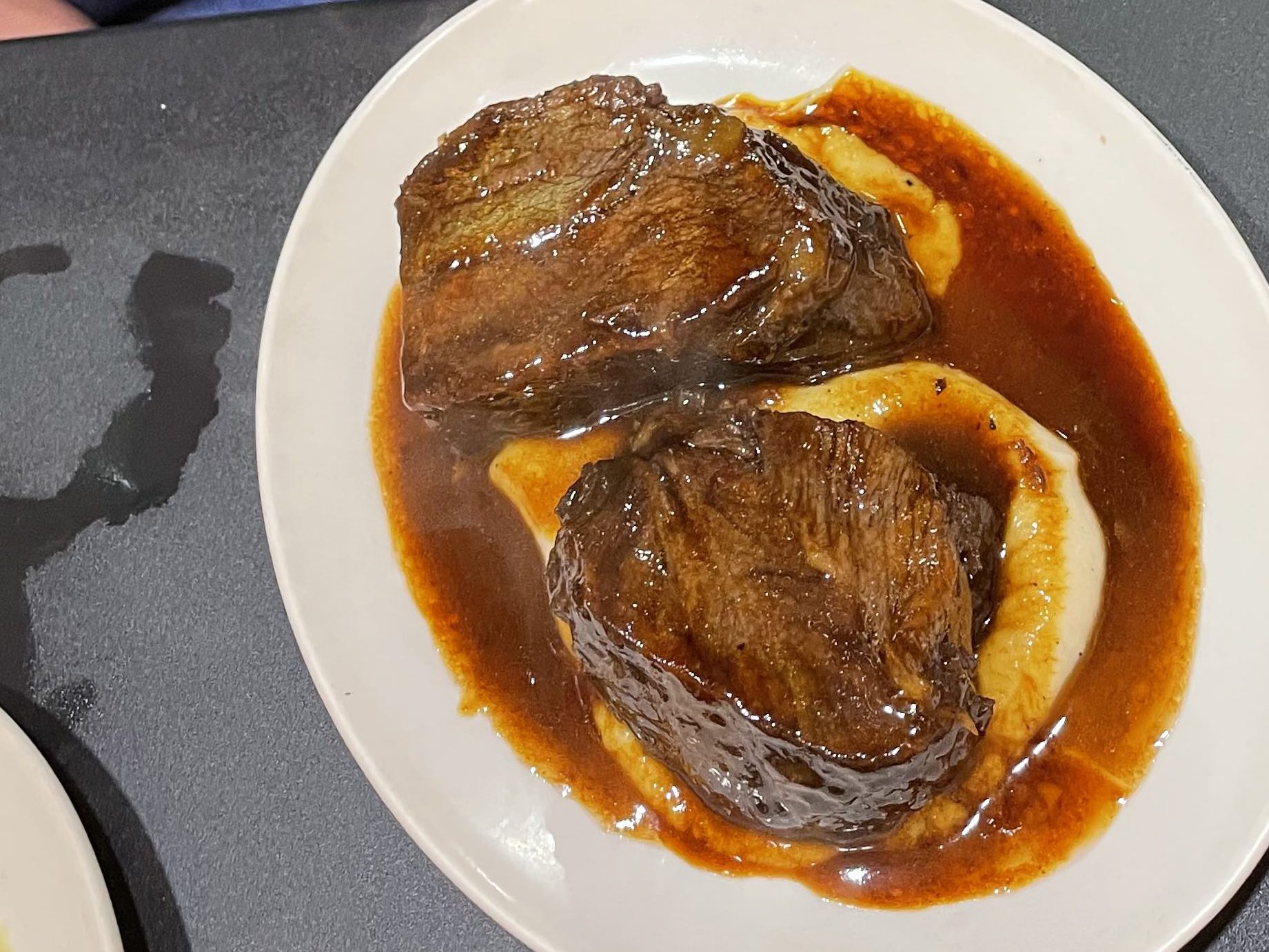 I can't leave Borda Berri without mentioning the risotto, which really took our breath away as we shared two bowls. The dish is prepared with local Idiazabal cheese, which has a rich, almost nutty flavor as the risotto melts in your mouth. Jacob and I both agreed we needed to come back for another portion. Mac and cheese lovers, you are in for a treat!
Stop 3: Casa Urola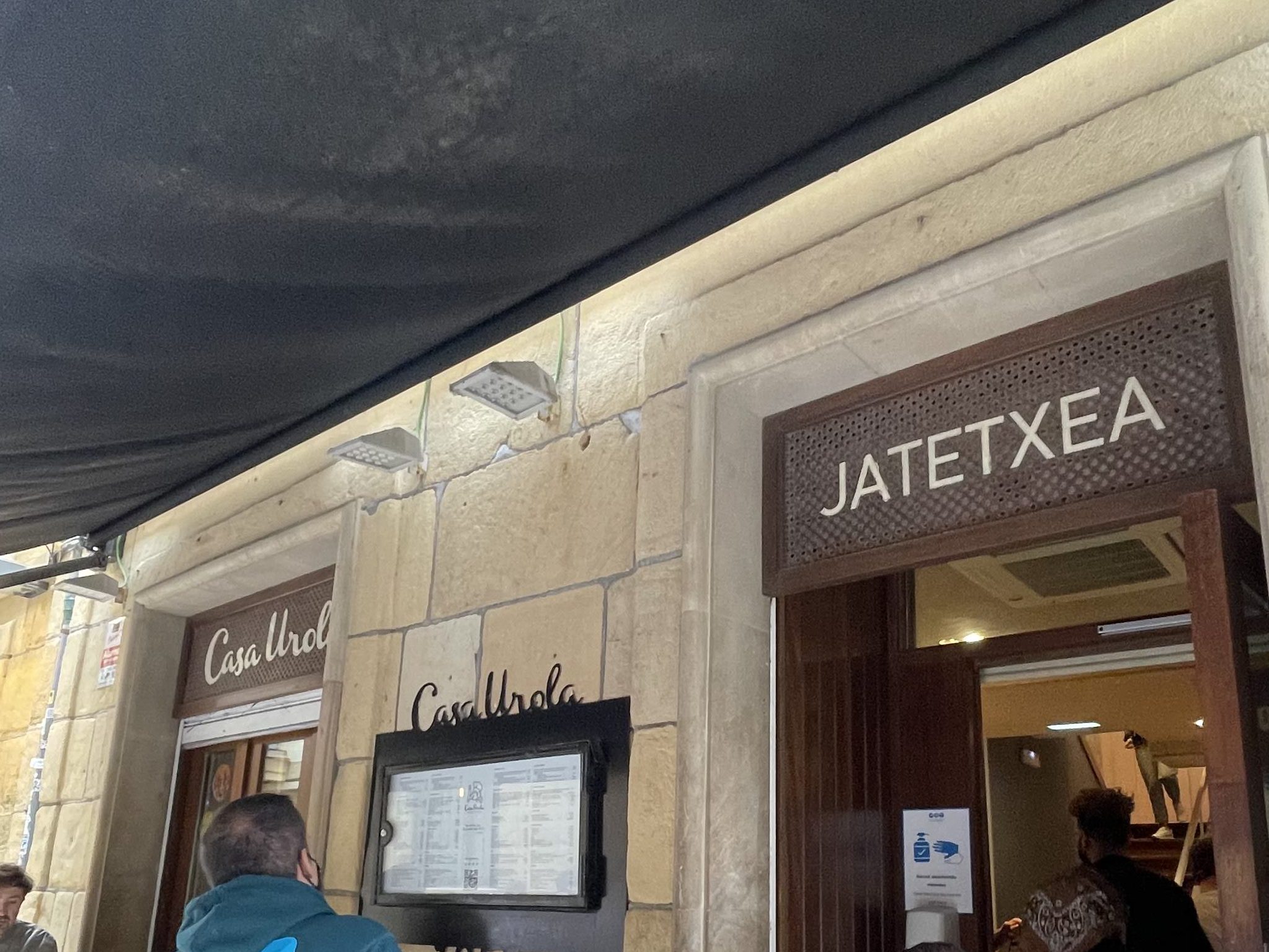 Casa Urola is similar to Borda Berri in the sense that they specialize in made to order pintxos; however, they do have a small display case of ready pintxos as well. Having proven ourselves as capable culinary explorers, Professor Zabalbeascoa offered us the chance to order what we wanted to try. Jacob, Nathan, and I sat at one table and decided to each order something different so we could try more dishes as a group. We settled on vieras (scallops), pulpo (grilled octopus) with potato soup, and taco de chuleta (steak). While you may be thinking of the traditional Mexican tortilla shell, taco actually translates to "piece" in Spanish. While each dish was delicious in its own way, the steak was the crown jewel for me. I wasn't used to eating meat with such a dark red center; but after the first bite, I understood why San Sebastian is considered one of the greatest food cities in the world. Without a doubt, the steak was cooked to perfection. I'm not sure I can go back to eating well-done steak back at home where the juiciness of the meat doesn't compare.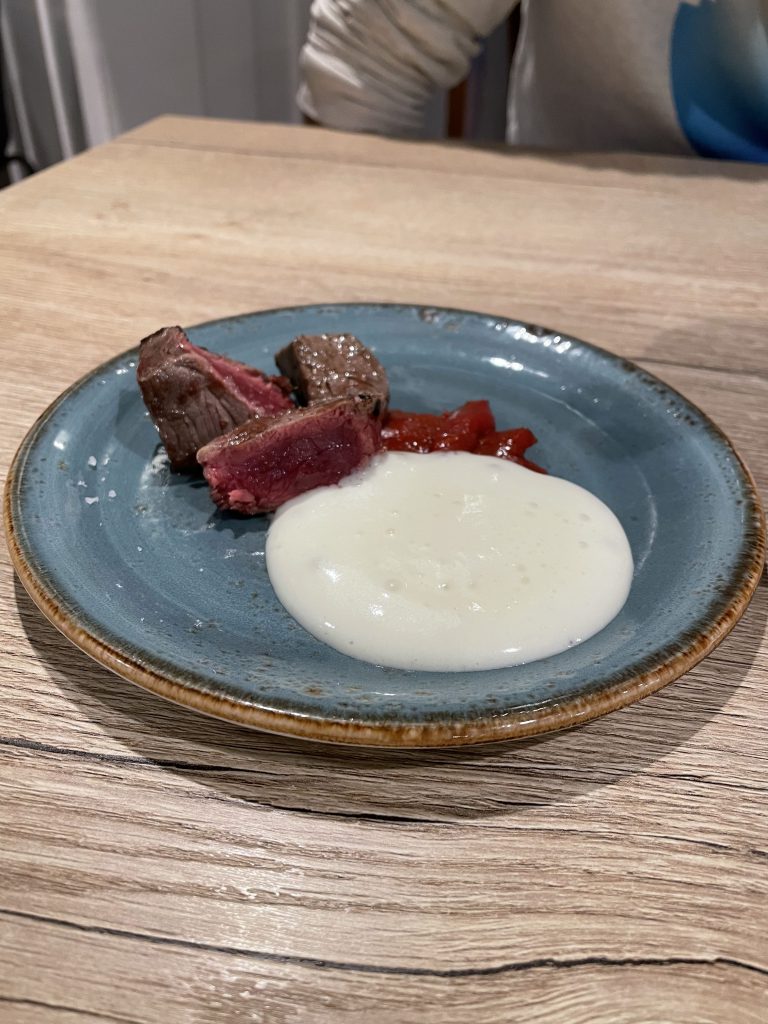 Stop 4: La Cuchara De San Telmo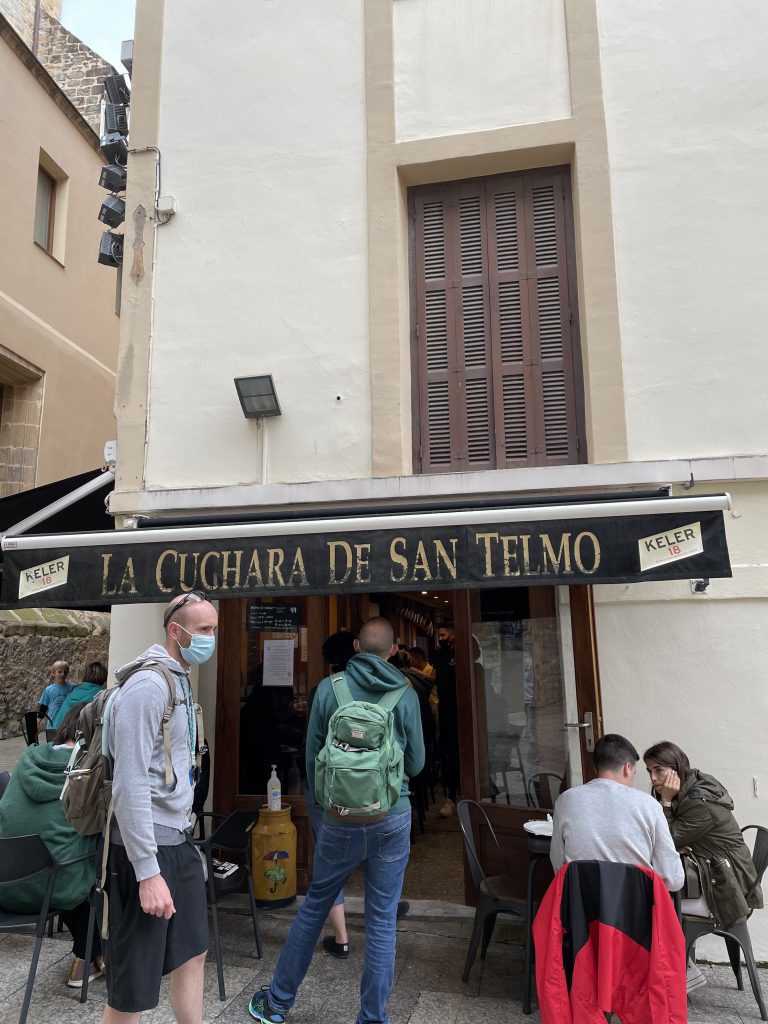 Walking up to La Cuchara De San Telmo, we noticed another group queueing for the chance to dine at one of the finest pintxos bars in Parte Vieja. Glancing at his watch, Professor Zabalbeascoa informed us that the kitchens would be closing in 5 minutes, but as long as we were shown to a table, we would still be able to order food. In San Sebastian, most restaurants close their kitchens around 3:30 PM for a siesta before opening up again for dinner around 7:30 PM. Luckily, we managed to find a table to accommodate the 6 of us. When the waiter arrived, Professor Zabalbeascoa ordered one plate for us. Then another. And another. One more. By the time he had finished bouncing around the menu, he had ordered everything except for 2 dishes. We all stared at each other in disbelief, not able to fully process what transpired before our eyes. "We are going all out here!" Professor Zabalbeascoa chuckled.
We quickly recovered from our state of shock once the waiter started bringing out plates of mouth-watering food. Among the dishes we ordered, the vieras and the goat cheese stood out for me. Chloe and I ended up taking a bite of the scallops at the same time, which resulted in a collective, satisfying "Mhm!" And as for the goat cheese, I simply felt uplifted after trying a spoonful. It was as if I had been transported to another world, untethered from any concerns as my mind focused on this pure state of happiness generated by this cheese.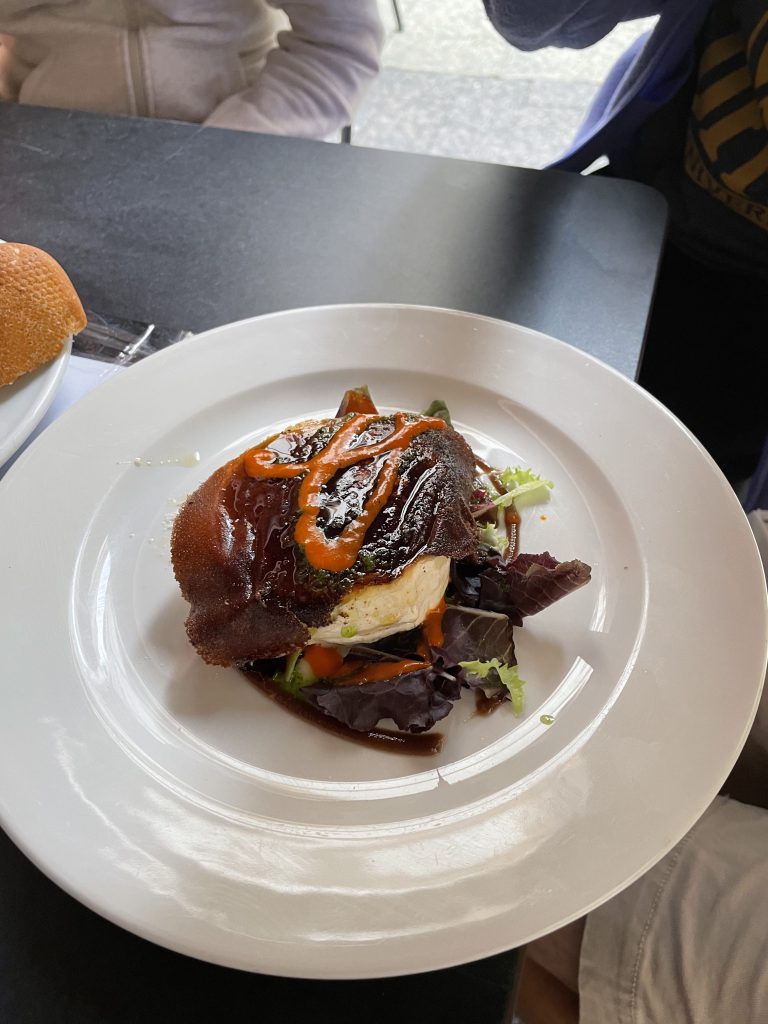 Stop 5: La Vina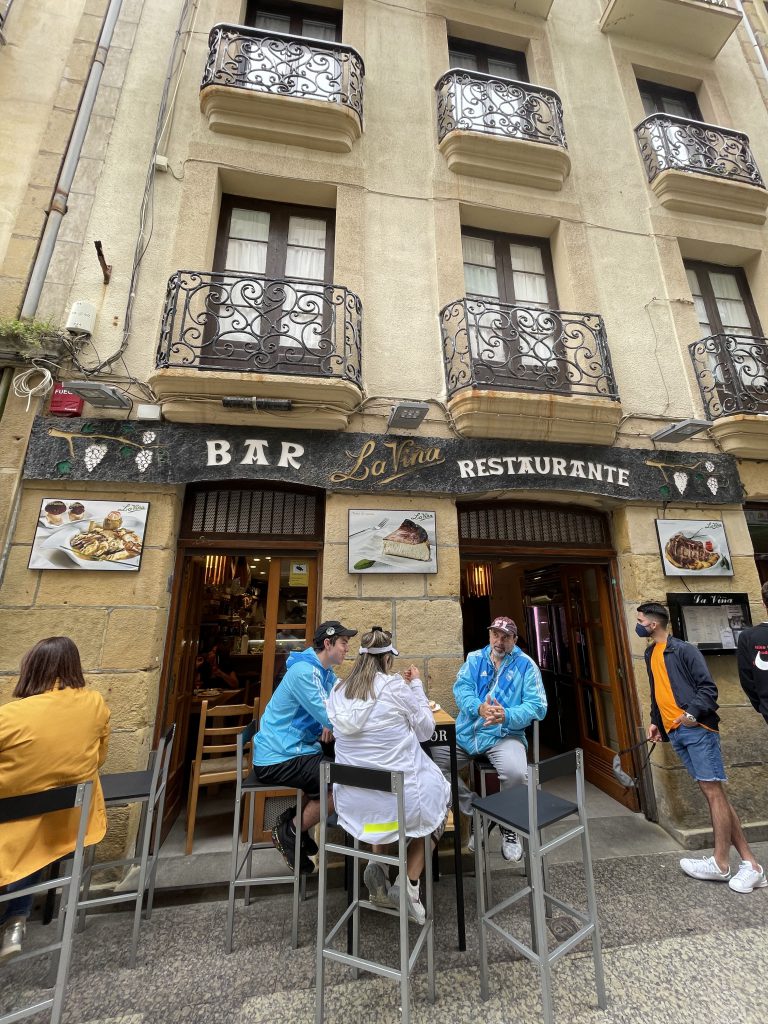 Although we had essentially eaten an entire menu's worth of food, we weren't quite done yet. Our final stop was La Vina, renowned for its Basque cheesecake. After taking our cheesecake to-go since it was approaching the end of siesta time, we walked to the boardwalk overlooking Zurriola Beach. Splitting my container of cheesecake with Valerie, I considered the flamed flavor of the dessert while I watched the waves crash onto the city's coast and slowly recede. Fluffier and not as sweet as its New York counterpart, the Basque cheesecake is in a league of its own.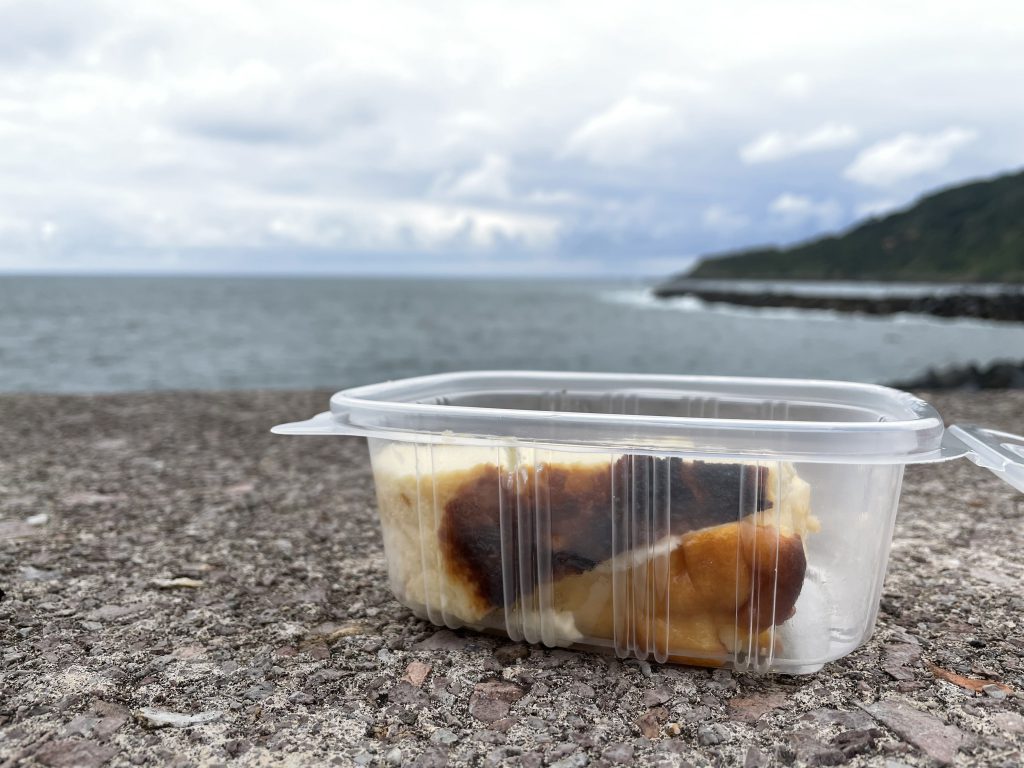 As my gaze wandered out into the Bay of Biscay, I reflected upon our day and what we learned. In what was by far the best lunch of my life, I considered the importance the Basque people place on the quality of their food. Each dish was prepared with local, fresh ingredients that weren't processed in a factory hundreds of miles away. Each dish was prepared with the intention of facilitating relationships between people. It's a way of life that has served the Basque people well, with the highest life expectancy for women and second-highest life expectancy for men in the E.U. (Eustat). Finally, we learned as a group to seek out new experiences in our life, embrace challenges, and be curious about the food and the world around us.
Thank you Chloe, Jacob, Nathan, Valerie and Professor Zabalbeascoa
Hasta luego, agur 🙂
https://en.eustat.eus/elementos/ele0015400/ti_The_life_expectancy_of_Basque_women_862_years_is_the_highest_in_the_EU-28/not0015471_i.html