While studying historic events and languages is a great way to learn about various cultures, my favorite would be exploring the cuisine that a culture produce. Food can tell as much of a story about the area as a tour. San Sebastian (or "Donostia" in Basque) is in no shortage of traditional and creative dishes which present the incredible ingredients of the city. The Basque Country is known for their high quality foods. With much of the land along the Atlantic coast, incredibly fresh seafood, such as cod, octopus, and shrimp, is often the star of the dish. Jamón, a cured Spanish ham, is also very popular. Whole pork legs (foot included) can be found in almost every bar hanging from the ceiling. Pintxos are one of the best ways to experience the food here. Made on small plates and in bite-sized portions, they offer an affordable way to experience a true work of culinary art.
Led by our professor, we strolled around the neighborhood of Gros to experience the excitement of pintxos for ourselves. Going into the tour I was preparing myself to try food I have never tasted before. I knew it was almost a guarentee everything would be delicious but regardless of that, I was still a bit nervous to step out of my comfort zone.
Our first stop, Gure Txoko, was where we were presented with a skewer containing a pepper, olive, and anchovy. The thought of all these ingredients was so unappealing to me that I was beginning to regret my previously adventurous attitude. Despite these thoughts, I decided to eat the whole pintxo (all the ingredients are meant to be eaten in one bite) and actually enjoyed it. With the skewer, we each had a glass of Txakoli, a white Basque wine. The bartender dramatically poured the pale liquid very high above the glasses. The drink itself is a dry acidic wine that is very young, ideally consumed within a year of being made. Something I found interesting was the levels of natural carbonation the wines have depending on where it was made. The region our wine was from had the greatest amount of bubbles Txakoli is able to have. The second bite we had was a slider style sandwich with an entire soft- shelled crab in it, which I loved. Afterwards we were instructed to throw our used paper napkins on the ground. The best pintxos bars are known for their floors littered with napkin piles, a sign that their dishes have attracted many customers. These little traditions make going out to eat especially fun.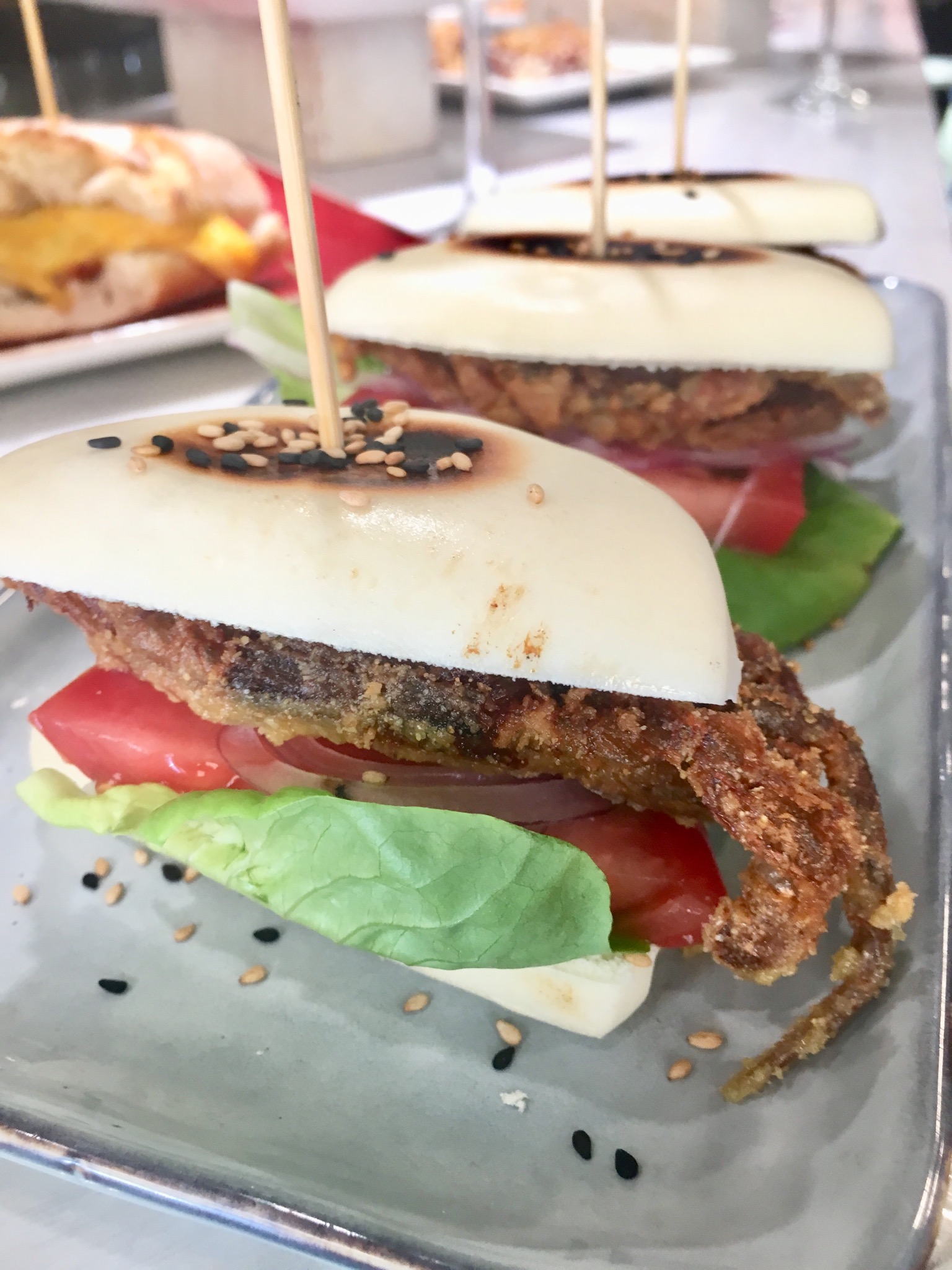 Soft-shelled crab slider
Something very noticeable was the approach to going out to eat and to service. Getting a meal in San Sebastián is something that one should take their time with, and even when you finish you shouldn't rush out. It is more of a social experience that service staff respects by leaving customers to sit and enjoy their time. I think this method could teach Americans to stop and take time to appreciate their food and company.  The process of buying pintxos was something very unusual. While not all major tourist restaurants follow this rule, many bars serving pintxos will ask the customer to tell them what they had eaten rather than keeping a list of the foods they ordered. Relying solely on the honor system is rarely seen and shows how much both restaurants and customers respect the process of going out for pintxos.
Our second stop was to try one of the best tortilla de patatas, an omelet dish with potato and onion. This was one of my favorites and can be found across Spain. The best tortillas are a little gooey inside. I would absolutely recommend this dish to introduce anyone to Spanish and Basque cooking. 
The most traditional Basque food on our trip was found at Casa Senra, where we were served a huge spread of oxtail, whole shrimps, salted cod, fried peppers, and cow cheek. Like before, these were not foods I would have ever ordered at home, but were absolutely delicious. The cow cheek in particular was the most flavorful and tender beef I ever had—which I would not know if I did not allow myself to experience something outside of my norm. 
Because I put myself in uncomfortable situations, I was able to take advantage of the spectacular food that is not available in the U.S. and really enjoy my culinary tour. So much of travelling includes pushing past your comfort zone to allow growth. By eating pintxos, I was able to connect to the Basque culture through something they are most proud of (their food) and gain an authentic experience I will always remember.