Hey there.
Despite being so drizzly dreary today, I'd say that our second Monday here in the city went quite well. Just another day of going to class, eating food and climbing a mountain for me. First off my roommate Ben and I arose in preparation for week two of our Spanish language class at Lacunza school, part of the international house chain that operates study abroad institutions across all of Europe and some other Asian countries aside. To prepare for the day's academic rigors, we eat cereal, and dang it is some great cereal. Haven't had anything like it back in the States; a lightly sugared bran that holds firm, even when drizzled with comfortably warm milk. It's peppered with a dash of chocolate shavings that melt into every decadent spoonful! It's also pretty healthy according to the box. I knew food was important here but I can't say I expected even boxed cereal to be better than back home. In between all that savoring, I often chat with one of my host family's five members. I talk the most with the grandmother, but we share this moderate apartment with her daughter, son-in-law, and two grandkids, with others stopping in for visits intermittently. Given the appartment's centralised location, within walkable distance to nearly everything in the city, our house acts as a hub for the whole family in their urban work.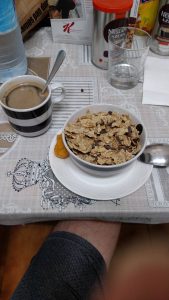 Yum
After a decidedly damp walk to class, we began our respective studies. Fortunately for me, my parents had decided it important to enroll me in Spanish classes earlier than was typical for my Massachusetts education. In turn, they added familiarity awarded me access to a more advanced  class that puts forth topics allowing me to add some nuance to my speech that I'd never learned previously.
Once class ajourned, my friends and I set about making good on our free time. Having eaten lunch in Parte Vieja of potato tortilla (which in this part of Spain actually means an omelette), we then decided to scale the hill Urgull to visit the dated Spanish fort and statue of Jesus that sits on high above the city. Littered with winding stone staircases and terracotta roofed barracks long since abandoned, the path leading up was filled with nooks to explore. One such offshoot was a derelict english graveyard, carved arbitrarily into the cliffside. At the cemetery's end stood monolithic platforms supporting what almost appeared to be an altar. In reality this was the the graveyards dedication, a obituary commemorating the British casualties of the First Carlist Wars. Upon return, my searching yielded that this monument served to remember a battle particular to the region in the English aid to Maria Christina and Isabella II and their defence against the reinstatement of monarchy by the Carlists. Additionally, the view from the top of the mountain was sensational.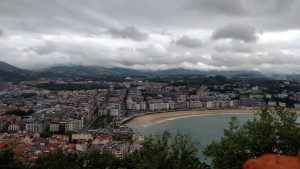 From the top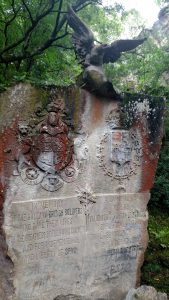 The monument
However, the day's main event was yet still to come. Our UML planned activity for the evening was a Basque language class. Here in Basque Country, the natives are extremely proud of their cultural heritage. So proud, in fact, that their unique traditional language dating to millennia ago has persisted relatively unchanged. Euskal, or the Basque language as we've dubbed it, is one shrouded in mystery. There are no languages with which it shares a structure. Knowledge of it's origin is guesswork at best, though a common suspicion is that it shares cultural heritage near the Bay of Biscay with the Celts and gaelic. It is a veritable alphabet soup of x's, z's, and unique pronunciations. A language as befuddling to speak as it is elegant when spoken. And in one of the great hubs of Basque culture, what better teacher to make the introductions to this ancient tongue than a singer from Scotland? Stewart, musician turned proprietor of local language institutes and a good friend of Julian's was drafted to instruct our group. We learned a gauntlet of useful words, phrases, and syntax. To name a few we got a grasp on bat through hamar (bah-t, hah-mar, meaning 1 through 10). We found out that arratsalde on (are-rrat-sal-day on, meaning evening good) is used most of the day, but that gabon (gah-bohn, translates as good night) is for entering and leaving a resteraunt after 10 PM. A letter z is spoken like the soft sss of a snake hiss, and the letter a at the end of a word means "the (main word)". All in all, Stewart was able to answer all our questions competently and with impressive charisma, and the day had an interesting and fulfilling end.
By: Grant McEnaney