Buckle your seat belts, kids! And welcome to the craziest 10 days of my life.
It was a dark and stormy night…..
No, Okay. So it all started on Friday morning. A group of 35 of us were about to get piled into 3 buses for 10 days. We were all so excited!
I woke up at 5:45 AM and went to the bus to find my friends. We got on this awesome bus that looked like it was ready for the outback.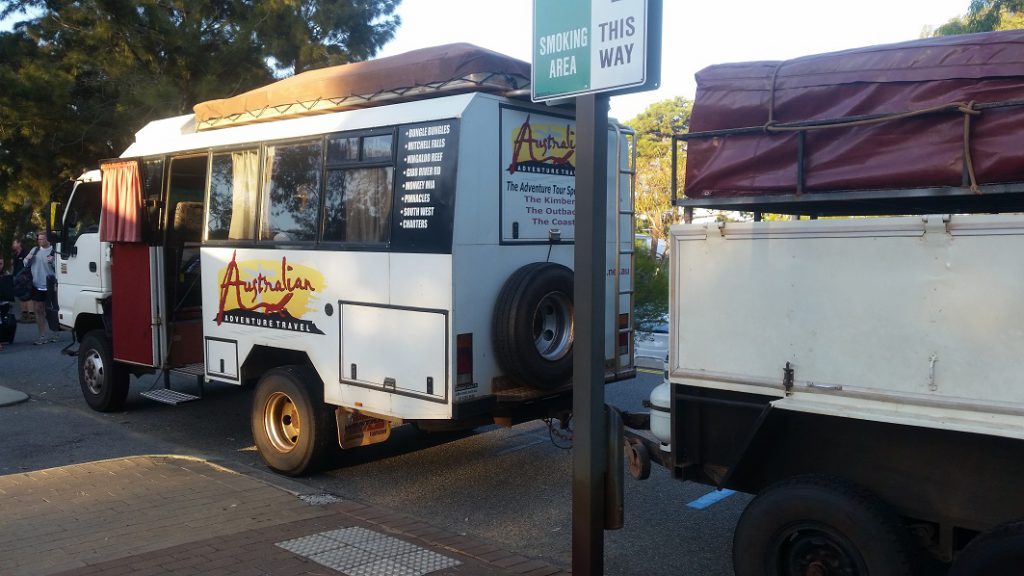 The first part of the driving today was just to get out of Perth, so we all napped.
Our first stop was at a pretty beach called Hangover Bay ( the sign has been stolen multiple times.) The water there was an incredible turquoise :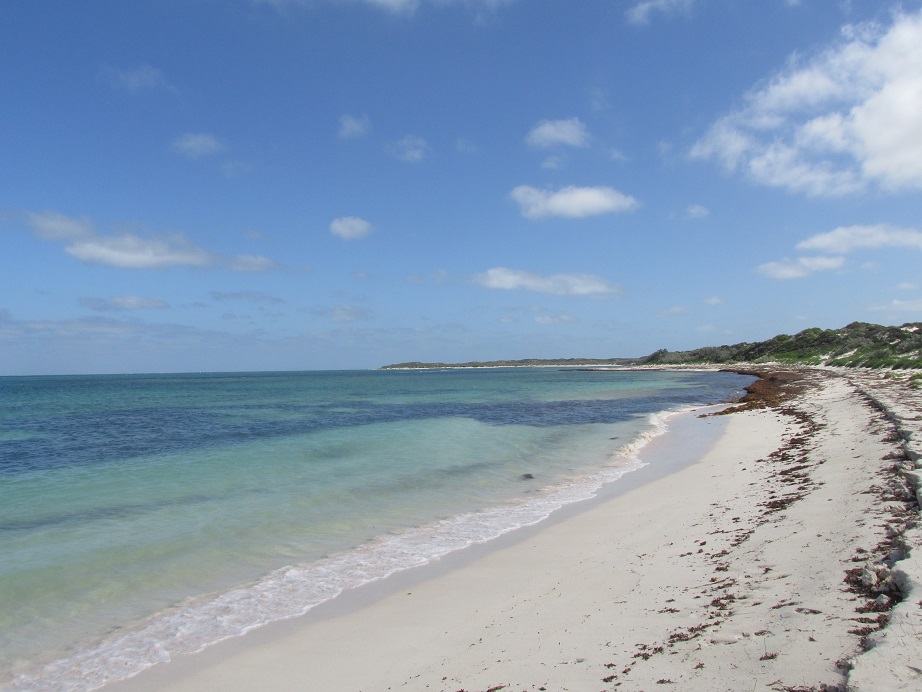 On our walk back to the bus we saw a huge golden orb weaver! They have really strong webs, you can pluck it like a guitar.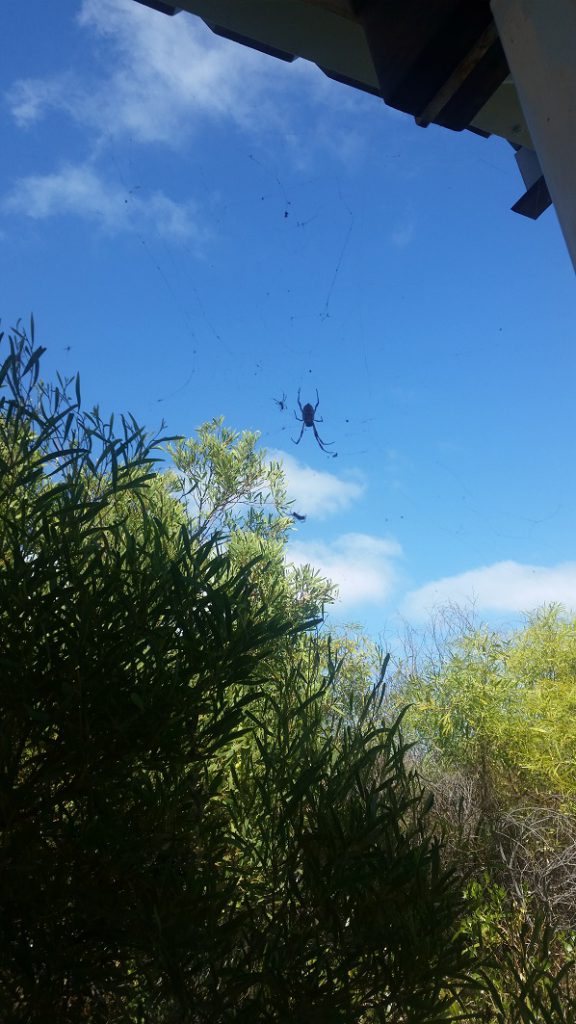 Then we drove a little further and stopped at another pretty beach to make lunch! It was called Dynamite Cove.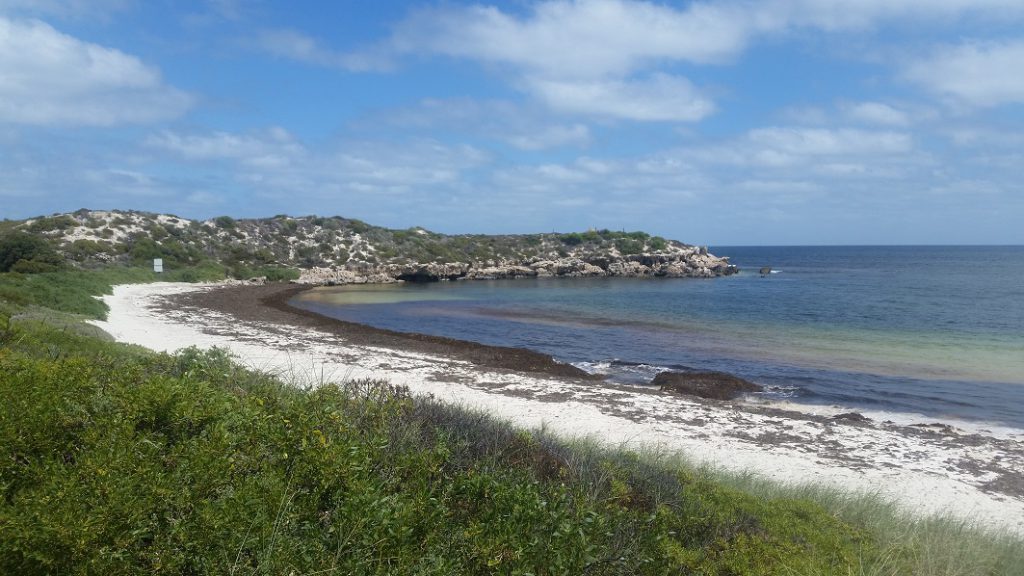 After lunch we set off for Geraldton, a town on the coast of Western Australia. In Geraldton, we saw a WW2 memorial. Each seagull on the roof of the memorial represents a life lost on the HMAS SYDNEY.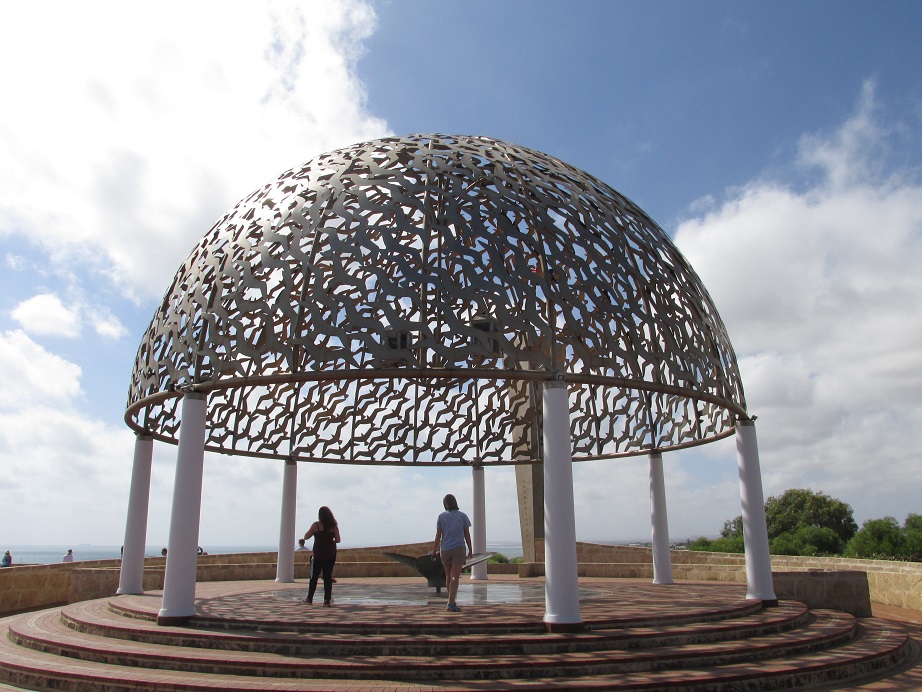 We set off for our home for the night, a farmstay ! We set up our tents and the farmer drove a tractor around and gave us all a ride to see some piglets and some horses. We even saw a kangaroo on the way!  When we got back, we cooked dinner and watched the sunset.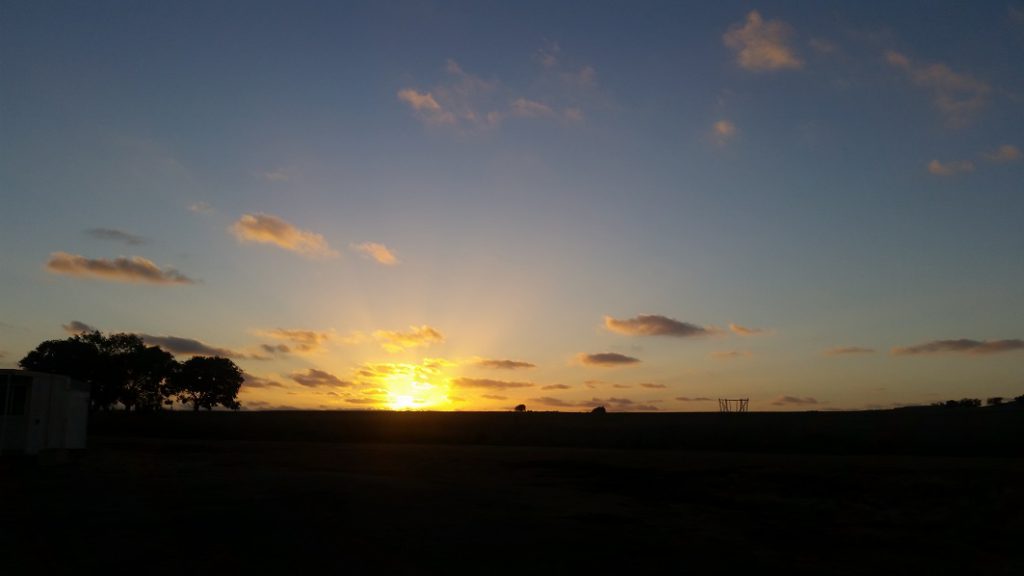 The stars were also incredible, but no picture could capture that!
Bright and early to see the sunrise over the farm the next day!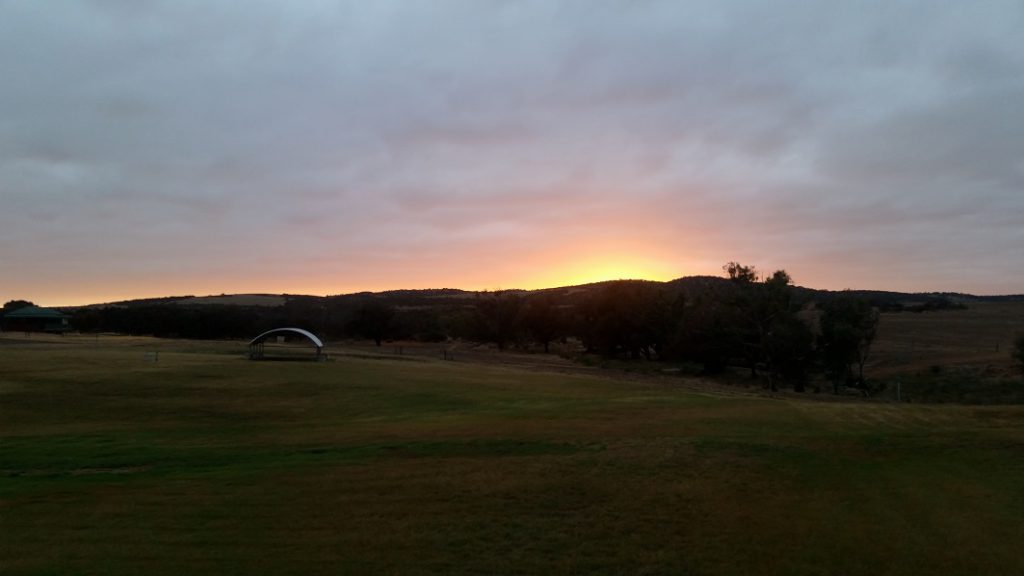 After putting our tents away, we got in the bus and headed out for Kalbarri national park. You can see so many different landscapes in this park. On one end, you can see the cliffs: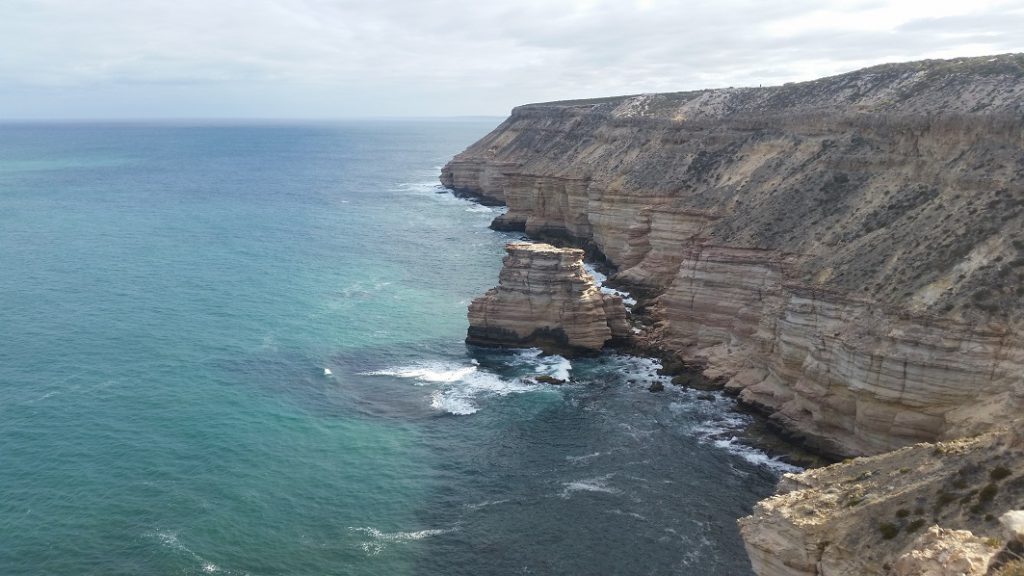 And if you drive for a couple of miles in land , deeper into the park (maybe seeing emus if you're lucky), you can see incredible red rocks and gorges: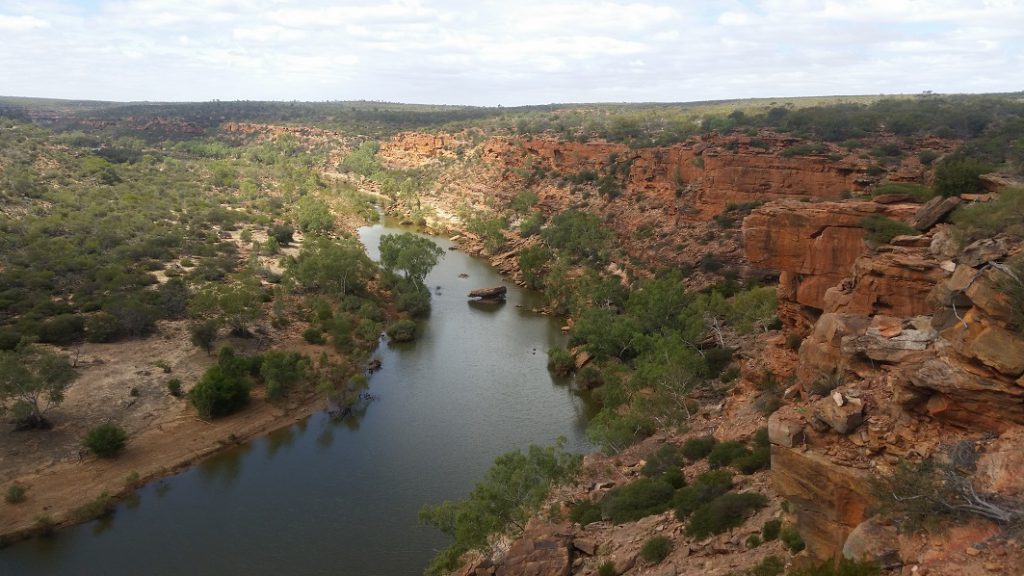 And all of this before lunch !
We drove by this really cool tree :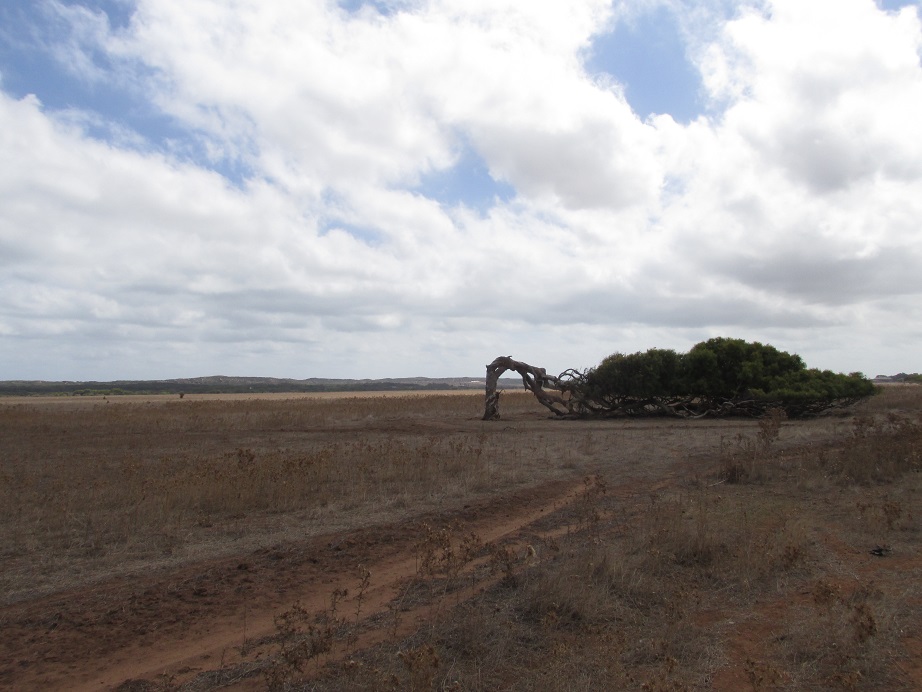 It's like this because the wind blows so hard in one direction over this field constantly! Pretty cool !
Then we headed out towards the stromatolites :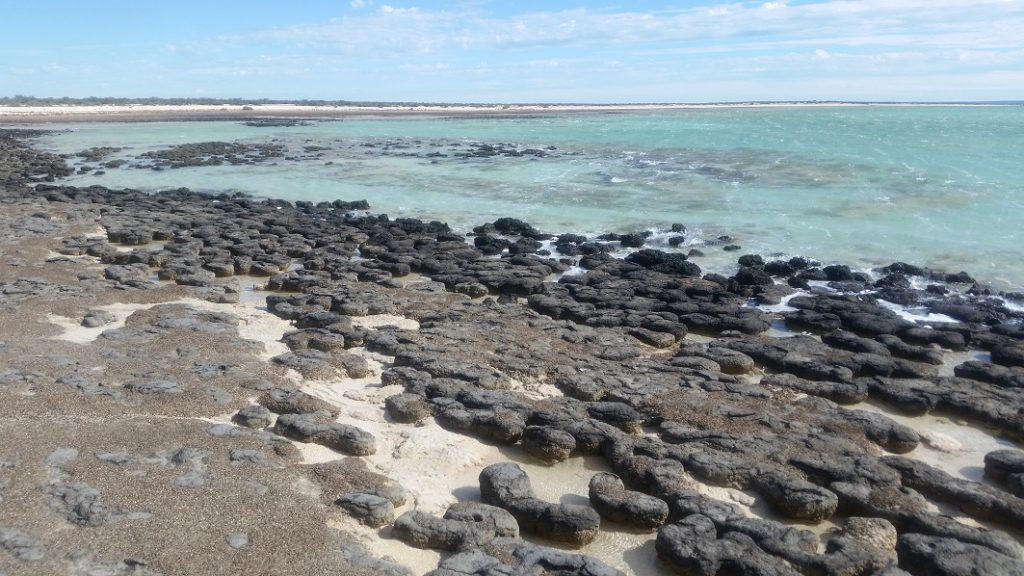 A stromatolite is layers upon layers of cyanobacteria that has built up over millions of years. These stromatolites in Hamilton are the oldest and largest in the world. If you stand on just one, you can do hundreds of years of damage! One of the people in our group dropped his hat and ran on them to get it back! Don't be that person!
When we got to our beach side campsite, it was so windy that most of the tents wouldn't stay up ! The wind made for a very long night, and everyone was really grumpy the next morning. But all of that was made up for because we were heading to Monkey Mia to see some dolphins!
We got to Monkey Mia at around 7:30am. The dolphins usually swim by that area at 8:15, but come 9am they still hadn't come! We almost all lost hope. But there were some emus and pelicans around to keep us entertained. SUDDENLY everyone started running towards the beach! The dolphins had arrived!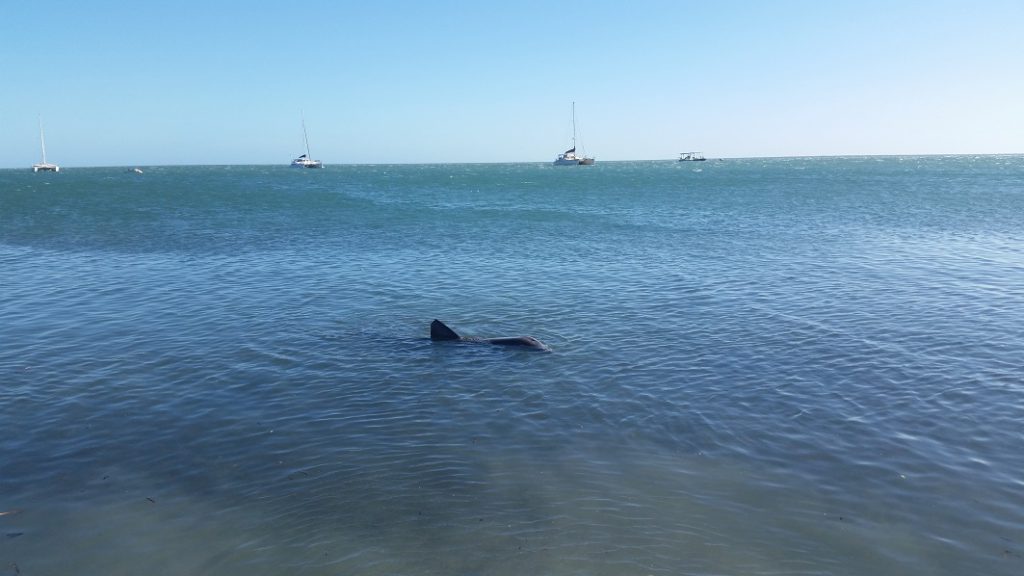 There were three of them and they all came very close! They are wild dolphins but they come and visit Monkey Mia because they get fed fish.
In Australia, you aren't allowed to touch dolphins. The oils on are skin can seriously damage them. If you are swimming in Australian waters and one comes up to you, put your hands up so that if anyone sees you, they know that you aren't trying to pet the dolphin, you could get in serious trouble !
After hanging out with the dolphins for a little bit, we went on a boat ride. We saw a pearl farm that has recently sunk, some dolphins hopping around, some sea turtles, and a dugong ( which is kind of like a manatee!)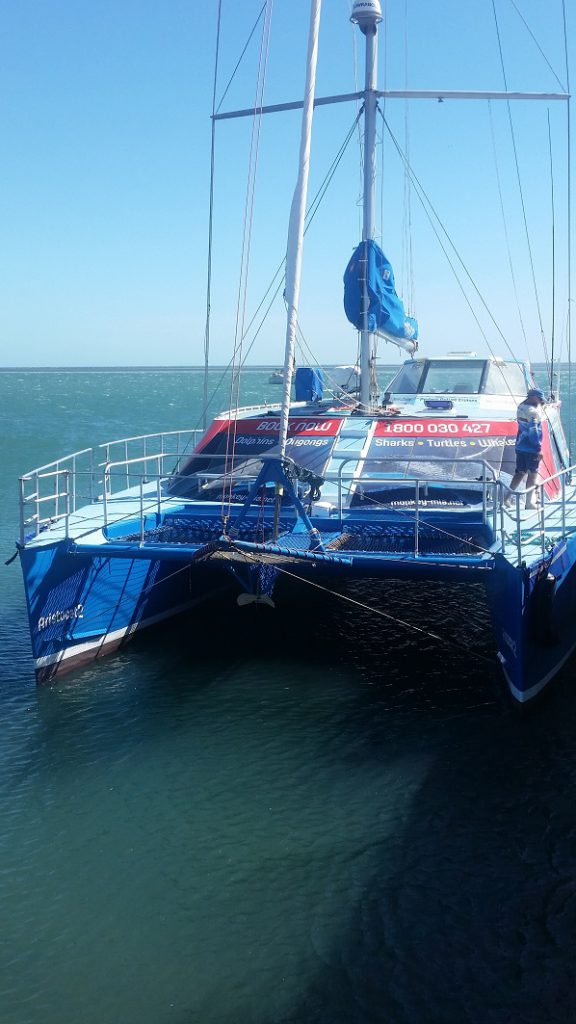 While we were following the dugong around to try and catch a better glimpse of it, our captain beached the boat on a sand dune! We all had to go to one corner of the boat to put the weight on that side and he revved it up as hard as he could and we made it off! Phew.
After leaving Monkey Mia, we went to Eagles bluff, with on one side, an incredible view of the Ocean, and on the other, a crazy lookout of the outback.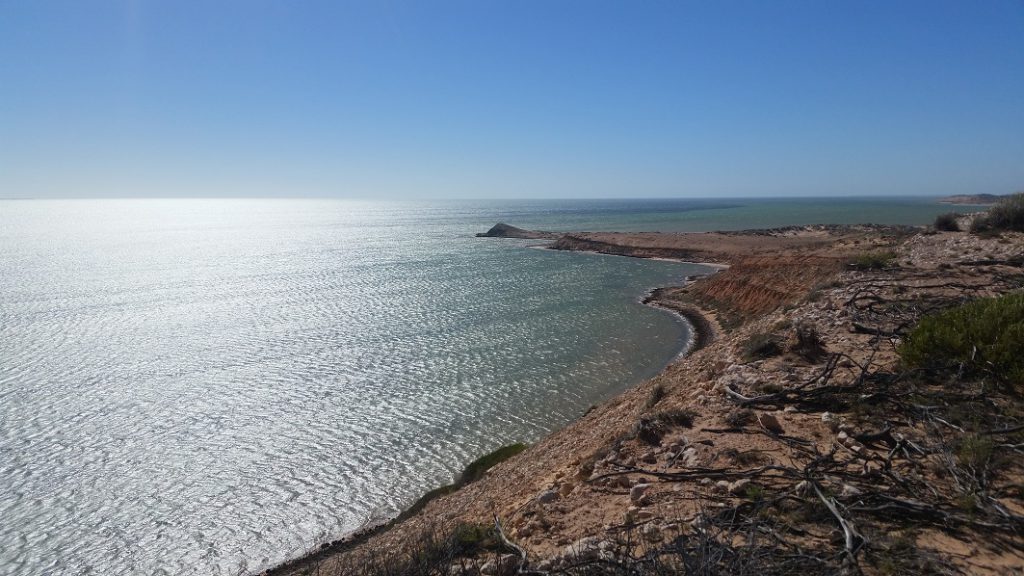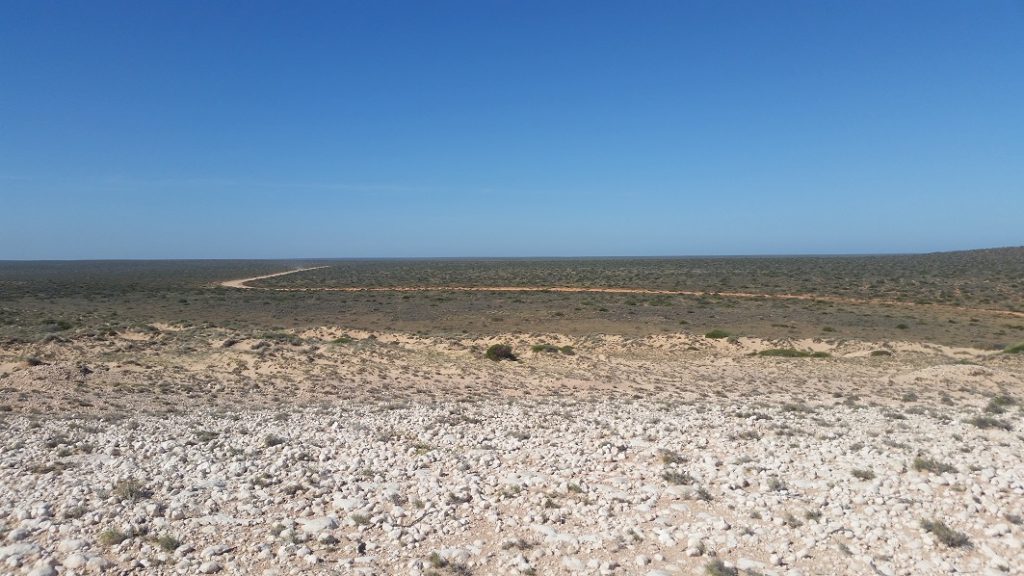 Then we went to this place called Shell beach… But not a shell in sight!
Just kidding.
The whole beach is made of little tiny cute white shells.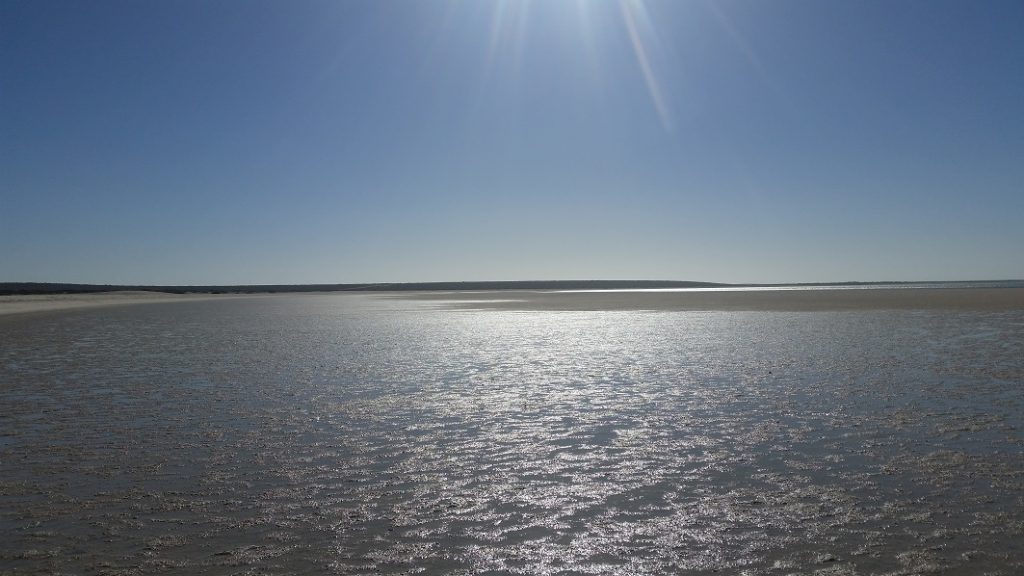 The water was so clear and you could see lots of little fish swimming around your feet.
We went back to the campsite and went in the natural hot pools! Relaxing! Then we went down to the beach and I have never seen such incredible stars! It was crazy! Our guide told us they would be even better later on in the trip, I couldn't wait.
The next day, we had a 600km drive! Our bus driver was really smart and told us a lot of cool outback tips. If you see large trees, dig near them and you will find water!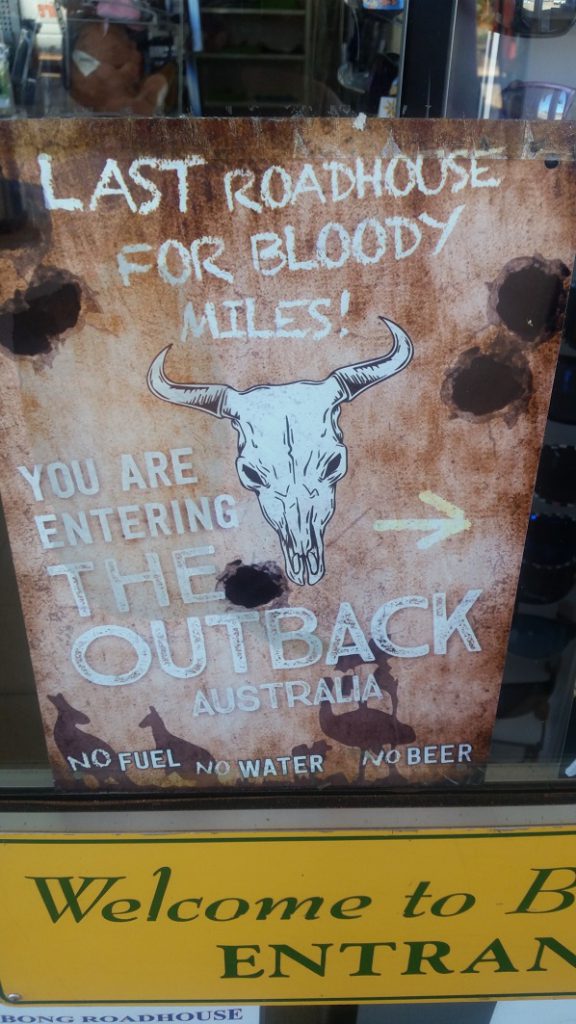 On our drive we saw this really long fence. It runs the whole way across the North of Australia. They have this because a lot of non-native animals in the South of Australia (like feral cats) that kill the small native animals, like bilbies! They want to keep them out so they can repopulate the North with all of these awesome creatures.
We also saw some free-range cattle and some goats on the side of the road, and even a thorny devil (a super cool little lizzard)! Then…..
DUN DUN DUNNNNN
We broke down!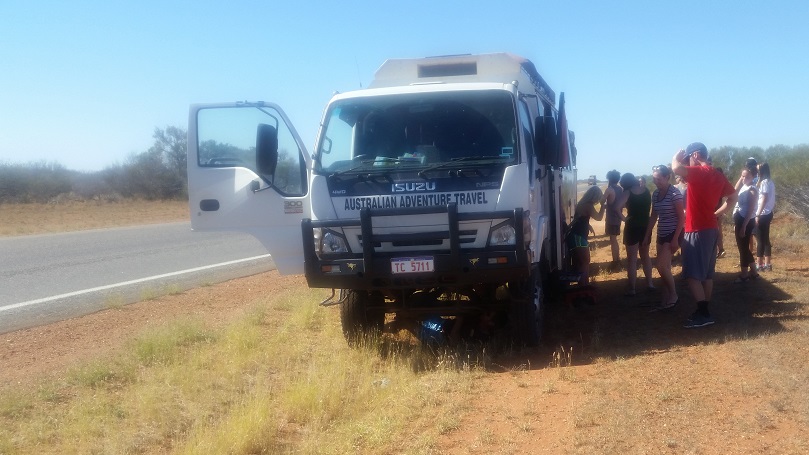 Okay we didn't actually break down, but it was almost just as bad as that! Our AC STOPPED WORKING! It was actually cooler outside than it was inside the bus by the time we stopped, and that's saying a lot because we were in the Outback. Fortunately, our bus driver used to be a mechanic and fixed it in no time! Off we went!
We drove through Carnavon, which is where most of Western Australia's fruit is grown. When driving through Carnavon, you are supposed to throw out all of your fruit that you didn't by there.
We saw one of the largest rivers in the world, the Gascoyne river :
We kept driving and saw some really cool termite mounds. The termites here are basically ants with no pigment, and they build these huge mounds to protect themselves from the sunlight! If these mounds were hit by a truck, it would destroy the truck before destroying them. Depending on the temperature in the mound when the Queen lays her eggs, the roles of the termites will be different. They could be warriors or workers!
We made our way to coral bay and went snorkeling and saw some pretty cool corals and fish.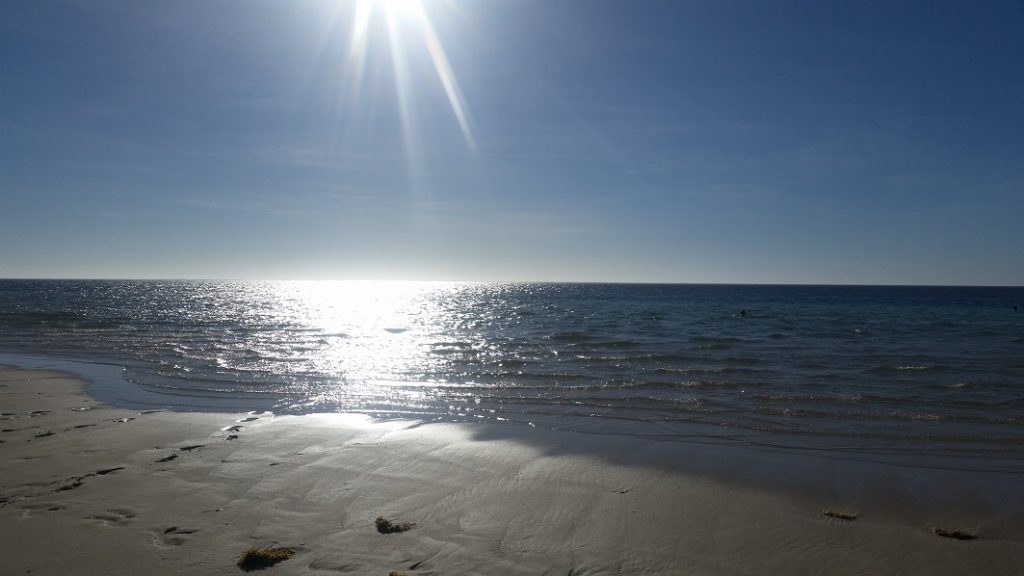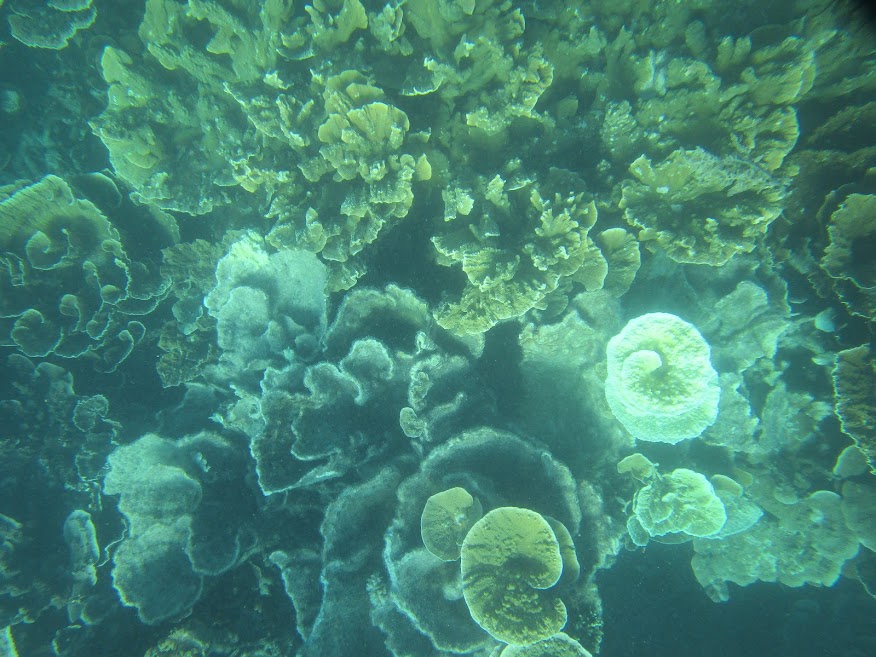 We went to bed really early that night because we were going snorkeling with whale sharks the next day!
Everyone was so excited to go see whale sharks today! We got to the place and tried on wetsuits and flippers and put them in these little backpacks and went off to the boat!
They send out a little plane to spot whale sharks, and then once they spot one, they let the captain of the boat know so we can go catch up with them! In the mean time we went snorkeling on Ningaloo reef. We saw hundreds of starfish!
After about 2 hours of waiting for the plane to contact us, we had lunch on the boat. At this point, everyone was getting a little sea sick as the waters were really rough. We all laid flat on our backs on the boat because that is supposed to help ! Which I did, but most of us took a nap too. At around 2pm, we were all starting to lose hope. Everyday since the beginning of the season there had been whale shark sightings in the mornings, but none yet for us! We still kept looking. We even saw some dolphins!
At 4pm, the captain came out and told us that it was time for the plane to go home. It was the first time this season that there hadn't been sightings and he was really apologetic, but they took us for one more snorkel to make up for it. We went to the cleaning zone ( like in shark tales) where the sharks go to get nice and clean! We swam with about 15 whale sharks and even 2 turtles. It was awesome but so tiring because the waves were so high! We went back to our campsite after that, and everyone passed out right after dinner. Long day !
We left coral bay the next morning with a lot of driving to do! We drove on a road that doubles as a plane run way in case of emergencies, seeing as there aren't many hospitals out here! We finally hit some hilly areas. It had been all flat until now. The legend says that the hills were made by the rainbow snake sliding through the earth. There is only one plate under Australia, so all the hills are just different layers of dirt on top of each other.
We drove down a little dirt road to eat lunch at a rest area. There was a guy there with his dog. His name was Dennis and he has been travelling for the last 3 years because he has cancer and wants to make the most of his life. (pro tip :stop and talk to people !)
We left the rest area and kept driving. Our driver wanted to take us through a shortcut, which turned out to be a crazy bumpy dirt road with kangaroos and emus!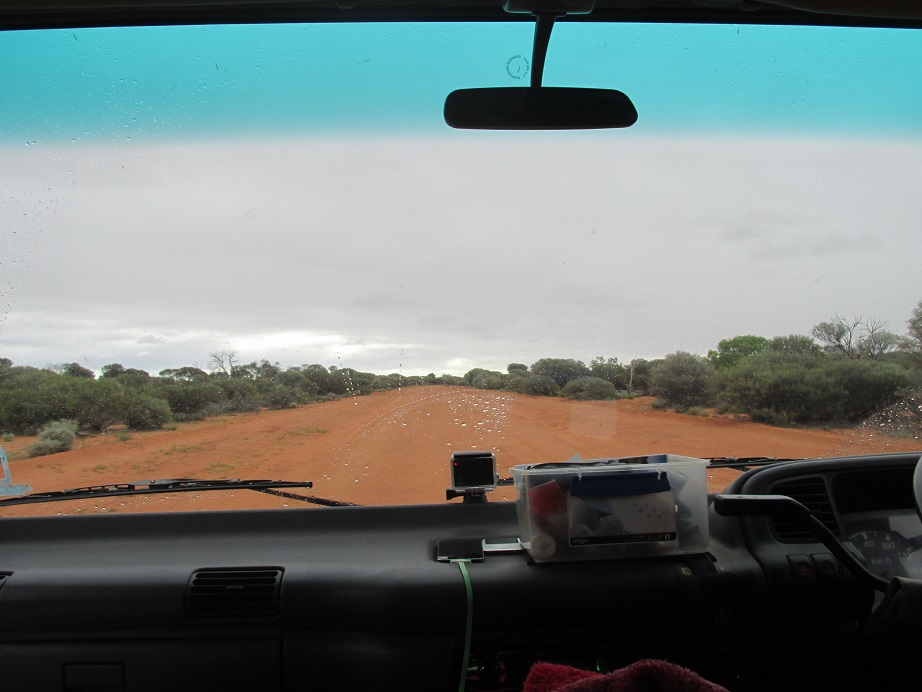 After driving down this road, our bus was filthy!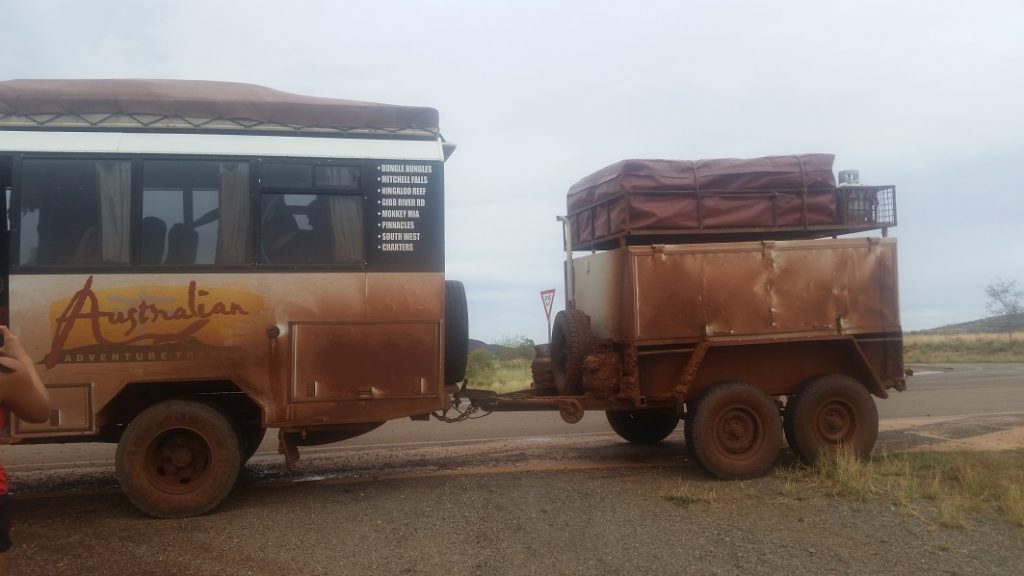 After hours of driving, we finally got to Karajini National park. The average rainfall for the area is 2 days per year. Make our first day there one of those 2! We were drenched! We set up the tents, but didn't put any of our stuff in them because we didn't want it getting wet! Then we went for a hike.
We walked to a place called Dales Gorge, which was beautiful, and we went for a swim and hung out under the waterfall. The rain almost made it even more surreal.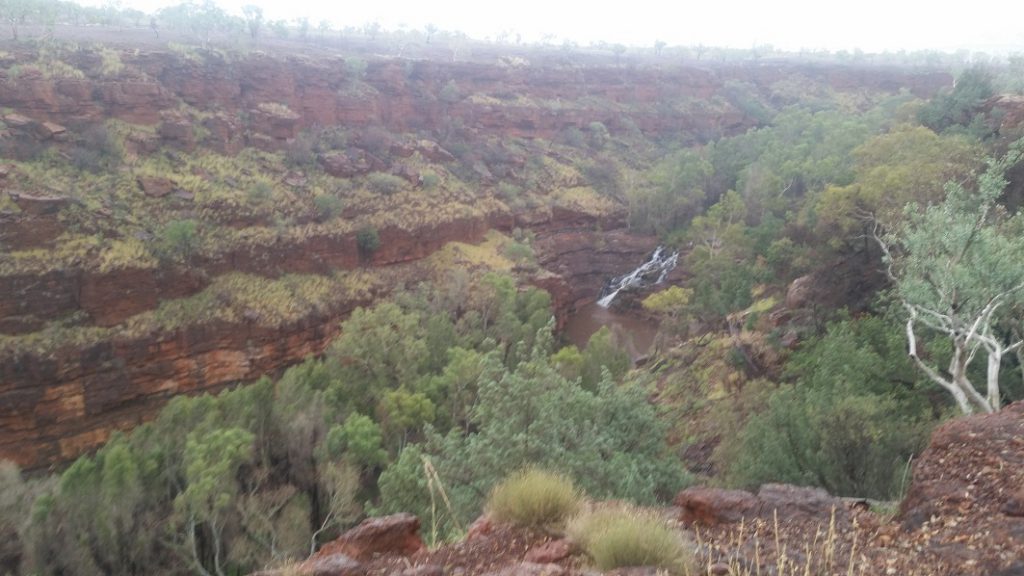 Afterwards, we all trudged back to camp in our soggy clothes. Luckily it had stopped raining in time for dinner! So we grilled some food and all sat around in a circle, but then it started downpouring! Everyone ran for shelter. The rain was not about to end and eventually everyone grumpily made their way to the wet tents for the night.
We woke up the next day and opened our tent door. We were basically in the middle of a giant puddle! It was still raining! This is the most rainfall the park has seen in years, just our luck ! This trip was beginning to show everyone's true colours. Everyone was grumpy and cold (except me, I thought this was hilarious), and somehow even though our clothes had been in the bus, they were all damp. We were supposed to stay at Karajini national park for 3 days, but there was a cyclone coming down that way, so our driver made the decision to head back, we were going to have to cut the trip a day shorter than planned!
Before we left the park, we went on one more walk and found some aboriginal carvings in the rocks :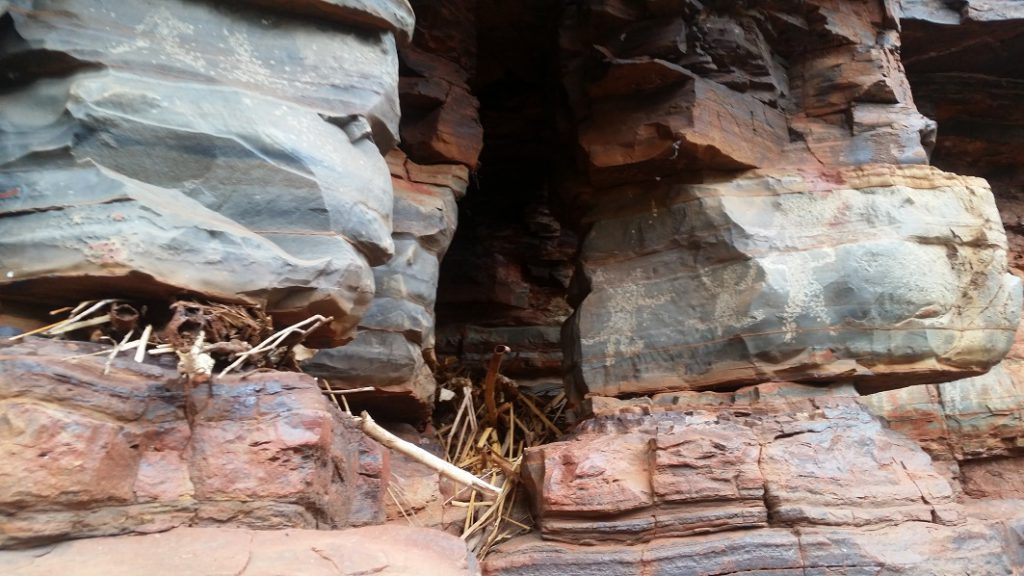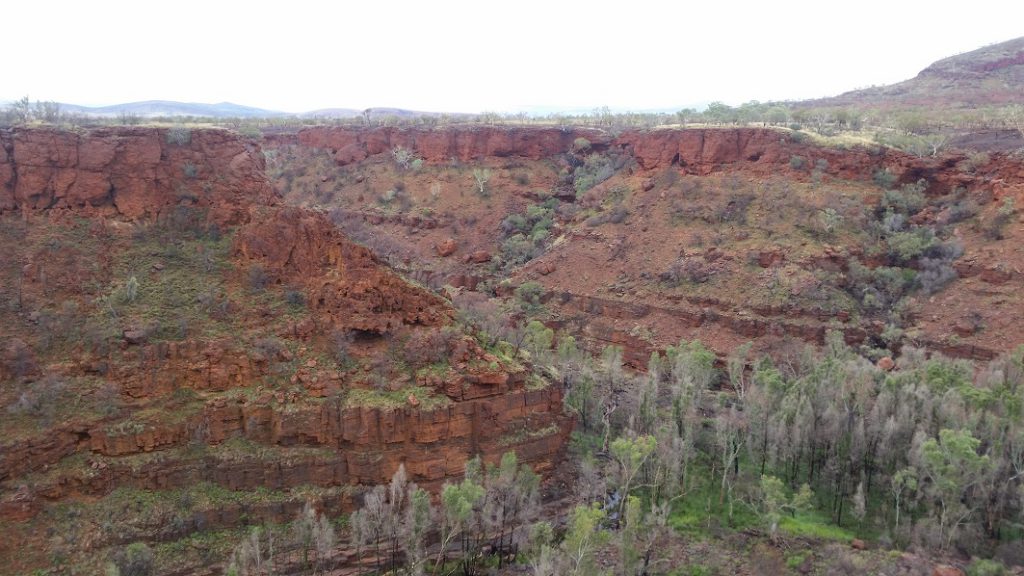 When we got back to the bus, we just threw all of wet shoes and sweat shirts on the floor, man that was going to get stinky!
Even though we cut the trip a day short, we still had 2 more days left on the trip because they couldn't fit all of the driving into one day! I was excited. I was enjoying this, I thought it was really ironic and funny!
We drove through huge floods. Our bus driver told us than in the 17 years of him driving these roads, he has never seen it like this!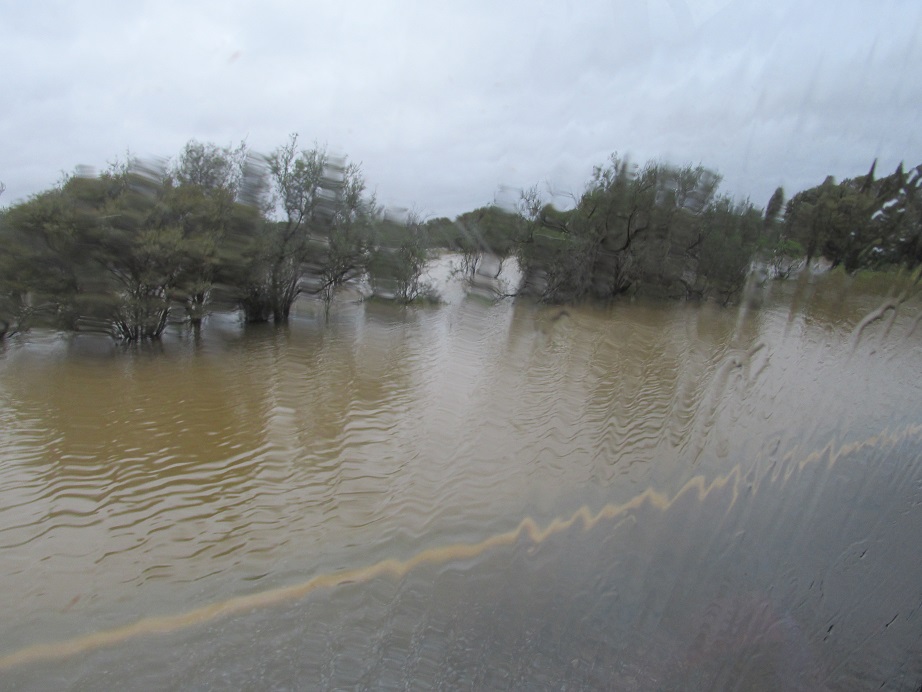 We arrived at our next accommodation later that evening. All of the roads were starting to get blocked because they were all cracking from all of the water! The dry ground wasn't used to it and the dirt was giving out under the roads causing them to crack. We weren't sure if we were going to be able to leave the next day! Our tent got flooded that night and my phone got water damage ( pro tip : don't put your phone on the floor of a tent when there is practically a monsoon outside!) and stopped working. The rain was basically following us!
We woke up the next day and the roads were open ! We had breakfast and were ready to go ! About 90 % of the people on the trip wanted to be home right now, but I was having the time of my life. I found some rice to put my phone in. There was already another phone in there! Oops! We all jumped on the bus and drove straight to our next bed for the night! The rain finally let up, and it didn't actually rain again once for the whole trip ! We still had to go home a day early though because the rain was still catching up with us and we didn't want to risk the roads cracking and not being able to go home. We arrived at the sheep farm in the early afternoon. We were sleeping in the sleep shed! And it was dry ! What a luxury! Luckily most of us had fly nets because there was so many of them, it was crazy!
We all started cooking dinner because everyone wanted a feast for our last night! Everyone was happy again because it wasn't raining and our clothes weren't totally drenched anymore. We made curry and had smores and stargazed, then we all went off to our communal shed for the night.
The next morning, we packed up everything and went and said goodbye to the sheep and headed out. We drove past the rabbit proof fence and the school used to teach and house the stolen generations of that area. Rabbit proof fence is a movie about 3 children who were part of the stolen generation. The stolen generation is basically put short, when white people first came to Australia, they took all of the aboriginal children away from their parents at a young age, to rip away all of their ties to their culture because they disagreed with it completely. These 3 girls escaped one of the schools ( seen below) and walked 200 km all the way to this fence they recognized as the rabbit proofing fence near their home, and followed it to their family. I highly recommend reading about this, it's very interesting and so sad that this actually happened to people. So recently that some of these children are still alive now!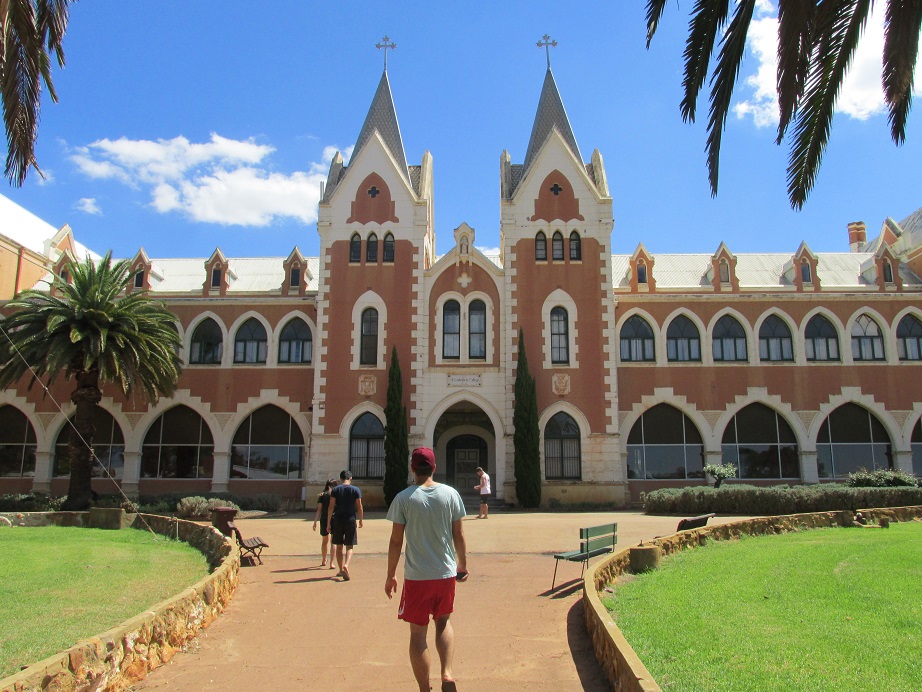 To make up for the fact that the trip had to end a day early, we got taken to a really pretty river walk, and to a chocolate factory ! Yum! I got hokey pokey ice cream while I was there : An Australian favourite!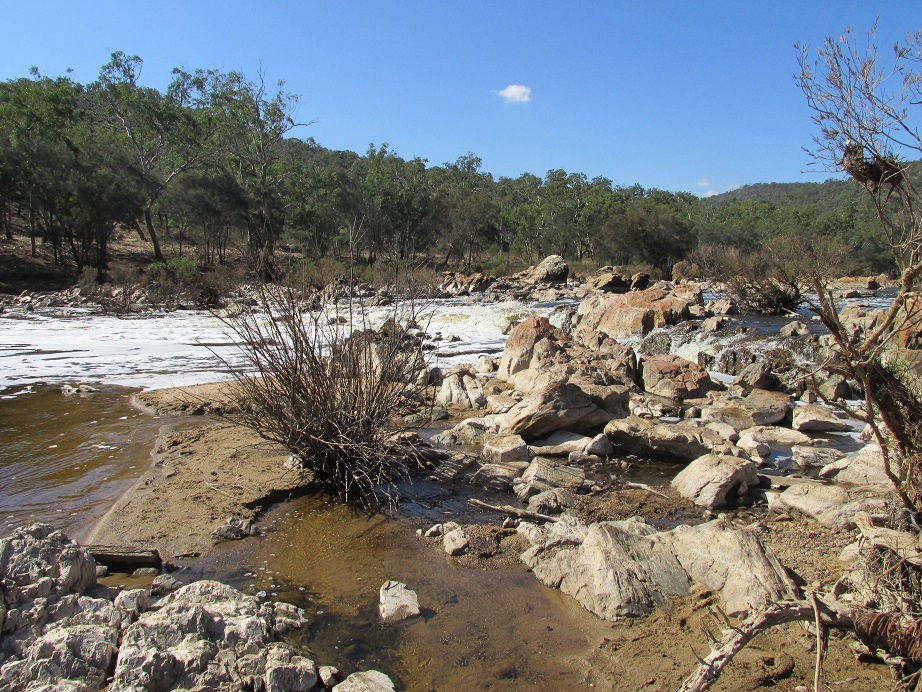 After leaving the chocolate factory, we drove the 45 minutes back to the university. I was pretty sad to be leaving but most people were relieved.
This was definitely the best 10 days of my life, and probably the most eventful !