Literally, one metro stop from our dorms ("le Cité Universitaire") lies the dark side of Paris – known simply as Les Catacombes.  While not exactly catacombs in the truest sense of the word (it's actually an ossuary), that doesn't mean it's any less interesting.
For starters, Les Catacombes are an incredibly popular tourist spot.  It is not uncommon expected that you will find a long and winding line around the site during operating hours…just as I found out during our first excursion into the city.  With this in mind, I arrived extra early (8:45am) for the (10am) opening only to find myself waiting behind another 50 people who beat me there.  However, I am convinced that I saved a lot of time by coming so early, as I was in the first wave to enter (only 200 at a time are allowed in). Don't believe me?  Take a look at this picture of the queue from the misstourist blog
I was lucky also, to have a tour group immediately behind me, so I gained a great introduction to Les Catacombes.  So interesting, I must share:
Les Catacombes began as limestone quarries outside the city of Paris. As Paris continued to grow, so did the quarries and much of this space eventually created instability to the structures above. Originally the area was named "Place D'Enfer (Hell's Gate) until the French Revolution in 1789.  This name comes from the common sight of smoke rising from the ground entries, from the seedy individuals who called it home.  (Likely from the fires they burned below ground to keep warm, etc.–temperature in Les Catacombes is a steady 57ºF).  Today, however, the area is called Denfert-Rouchereau.
By the 18th century, Paris was experiencing yet another problem: it had no place to bury its dead.  As the city grew, its outlying areas (where many of the cemeteries were located) were now part of the city and the cemeteries were causing problems for the residents and shopkeepers.  Water and soil were contaminated, posing health risks to residents. (Side note:   The tour guide mentioned that wine and milk would spoil within hours and perfume was unable to be sold due to the stench in the air).   Over- burying in cemeteries also created instability to the area (due to expanse of abandoned quarries underneath) and in 1780, the situation was so dire that a solution was required.  That solution:  les Catacombes.
So, in essence, Les Catacombes provided a solution to settle these two distinct problems. And, what a clever idea it was.  It actually took over 12 years to move the bodies from the cemeteries (work was only done at night so as to not scare/disturb residents).
 
Once you arrive at les Catacombes, you must descend 130 steps down a spiral staircase (yes, it did make me a little dizzy, actually!) and you realize that it is almost like an underground city, with "avenues" and arches, columns and art…but instead of using bricks and mortar, these walls are made with skulls and leg bones.  It is absolutely fascinating to see just how far and wide these tunnels of bones go (and to realize that every two leg bones belong to one person…it's easy to see why there is an estimated 6.7 million skeletons placed down there).
It may be interesting to know that much care has been taken to denote which cemeteries the bones came from and when brought to the location (despite the fact that there are no indications of who the bones belonged to in the first place).  Much care, too, has been taken in creating "wall" that is not only efficient but even created with purpose (there are many arrangements created by the skulls and bones into patterns like hearts, crosses, etc.).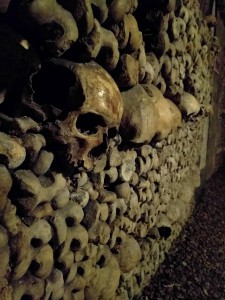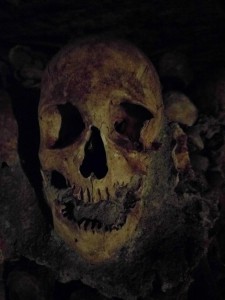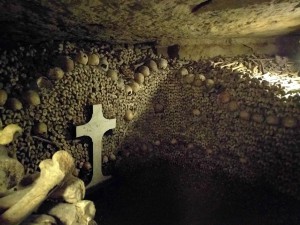 All in all, it was extremely interesting (I would highly advise the audio guide as well).
Bon weekend, tout le monde (everyone)!