I was anticipating our visit to la Place des Vosges not really knowing much except that a close relative of mine, an aunt, lived had an apartment there years ago. She emailed me last week week saying that she lived there for "six glorious months in 1997" and wanted me snap a photo of her old home; needless to say, I did. While we walked around the square I noticed that most of it consisted of cafes and art galleries, which I thought must have been nice to be surrounded by every morning.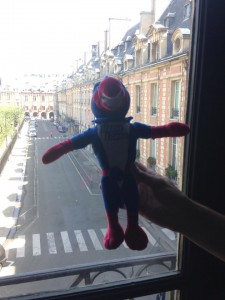 Eventually we ended up at the former home of the politician, artist, and, most famously, writer, Victor Hugo. The specific apartment we visited today was Hugo's home for a long while before he was exiled by Napoleon III for certain political writings. It's impossible not to notice the distinct difference in the way each room is decorated; one room consisted of lots of eastern influenced sculptures and designs, while others had elaborate floral patterns on the floor, walls, curtains, and ceiling. Dr. Salmon explained to me that, in the 19th century, someone as important as Victor Hugo would decorate their home as such to display their importance.
An interesting piece of furniture in Hugo's home, pointed out to me by Dr. Salmon, was a table that he specifically designed for himself and fellow francophone writers such as Alexandre Dumas. On each side of the table there is a writing station reserved for each of them.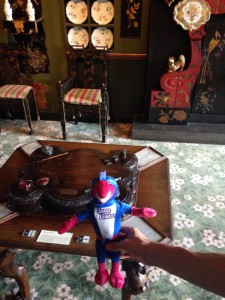 We were also able to see the famous writing desk that Les Miserables was written on. It was and incredibly odd feeling to see such old items that, at one point, were the devices on which such important works were created.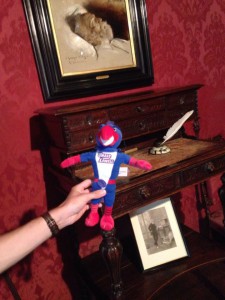 Rowdy posing next to a portrait of Victor Hugo: