Disclaimer: Anything written in this blog represents the opinions of the author, and no one else. Each blog is written lightly, and is not intended to offend any of the mentioned businesses, locations, students, or staff.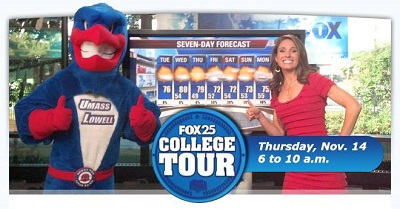 Hello, all! I want to apologize for my disappearance this week. No matter much I love college, I will NEVER get used to weeks full of tests and stress, stress, stress.
To sum it up, I'm having the kind of week where I want to hug the person who made sticky notes and I feel like my pillow has become a long lost family member. Also, why is it that the weeks I need it the most, my brain decides to go on vacation? Do you ever feel like that? Anyways, I'm still alive!
Even more important, I have some wonderful news: Fox Boston will be broadcasting the morning news live from our home turf! On November 14, they will be at the Campus Recreation Center on East Campus from 6:00am-10:00am for a Campus Tour stop. Wake up early, show your support, spread the word, and wear blue! Go River Hawks!