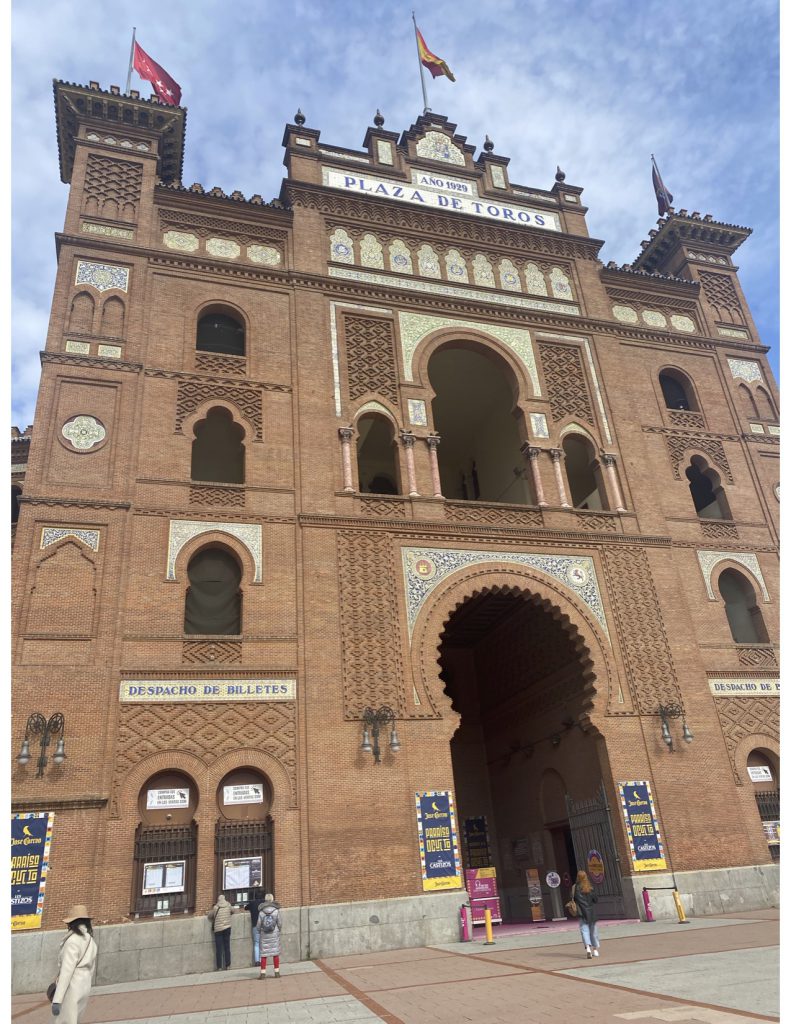 Bullfighting and Spain are two things that are synonymous with each other you truly can't think of one without the other. Even before we traveled to Spain we learned about bullfighting through the stories of Hemmingway and his experience with the subject. And through reading these stories mixed with my prior knowledge I thought I understood bullfighting and how it influenced the culture in Spain, but after our tour of Las Ventas I realized truly how much I misunderstood.
We took the metro from our hotel to Las Ventas and the building it is held in is truly impressive. The red brick façade front is highlighted by Arabic influence seen in the arches and mosaic features throughout the facility. Another unique thing about the stadium itself is that you cannot drink inside the stadium, but you must take your drinks to these outdoor balconies. It is also one of the largest bullfighting stadiums in the world which is incredible because the sheer size of stadium is impressive. Outside of the stadium is a statue of a famous bullfighter Luis Dominguin who after a single bullfight decided to declare himself as number one which resulted in booing from the crowd. Despite the negative attention this received when it occurred it became a statue based off the sure fact that he had enough "cojones" to do such a move after a single bullfight win. Within the stadium the viewers sit on stone/concrete stadium benches where you can rent a seat cushion to sit on during the shows. A fun fact our tour guide told us about was that when Dominguin did this number 1 signal people actually threw their seat cushion at him onto the ring.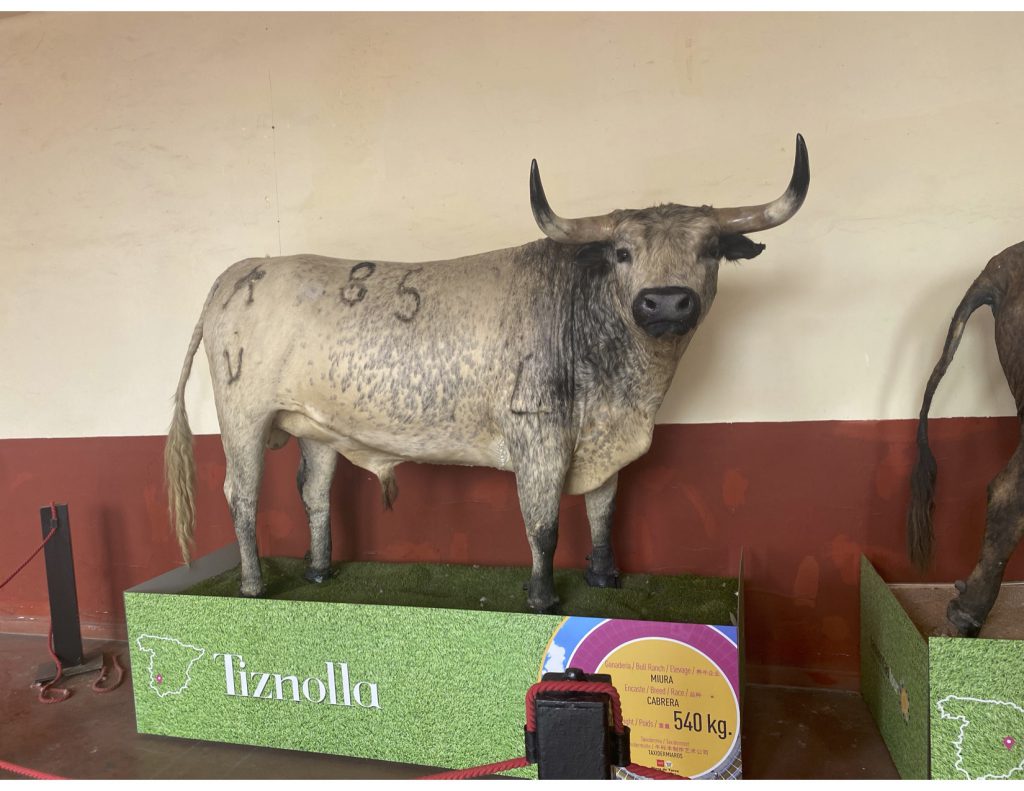 Our tour guide's name was Raul, and he was the BEST tour guide I have ever had at a museum. From the start he had the best energy, and it was clear he was passionate about what he was talking about. He brought us around and told us the politics about bullfighting to the basics and everything in between. One of the interesting things I learned from him about the politics of bullfighting was that for decades there was controversy about the fact bullfights occurred on Sundays and holidays which Sunday is the lord's day. I thought this was fascinating because bullfighting and religion are incredibly intertwined with bullfighters even waiting in a chapel before and after bullfights. Raul even gave us a demonstration of what the bullfighting starting cape moves looked like and how they are used to confuse the bull which was really cool.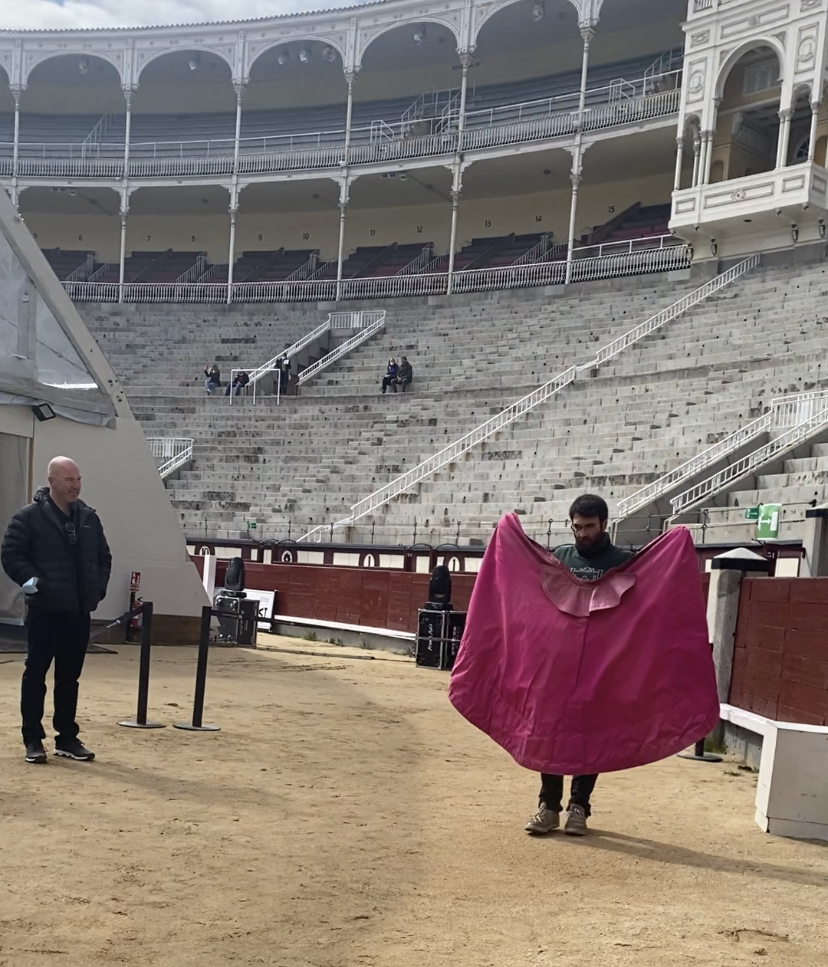 Despite not liking the idea of the torture of animals for sport and entertainment after our tour Raul showed me how I can appreciate the influence on culture while condemning the actions. He gave me a newfound appreciation for the art around it and those in it. Like the women bullfighters who broke into a male dominated sport that focuses on high masculinity due the gore and torture of an animal. Also, the art of the costumes these bullfighters wear is profoundly impressive where with gold and silver thread form beautiful flowers and designs. I loved the tour and I think it was mainly thanks to Raul, because if we had someone who was more pro-bullfighting, I think it would have been less exciting. But someone who made it history driven and focused on the culture made such a controversial sport interesting and impressive.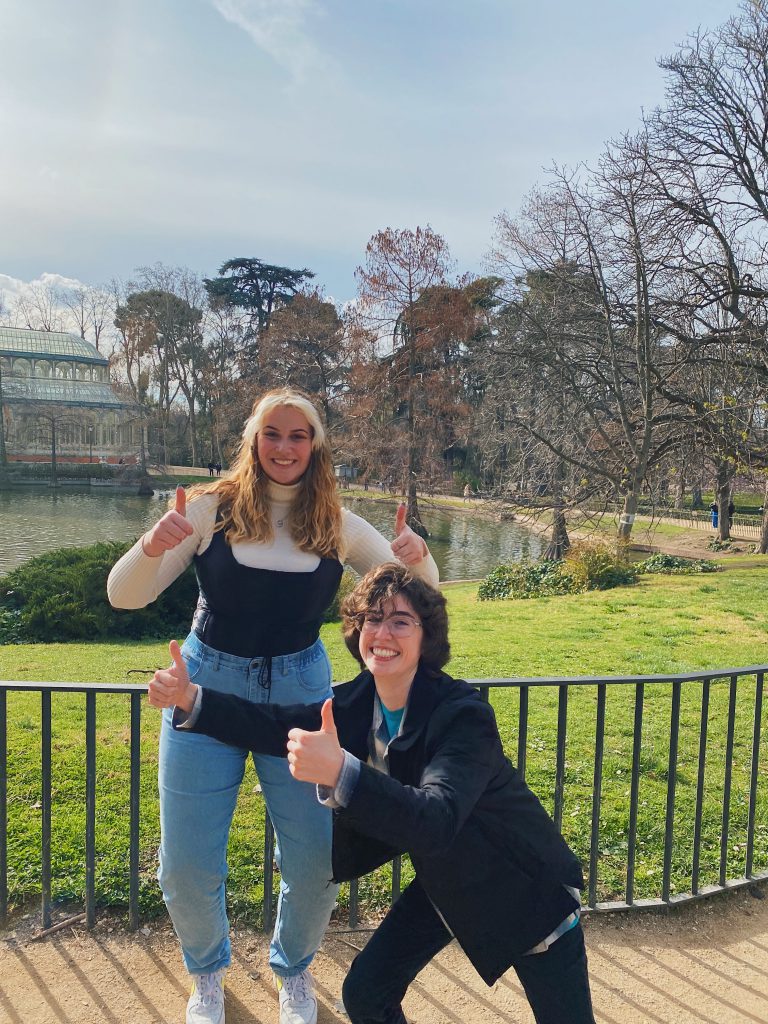 After Las Ventas
We visited Retiro Park after our tour of Las Ventas in search of the Palacio Cristal. This was one of the only things on my list of things I wanted to do outside of our study abroad activities in Madrid. I had a fantastic time, It was gorgeous weather and since the weather is warmer in Madrid in March there were already flowers blooming. There were pansies surrounding the fountain at one end of the park which was beautiful and there was a big pond that had row boats that you could rent. Eventually after walking around we discovered the Palacio Cristal, but to my dismay it was closed due to an art installation being set up inside. I was disappointed but even from the outside it was breathtaking. Since I did not get to go inside that is something on my list to do next time I go.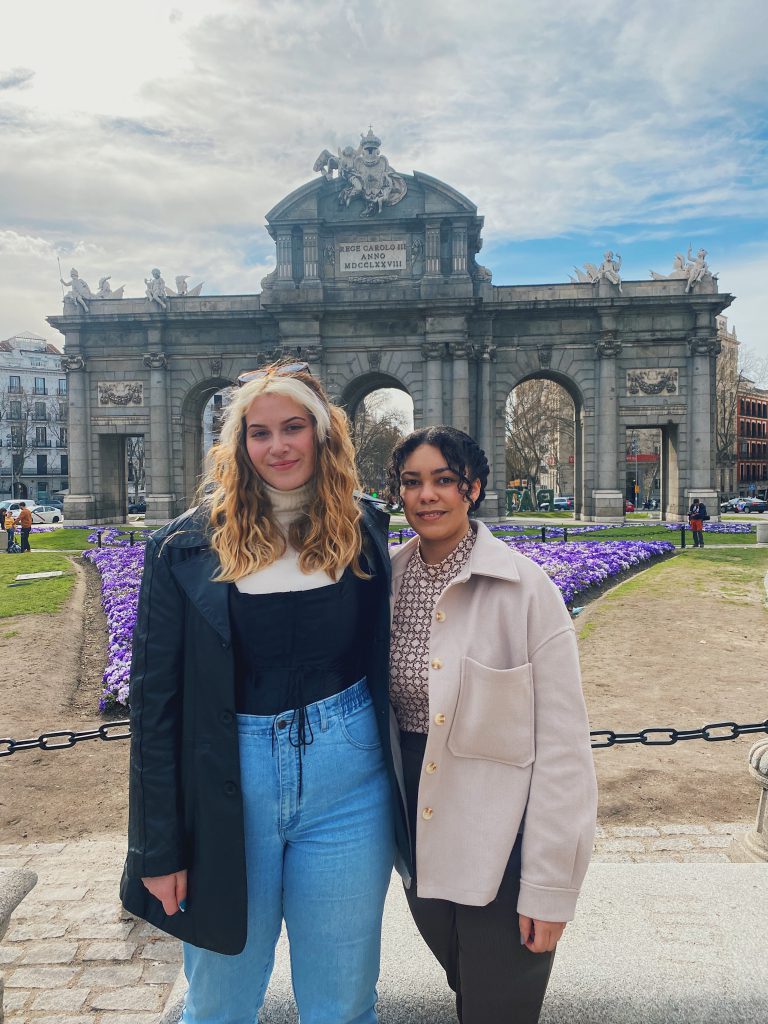 Later that night we went out to dinner at a rooftop restaurant called Dona Luz that I found after having difficulties making reservations for one that was nearby our hotel. It was covered in real plants and big enough for a large group. After talking to the rest of the group it turned out everyone wanted to come so we made reservations for all of us and went. It was located at the end of Gran Via that opened up into Puerta del Sol so the only view was really of the billboards in Sol. But the food was delicious, and everyone seemed to have a great time! It was almost like an early farewell dinner since it was the last dinner, we had all together that was not planned by our study abroad directors. After dinner we went and got churros con chocolate too which was the perfect way to end the night.