Welcome to our eighth and last day of this fantastic trip. I'll take you over how my experience was in the Royal Palace, the Cathedral of Madrid, and our last dinner of the trip.

Royal Palace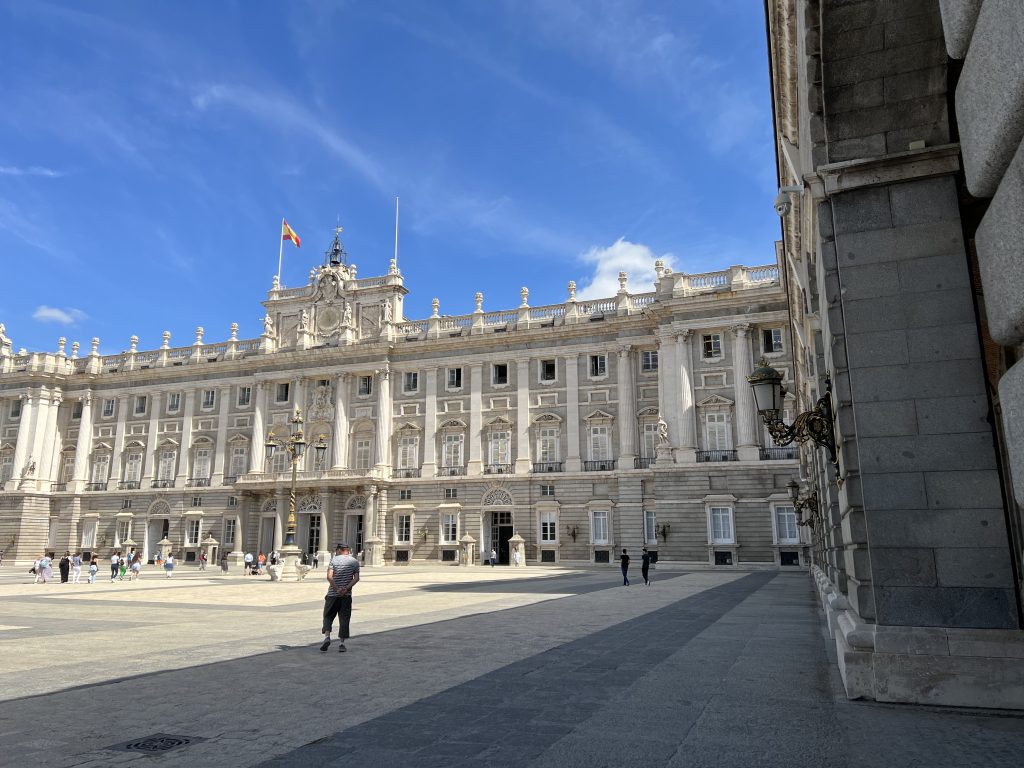 If you were like me when I was a child, I always wondered what it was to live in a palace; of course, as a child, you would never think that you would be able to visit one. Still, you cannot stop yourself from imagining how it would be. And I dare to say my inner child's palace was a game compared to the Royal Palace of Spain.
To give some background on Spanish politics. Spain is guided by a monarchy in which they have a king, the chief of state, and then a prime minister who is the president. Interestingly enough, even though Spain does have a king, the King and his family do not reside in the Royal Palace. After the visit, a few of my classmates and I did not understand why you would not want to live there.
To say the least, the Royal Palace was beautiful. From the architecture to the different rooms that we were able to see. The floor, stairs, and statues were marble and/or limestone. The decorations were made of bronze, and it had chandeliers in most of the rooms that were just beautiful, mostly made of crystal.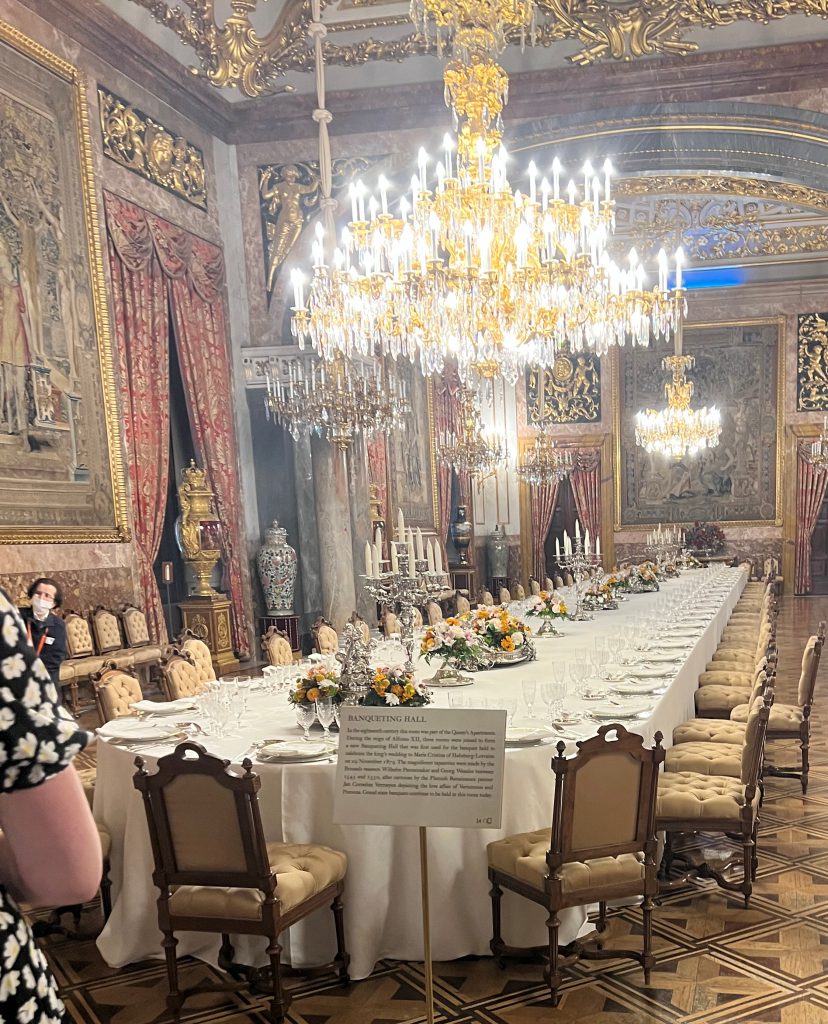 One can wonder what is done in the Palace if the royalty does not live there. Besides being made chiefly a tourist attraction, it's used for meaningful events like signing essential documents and weddings. For example, one of the most important documents signed in the Royal Palace was the joining of Spain to the European Union. One of the most recent weddings was that of the current King with his wife, celebrated on the outdoor patio in the Palace.
Besides the different bedrooms, bathrooms, and ballrooms, the Palace is mostly a representative palace, from the thrones on which royalty never actually seats to crowns that royalty never actually wears.
Overall, I am still baffled that people do not live there since the Palace is so massive and beautiful. I do understand that it's a magnificent touristic attraction, but I don't know why it mostly must be only that.

Cathedral of Madrid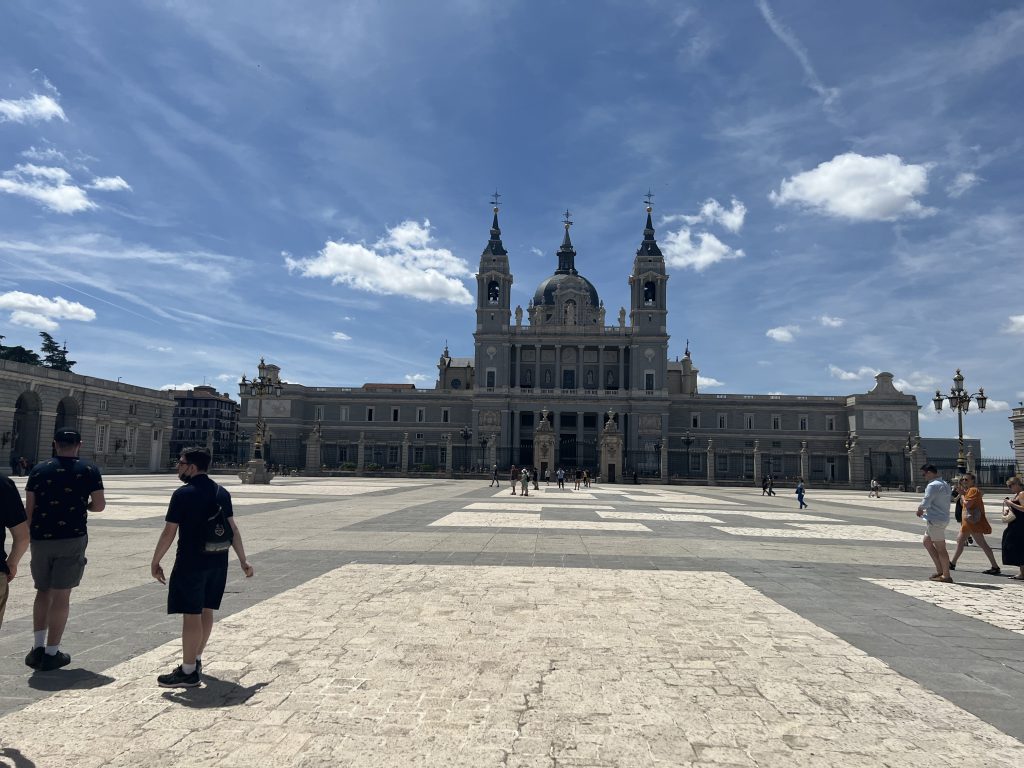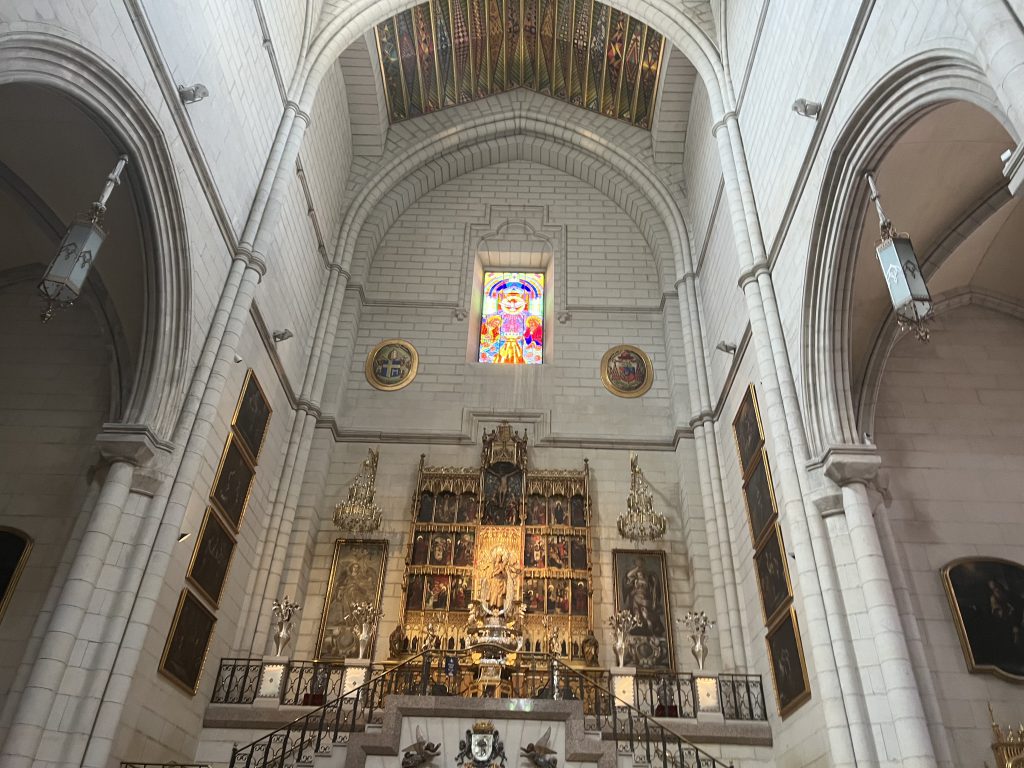 Next to the palace it is the Santa María la Real de la Almudena Cathedral. To be honest, it was underwhelming and, to say the least, troubling, and I will tell you why.
I was raised in the Dominican Republic, an official Catholic country. I also went to Catholic school, meaning that I have spent a lot of my time in chapels, basilicas, cathedrals, and overall different types of churches. If you don't know, a fun fact about my country is that we were the first place in the Americas where Christopher Columbus arrived on his trip to the Indies. Although we were the first country where the indigenous tribes got evangelized and ultimately killed by the Spaniards, indigenous people weren't fully killed in some countries. Still, my country was not one of those.
Even though I am currently not Catholic, churches still give me a sense of peace and calm. This one, though, did not give me that.
To give some information about the church, it took around a hundred years to be finished, doing so in the nineties; this is important because as the years went by, so did the different styles of architecture and art, which ended having an impact on the design of the church by showing how the church has multiple design styles that, to say the least, are not very favorable to the church.
But the most troublesome for me is the ceiling inside the church. There are beautiful paintings on the ceiling of the church. They would be for me just paintings if I didn't know what each rectangle meant. Each rectangle indicates a pattern found in the tribes that were evangelized by the Spaniards worldwide, which translated in my brain to all the people killed by the Spaniards. It was way more than I thought it was. So for that reason, the church personally will not be remembered as a fond memory in my brain.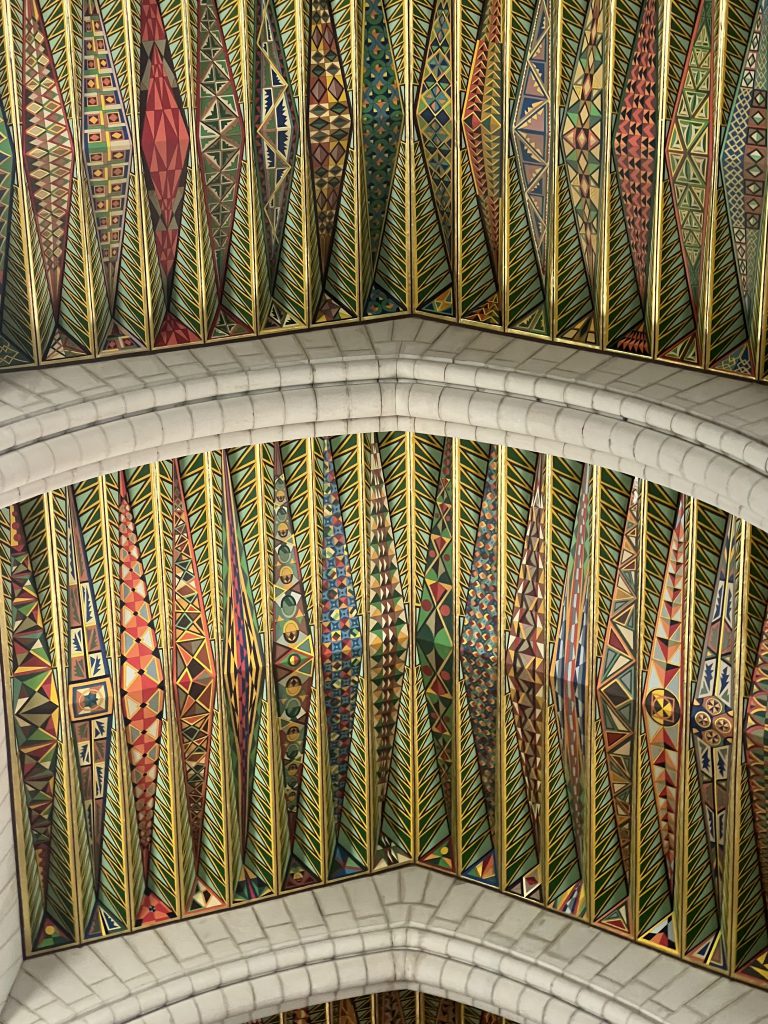 Final Dinner
After the tours, we had some time for our own, and then later that day was the goodbye dinner. We went to La Taberna de Penalver restaurant, which specializes in paella. We had patatas bravas as the appetizer, then most people ordered from the vast range of paellas they had. Personally, I don't eat rice, so I ordered a three cheese huevos rotos, which I need to say, I'm very picky about food, but that was delicious, from all the different huevos rotos that I had tried until then, I can say, without a doubt, those were the best I had. And then finally, we had an option of cheesecake or white chocolate or pistachio coulant dessert, and I chose the pistachio coulant, which was good.
The night was not out of the ordinary. Still, it felt special; it felt important; it was our last meal together. The stuff that we learned about each other, and more importantly about ourselves, we will have for the rest of our lives. For a moment, I understood maybe why royalty didn't live in the Royal Palace, even though they could. Because you don't have to have a huge palace or home to be royal, because at that moment, I was in Madrid, having good food, surrounded by good company, and a new self, and for a moment, I was royal too.