Hello, my name is Mina Lam. I am a rising senior in the Honors College, majoring in Business Administration with a minor in Economics.
It is a great privilege to wrap up the whole experience I had with my peers in Madrid, Spain through our studying abroad with API.
For over a year, I have been working with the Honors College as an Honors Orientation Peer and Honors Informational Peer, where I have assisted with advising and sharing more about the Honors College program to current students at our location, O'Leary 300, as well as to potential students at Welcome Days and Orientations. I have talked to students about the benefits of the Honors College and mentioned the studying abroad opportunities we have through the program, but I haven't personally gotten the chance to have been studying abroad yet. I was thinking of ways that I could study abroad while doing my DifferenceMaker co-op during the summer. Then I found out about this course: Exploring Madrid's Past & Present, where we were able to study abroad in Madrid with the class for about a week in the summertime (a week right after Commencement), which I saw was perfect timing. I have always thought that during my time in college, it would be amazing to study abroad. After a week of helping with Commencement and campus events, I became excited to start the studying abroad adventure soon and meet everyone in Spain. I am so glad that I went on this trip. It helped reignite my passion for photography and it feels really great to learn more about history again.
Now, where to begin?
Let's start in the beginning.
Before the trip, I actually haven't flown in over 15 years. The experience of renewing my passport and booking a flight was very new, but I was glad to have it done in time for this studying abroad. I waved goodbye to my family as they wished me safe travels.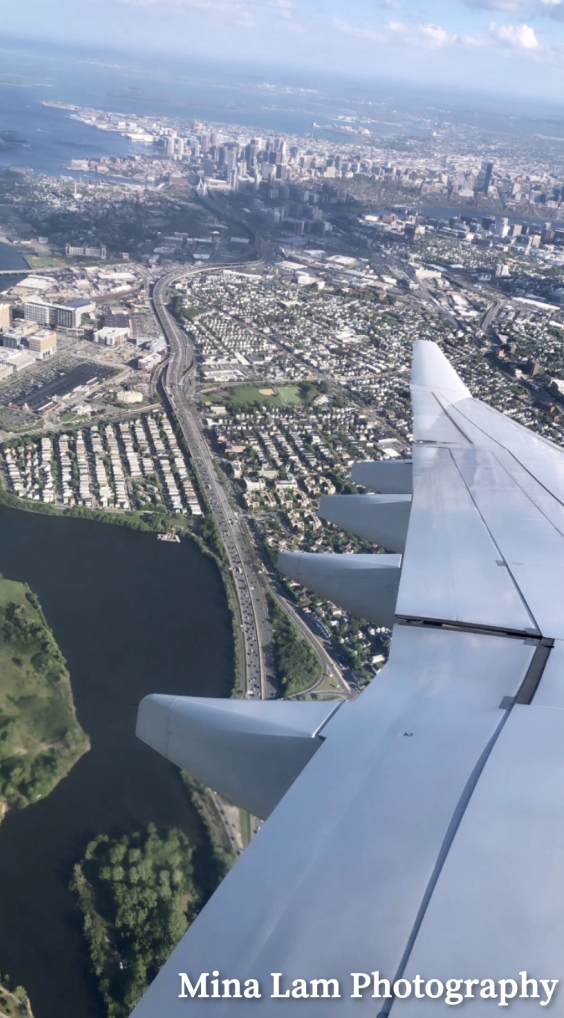 After the 6-hour flight, looking out from my window seat, I was amazed at the beautiful view of Spain. Such a breathtaking sight at 6:30 am. Despite having about an hour of sleep, I felt energized to start my adventure exploring Madrid.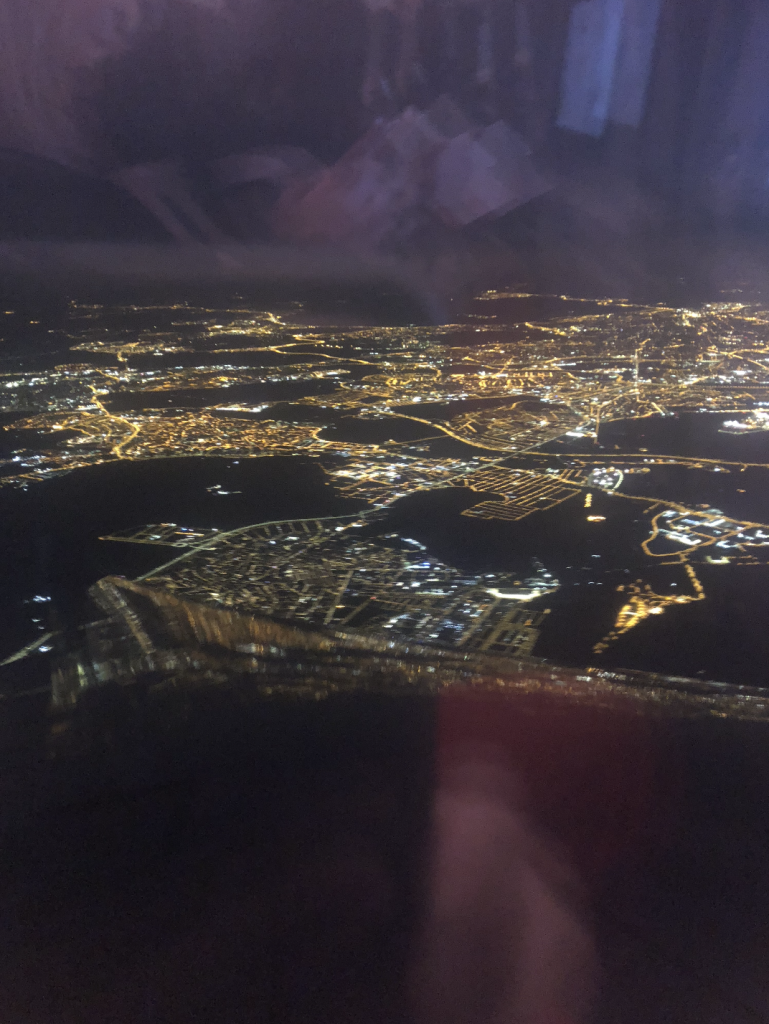 For the first two days of our trip, everyone was welcomed by API, where they organized a group welcome dinner after a full day of walking around Gran Via, Sol, and Plaza Mayor. It was wonderful to hear that they were very close to the Hotel Regina we resided in. To be living right at the heart of Madrid. Amazing! Most of us had stayed up for over 24 hours once we arrived but that didn't stop us. There were many shops, food places, and even performances on the streets at night. We were amazed at so much we could do as we learned more about the culture from our API tour guide as we remembered the neighborhood presentations we had done in our class.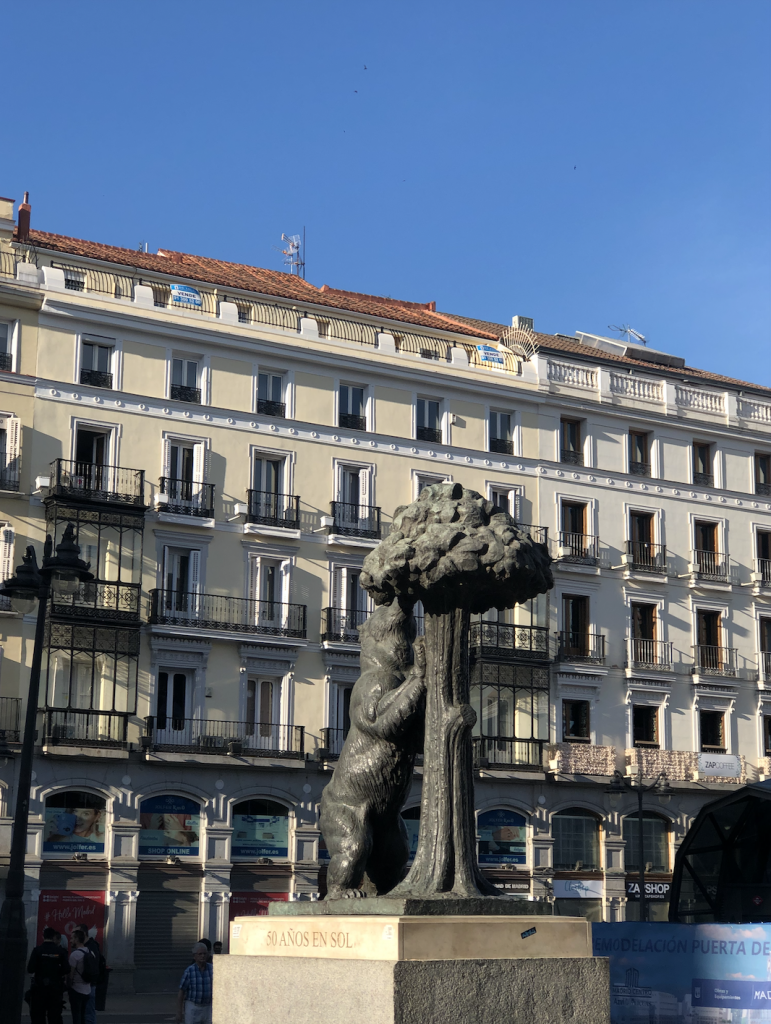 On the third day of our trip, we all met at the Hotel Regina lobby and departed together to the bus that would take us to Segovia. As we arrived at the destination, we left the bus and entered the historic city. After some hours of walking, we reached the Alcazar de Segovia and a few hours later, the Catedral de Segovia. At the Alcazar de Segovia, we learned about the history of the medieval castle and its architecture. We were all amazed at how everything looked inside the fortress. Everything was full of detail and it was nothing like what we have seen before. To see this in person is definitely a different experience than looking at pictures.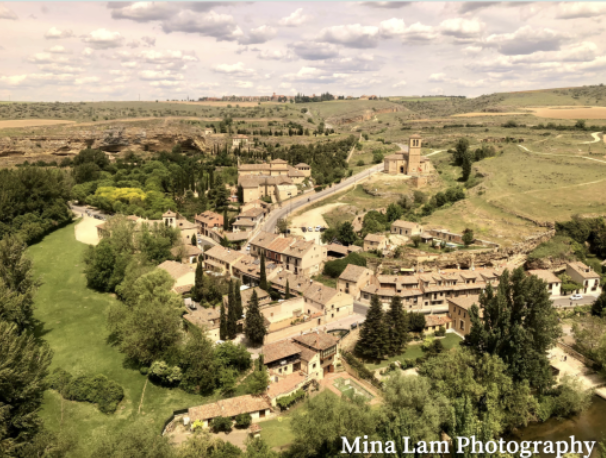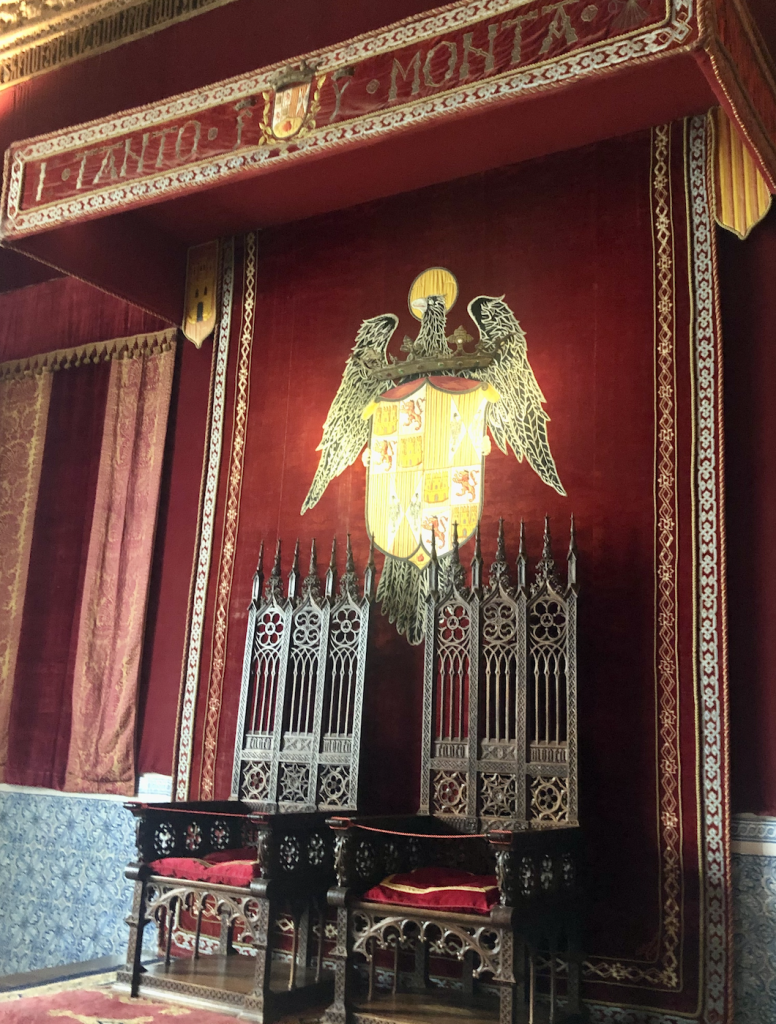 On our fourth day, we had a guest lecture about Madrid as we walked around the city and into Cortes. For the street signs, they are images that are placed on a side of a building and each had a drawing. After touring that morning, my peers and I went out for lunch to eat tapas. Afterward, we all met together with everyone and headed to Chocolatería San Ginés. As we walked into the chocolate cafe, we all enjoyed the smell of warm chocolate and the soft, yet also crispy, churros. Once we all took a bite of the churros with the chocolate, we were entering a new world.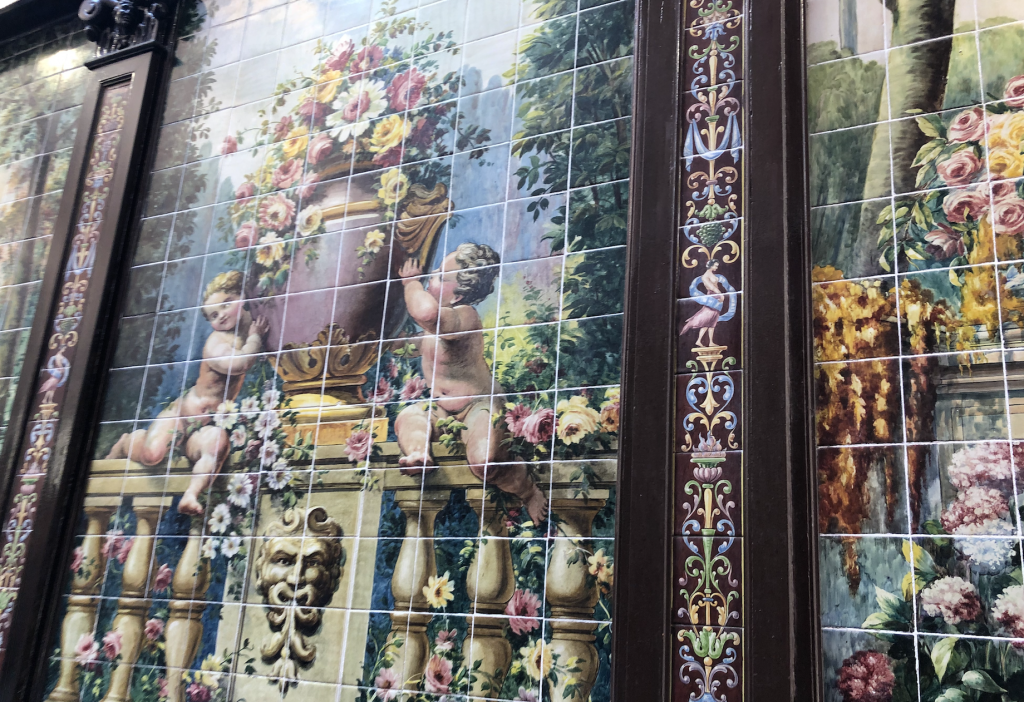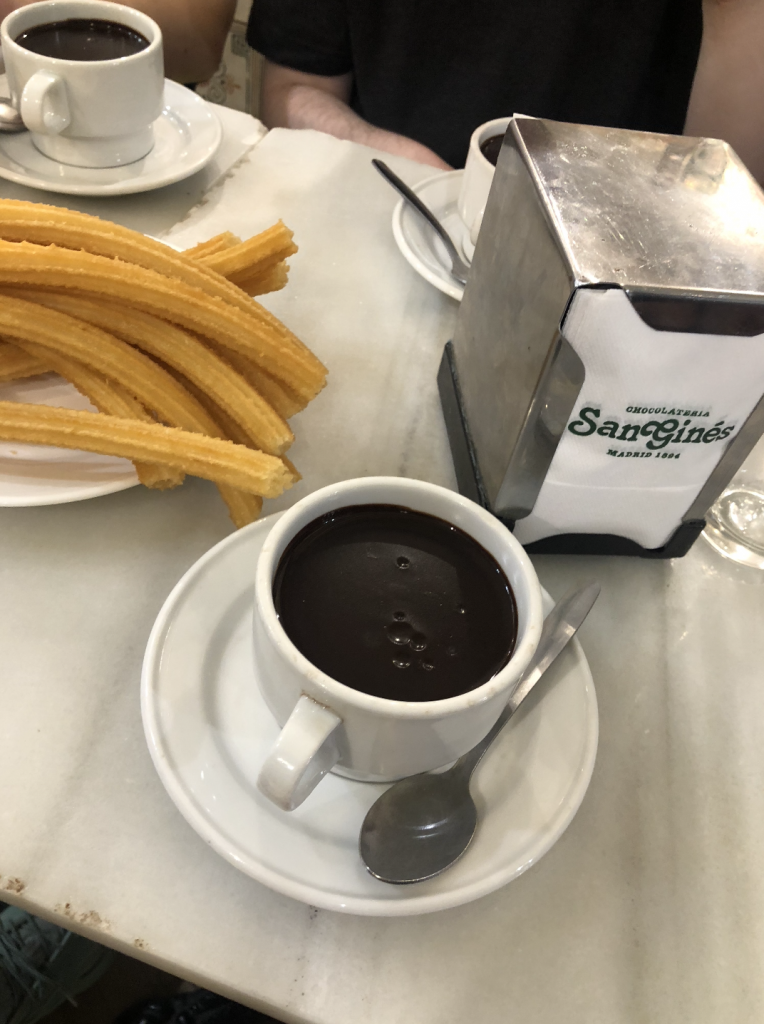 On our fifth day, we all went to the Valley of the Fallen, a Catholic basilica and a monumental memorial. As we entered the basilica, it was a fascinating experience as we looked at the statues and art on the ceilings. We all didn't imagine how big it was inside and how it felt like being there in person.
Afterward, some of my peers and I went to the Metro Station to get to Mercado de la Paz, an indoor marketplace, for lunch. We went in and saw a deli that was full of Iberian ham, salami, and much more.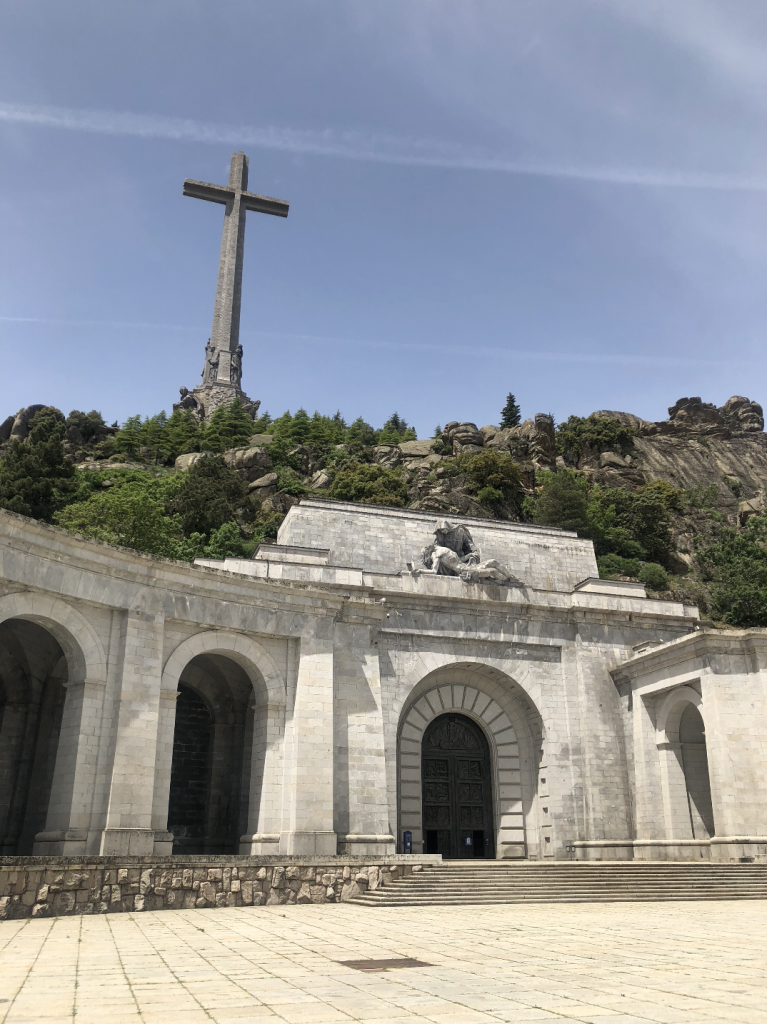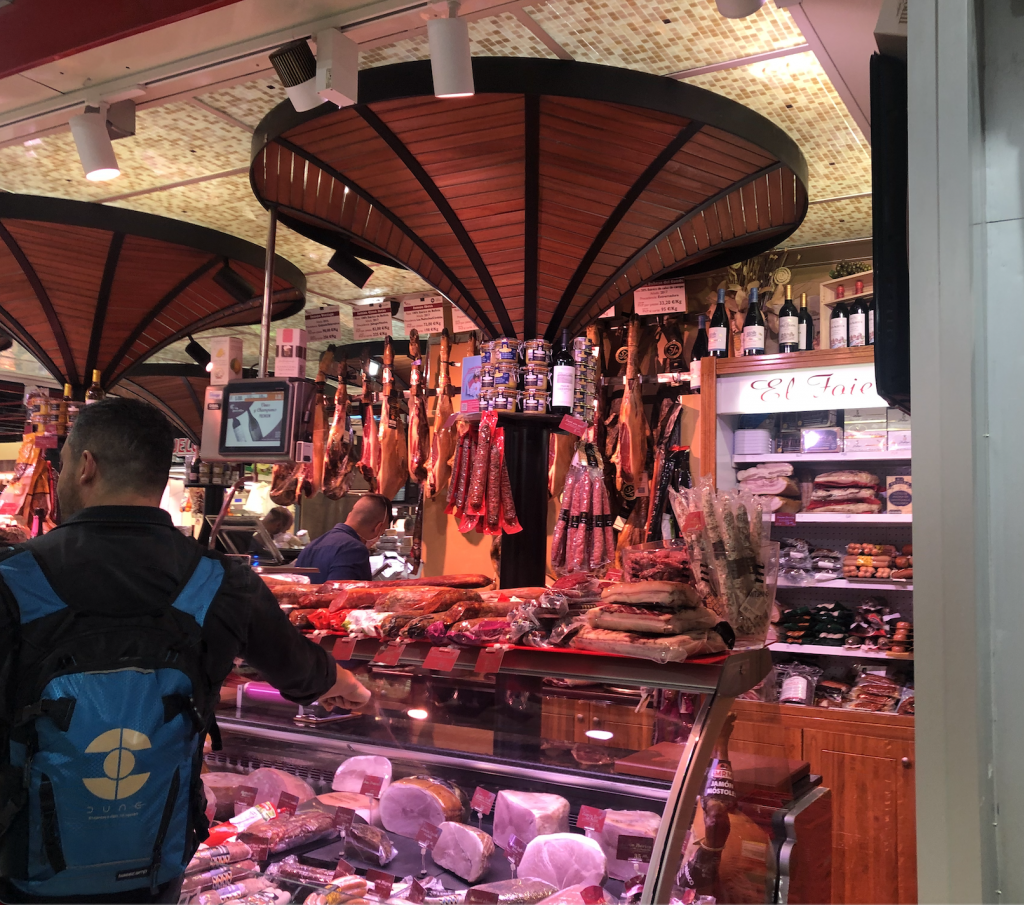 On the sixth day, we had a tour of the Spanish Civil War with API, where we walked and went by Monumento Cervantes. As we head back from our tour, we had a great view of the Royal Palace, which was our next spot to visit in a few days. Hours later, many of my peers and I went to a jazz performance at a cafe that was just a 10-minute walk from our hotel. The concert was amazing and the artists were incredible. We were able to buy a copy of the band's CD and had it signed!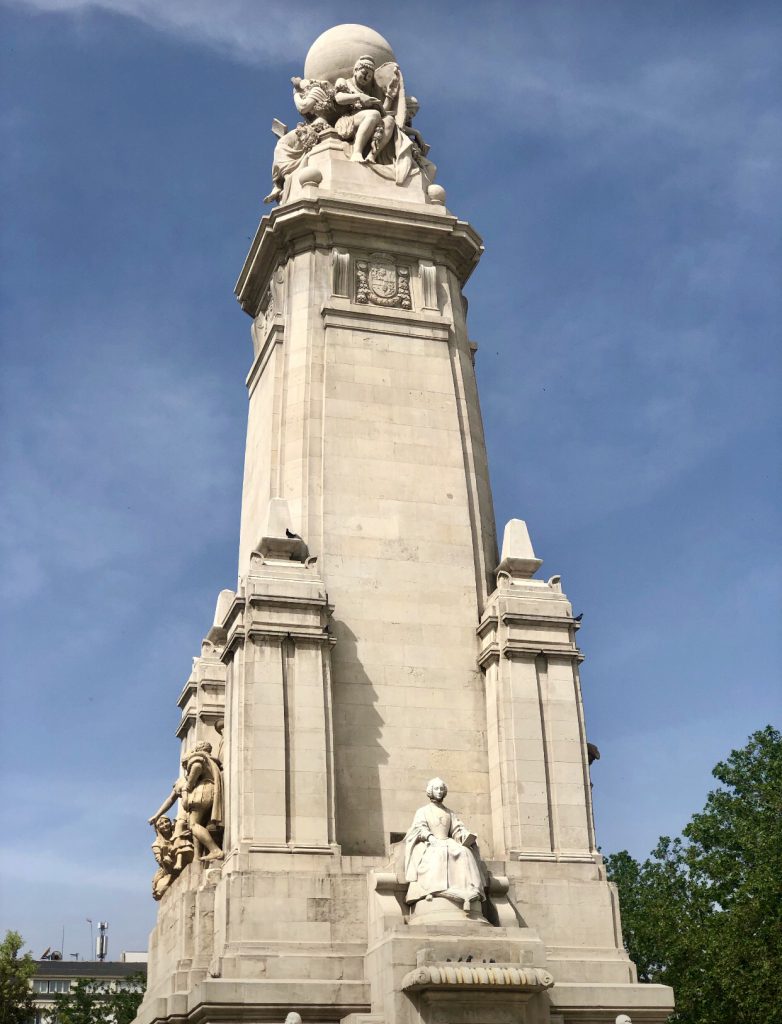 On our seventh day, we all met up at the lobby of our hotel to take the Metro to tour Las Ventas, the largest bullfighting ring in Spain. We learned about the introduction of bullfighting and its history in the stadium, and most of us attended the bullfighting event. It was an interesting experience to watch. The entire time they got me on the edge of my seat. After leaving the stadium, my peers and I went to a nearby restaurant and had dinner, where we had prawns and salted green peppers. The prawns were so fresh and the green peppers were filled with lots of flavors, especially when adding lemon to them.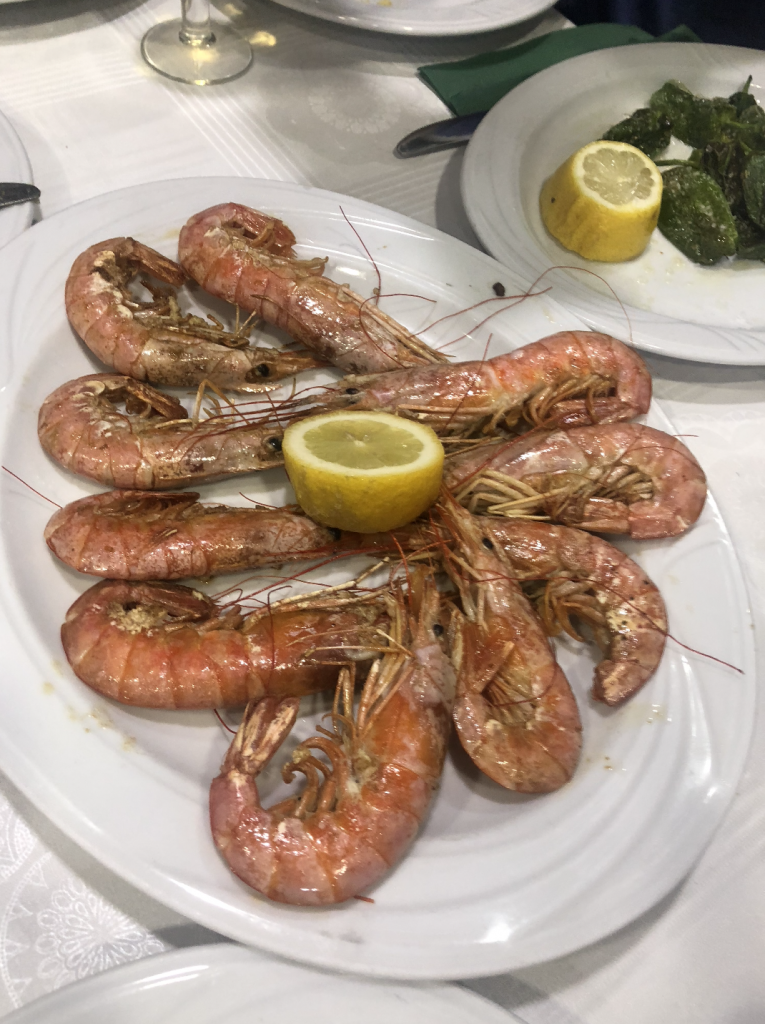 Prawns and Salted Green Peppers with Lemon Slices
On our eighth day, we visited the Royal Palace of Madrid and the Catedral of Madrid. The Royal Palace looked amazing. There were many rooms and the chandeliers were glistening. Each room looked very unique and was connected by the elegant style. After the tour, I got the chance to go explore Retiro and saw the boats and ducklings at the Estanque Grande del Retiro. The sky and water in the lake were so clear and beautiful. Such a great view. Wonderful place for anyone, especially those who enjoy nature! We then walked around El Retiro Park and entered La Rosaleda, a lovely rose garden. There were so many flowers of numerous colors that I haven't seen before. Lots of rose bushes and stone fountains, which were a wonderful sight to see. After a day of exploring and enjoying the sceneries, we all met together one last time and had a group farewell dinner, which was organized by API. The food was delicious and looked exquisite. My peers and I had the lobster risotto and it was absolutely fantastic. The food is prepared very well and we can taste the freshness of the ingredients that the chefs used to prepare our meals. At the end of dinner, we all shared our favorite part of our trip and wished each other all the best as we headed back to the hotel and prepared to pack our bags for our flight that was starting the following morning.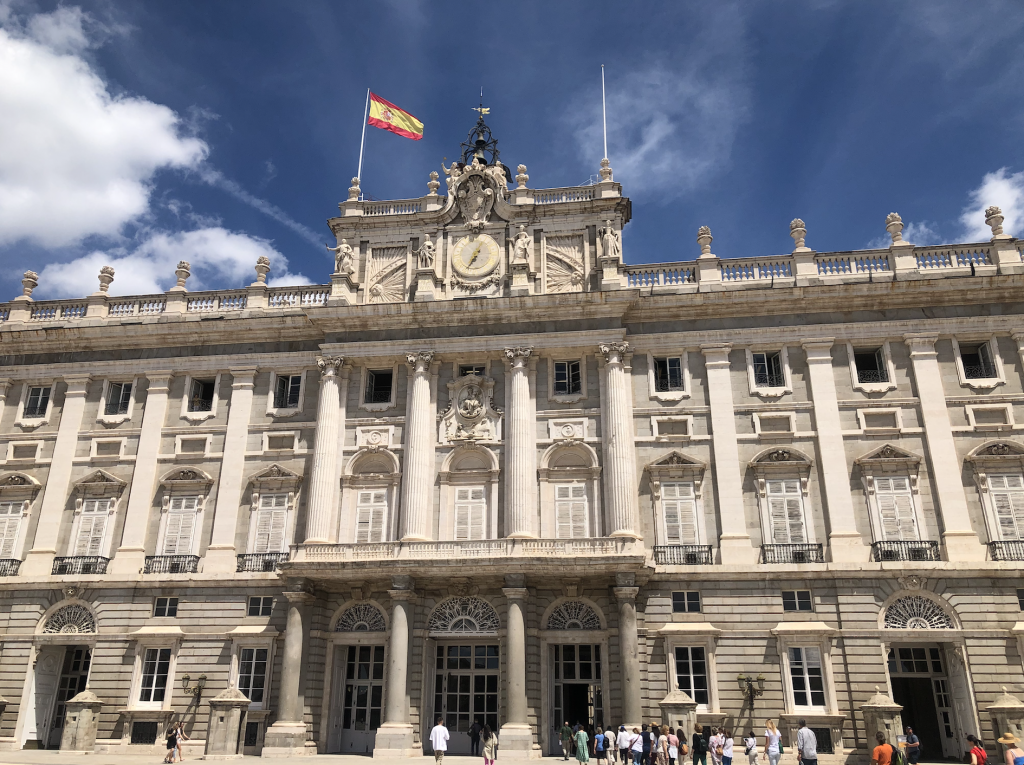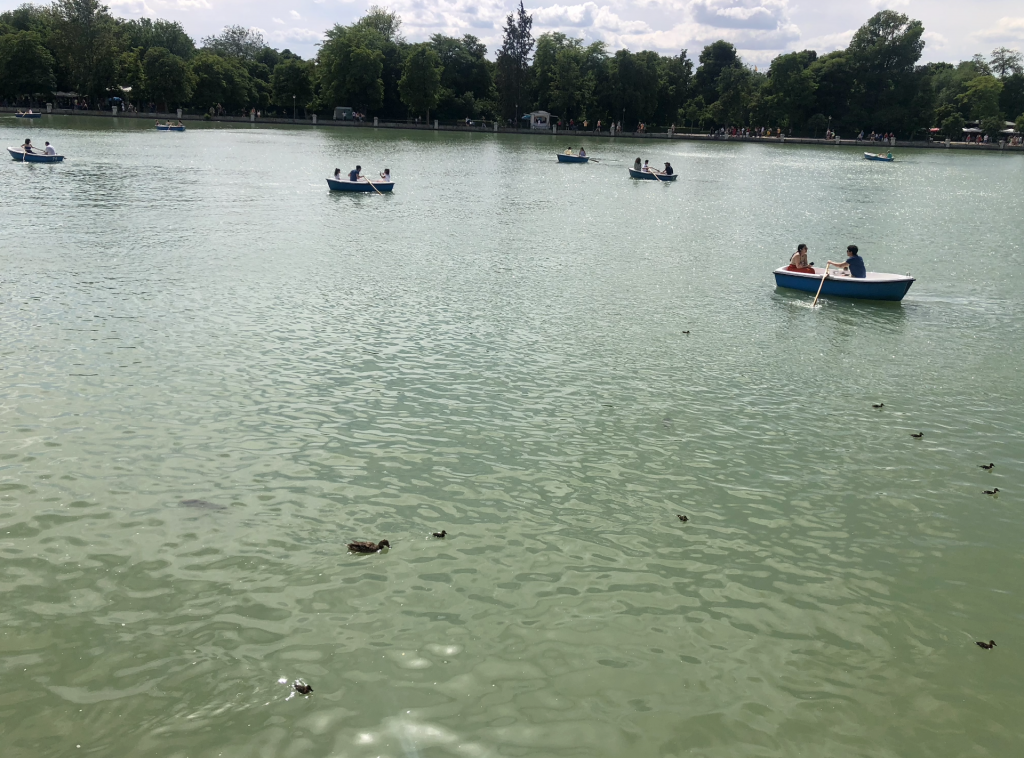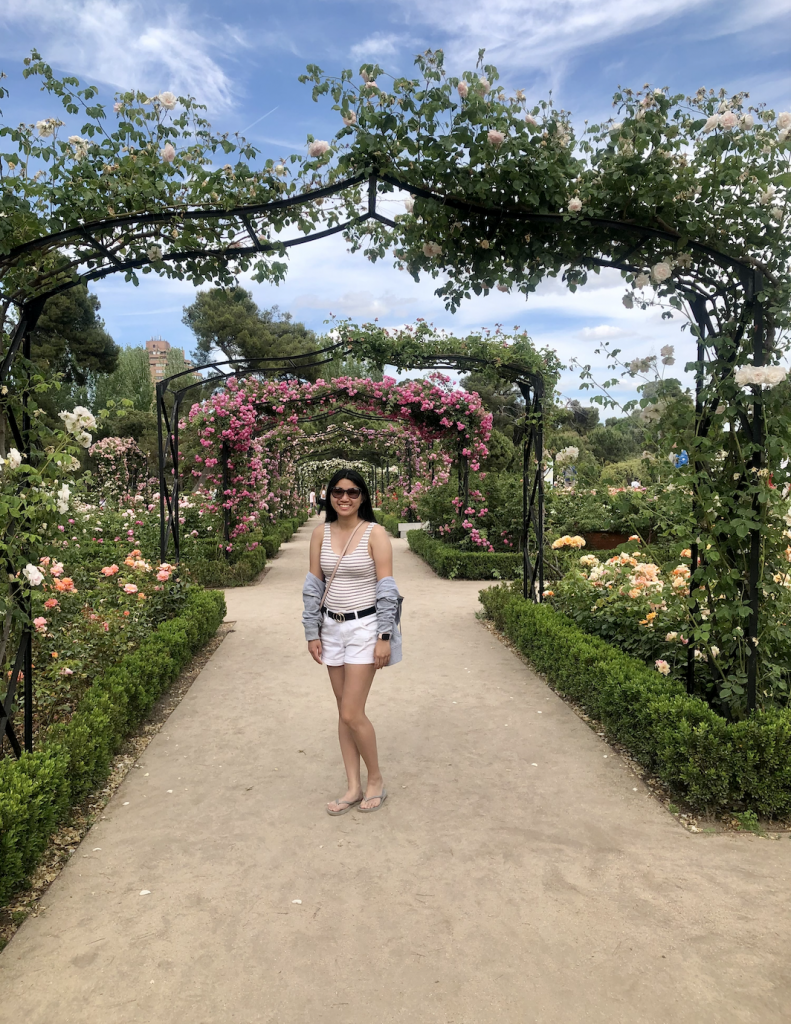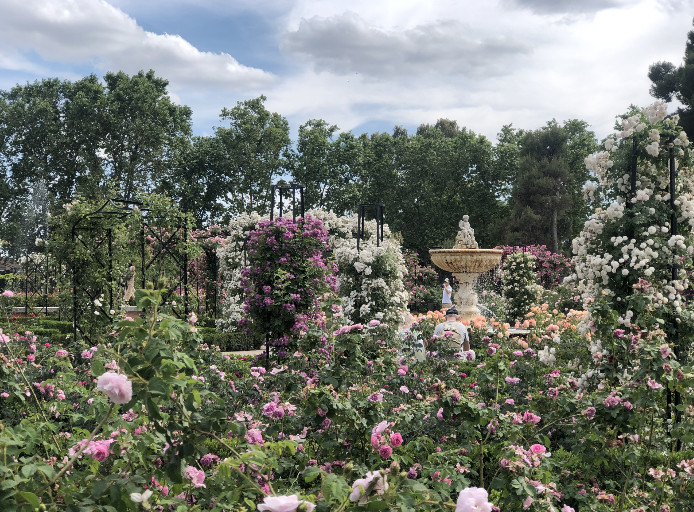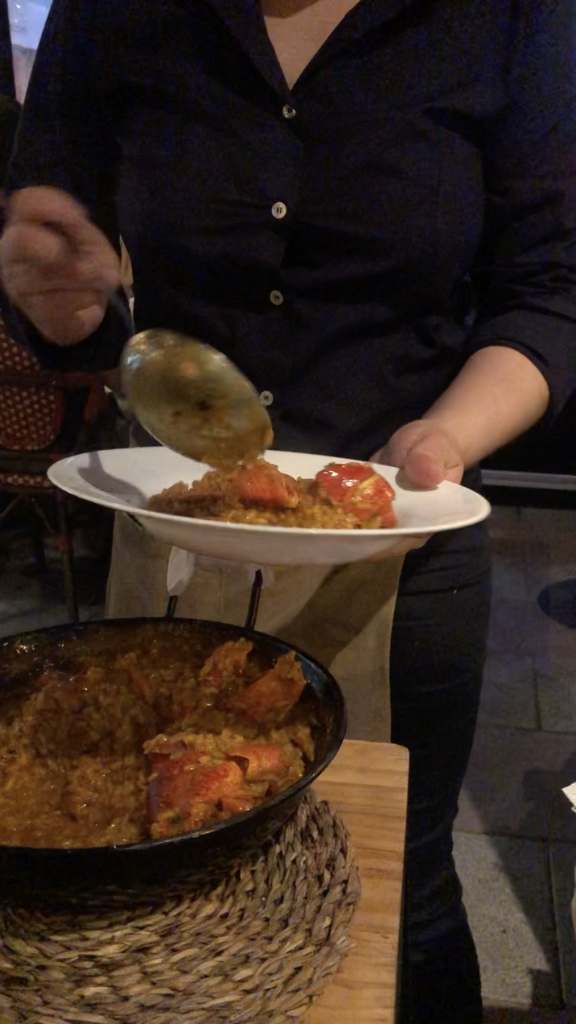 On our eighth and final day in Madrid, we had our last Hotel Regina breakfast and each started to check out of accommodations. We joined our API guide who helped organize our airport return and thanked her for her help and for giving us a fantastic experience studying abroad. After the check-in process and getting through the airport, we all finally went on our flight and headed back home, and arrived in Boston, Massachusetts.
There is so much I have learned and experienced during my first studying abroad. I'm excited to share more about the adventure I had in Madrid once I see my family and friends again. The feeling of going to a place in person is so much different than just learning in the classroom setting. Compared to learning in a traditional UML classroom, we can learn through notes, pictures, and videos; but we aren't able to see everything in front of us in full detail or try the Spanish cuisine. However, through travel, we were able to walk in the area and see everything. I highly recommend other students to someday study abroad and also take part in the Honors College program for these opportunities. I would like to thank Professor Zabalbeascoa, the Honors College, and API members, Alicia and Maria. My peers and I were able to learn more about Madrid and got the opportunity to experience this trip thanks to these wonderful people. I have also gotten to grow more as a person as I learn more about the culture of Madrid and interacted with many people.
Until we meet again, España!