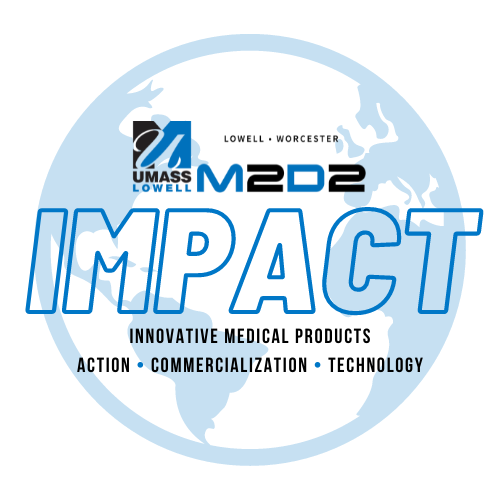 This past April, the 10 medical device startups in Cohort 2 of the IMPACT Accelerator Program virtually pitched their solutions to a panel of industry leaders. Our Cycle 2 cohort spent 10 weeks working with experts at BARDA and M2D2 partners to improve their pitch and advance their innovation.
The virtual IMPACT Pitch-Off was led by IMPACT Program Manager, Brennan Fournier, who recently moved on from M2D2. He summarized the incredible range of resources made available by M2D2. We would like to take this opportunity to thank Brennan for all his dedication in helping lay the foundations for IMPACT. We'd like to recognize him for his ability to support so many startups through this program and the many others that he has been involved with through his time here. We wish him continued success in his career!
Rowan Cade was next on stage to provide a fantastic overview on behalf of program sponsor BARDA, sharing insights into its catalyst office and the accelerator network. BARDA is a critical initiative that promotes the advanced development of medical countermeasures to protect Americans and respond to 21st century health security threats.
You can watch the full video recording of the IMPACT Accelerator Pitch-Off here.
IMPACT Winners and prizes from Cycle 2
While cash prizes were not part of the original agenda for the IMPACT Accelerator Cycle, we were able to benefit from the generous support of sponsors to award prizes to some of the IMPACT startups. During the IMPACT Pitch-Off Finale, we announced 4 surprise awards from partners:
Access to Upteaming's peer support platform: HealthyID
Access to Upteaming's peer support platform: Qanik DX
Access to Upteaming's peer support platform: Resilient Biotics
Digital RESI Conference Access & Pitch Challenge Ticket – OmniVis
Innotech Precision Medicine also walked away with a $5,000 voucher from M2D2 to be used toward research facilities and resources available through the UMass ecosystem. Other startups involved in the program continue to be supported and are being connected with strategic investors to further their commercialization journey.
The IMPACT Experiences from the Startups in Cycle 2
We asked the members of our IMPACT Cohort how they felt about the IMPACT Accelerator program after they completed the full cycle.

"I was honored to be accepted into the M2D2 IMPACT Accelerator with BARDA program. The program exceeded my expectations. The content of the live events was excellent, and the support and encouragement offered by M2D2's leadership team was exceptional. Thank you so much for your dedication to advancing the efforts of entrepreneurs." – Laura Owen, CEO & Founder, HealthyID
Looking ahead to our upcoming IMPACT Cycles and events.
This July, we will be hosting our 3rd IMPACT Accelerator Pitch-off and this time we'll be coming together in-person! You can join us in Lowell on July 21st – get your tickets for free.