The UroMonitor, a device to simplify and improve the diagnosis and treatment of stress urinary incontinence, was chosen as 1 of 20 finalists in the 8th annual M2D2 $200K Challenge. 
Margot Damaser of Cleveland Clinic leads a team in the development of the UroMonitor. In this article, Margot offers some insight into the background of the innovative device and what it's taken her team to get it this far!
What was the genesis or inspiration for your idea?
As an engineer, when I first saw how urodynamics was being done in the Urology Clinic over 20 years ago, I thought "are you kidding me? We can do so much better." Where I was at the time, I couldn't gather the team and the resources to execute my vision so I moved to the Cleveland Clinic which, along with Case Western Reserve University located across the street, and the Cleveland VA Medical Center, located down the road, have a great number of experts and resources to collaborate with to develop the UroMonitor.
What are the most significant barriers you've faced and overcome?
Packaging the UroMonitor in a form factor that could be insertable and retrievable while also being flexible, durable, and biocompatible was a hurdle for us. We have overcome it by collaborating with Parker Hannifin, a major manufacturing company based in Cleveland, who have a variety of materials, manufacturing processes, and experts to work with.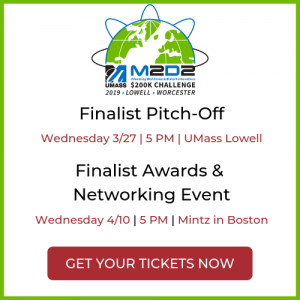 Can you share a "Eureka!" moment—a breakthrough in the development of your idea?

A Eureka moment came when we realized we didn't need multiple pressure recordings from different parts of the body to understand bladder status and function, as is currently done in urodynamics. In contrast, we have designed the UroMonitor to use a single pressure sensor in the bladder along with an expert algorithm to deduce bladder function in real-time without catheters or wires.
If you win, what's next?
We hope to use the M2D2 $200k challenge opportunity to gain sufficient progress and contacts to pursue additional grant funding of $2.5 million to complete development through an IDE-approved clinical study and establish a distribution partner to obtain FDA approval and market the UroMonitor, as well as to open up new market opportunities.
The Quick Takeaway on the UroMonitor:
The UroMonitor wirelessly transmits bladder data without catheters or cables to improve the diagnosis and treatment of urinary incontinence & voiding dysfunction.
You're invited to meet ALL 21 finalists in person at the two upcoming events that will conclude the Challenge:
Challenge Pitch-Off—Wednesday, March 27 at 5:00 pm, University Crossing, 220 Pawtucket St., Lowell
Finalist Awards & Networking Event—Wednesday, April 10 at 5:00 pm, Mintz, 1 Financial Center, Boston
For more information and tickets, visit https://www.eventbrite.com/e/2019-m2d2-200k-challenge-finalist-showcase-pitch-off-events-tickets-56587606053