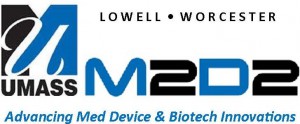 On Wednesday, May 30, four life science researchers from UMass Lowell and UMass Medical Center will vie for awards of in-kind support totaling $50,000 at the M2D2 Medical Device Innovation Pitch Competition. The competition will take place Wednesday, May 30, from 5:00 pm until 8:00 pm in Amphitheater 3 at the UMass Medical School Campus, 55 Lake Ave. North in Worcester.
Originally scheduled for March 21 but postponed due to snow, this Pitch Competition is being held in conjunction with the UMass M2D2 $200K Challenge, a pitch event for medical device entrepreneurs that announced its winners on April 10.
"It's a special track especially for UMass graduate and post-graduate researchers," said Stephen McCarthy, Director of M2D2. "The sponsors are excited to offer this in-kind funding opportunity for UMass researchers. They're identifying pressing health care problems and partnering across campuses, finding engineering or technology expertise to generate solutions to ultimately benefit the public."
Meet the finalists and their innovations:
Abiche DeWilde, PhD, InVitroMetrix—Whole cell biosensor incorporating QCM technology, which provides real-time characterization of cells
Andrzej Przybyszewski, PhD—Biomarkers for neurodegenerative diseases
Nicholas Panzarino—Polymer technology to improve the efficacy of chemotherapeutics for cancer
Anna Yaroslavsky, PhD—Preoperative skin cancer delineation using noninvasive optical imaging
The four finalists will pitch their ideas to a panel of judges who include industry partners, investors; and product development, regulatory and quality, academic, medical, and business experts. Those deemed best will receive a share of an award purse totalling $50,000 worth of in-kind services to advance their technologies.
Tour the M2D2 Worcester facility.
In addition to the pitch competition and great networking, M2D2 will offer tours of their lab facility at UMass Medical School. If you're a life sciences start-up experiencing "growing pains," M2D2's Worcester labs can answer your needs for an affordable, leading-edge space that's closely connected to the Massachusetts life sciences community—just as M2D2's Lowell facility has done for a numerous other entrepreneurs.
The M2D2 Medical Device Innovation Pitch Competition is sponsored by UMass Center for Clinical and Translational Science, UMass Medical School Office of Innovation and Business Development, and UMass Lowell Office of the Vice Chancellor for Research and Innovation.