MAG Optics is one of 20 finalists in the 7th annual M2D2 $200K Challenge. Geeta Singh, Co-founder and Chief Business Officer, shares the story of their innovation.
What is the innovation you've entered in the M2D2 $200K Challenge?
MAG Optics is pioneering an intra-corneal implant, MAGarcs, that is the first patient-centric corneal shape-changing platform to address keratoconus, a rare degenerative disease characterized by a cone-shaped cornea.  
What inspired you to develop your device? 
Our inspiration has an interesting back story. It wasn't born in a university or incubator, but was originates from on-the-ground, or specifically war-torn, clinical experience. Our co-founder and Chief Scientist/inventor, Dr. Marwan Ghabra is an ophthalmologist in the UK, but has roots from Damascus, Syria. While he studied and began his practice in the UK, in 1998 he moved his family back to Syria to set up eye hospitals due to the severe humanitarian need. At the height of the Iraqi war (2004-2012), almost 60% of the patients crossed into Damascus from Iraq for the reputation of the ophthalmologist who took on the most complex surgeries and severe eye conditions.
Since there were limited surgical facilities in Iraq, Dr. Ghabra was well known for two things: turning no patient away and tackling the most difficult cases. Naturally, his understanding of the eye and its anatomy is not textbook, traditional ophthalmic experience. This, coupled with working in low-resource environment, drove the innovation process in a very different way, sometimes prompting on-the-spot innovation. In 2012 the civil war broke out and the family moved back to London, leaving most everything behind, except his ideas for inventions.
Fast forward to London 2015 and, you guessed it—it's raining. Walking home, Marwan looks up at his umbrella, which to him, resembles a cornea. He sees the radial spokes and bingo. Many visual and refractive conditions are due to abnormalities in the corneal shape. Therefore, an implant in the periphery would allow the manipulation of the cornea in a manner that other technologies couldn't attain. Three months later, patents filed, we had our first prototype and were able to implant into human cadaver eyes, which allowed us to test the mechanism of action and the resulting impact on the cornea.
What are the most significant barriers you've faced and overcome? 
Our most significant barriers have been rogue innovation and logistics.
While our radical design approach for corneal inlays is our competitive advantage, it also brought out the naysayers, questioning its feasibility. We had taken the traditional corneal inlay designs (almost all with a circular, contact lens design) and turned it on its head. We have a radial spoke, so convincing the industry why this would work was initially a challenge. To address this, we knew we had to be data-driven, test quick and have early data to support the theory. From early days, we used lean design principles—build, measure, learn then repeat. We designed, ran quick studies, failed fast and used the learnings into the next design cycle. We didn't want to get caught in "analysis paralysis" that sometimes cripples early stage companies. We decided to embrace momentum rather than perfection, which is a balancing act.
As a non-university innovator, we didn't have the financial backing or ecosystem of resources to embrace proof-of-concept in the traditional manner. The science was being driven in the UK, but the business would need to be built in the US. Therefore, for the innovation/proof-of-concept phase, we embraced a cross-border virtual structure (UK/US). Naturally, this brought its own challenges with a split team, different time zones, and communication. However, inherent in those challenges also was quick progress. By leveraging resources outside of US, we were able to fast-track early studies to inform device performance. Because of unique design considerations that we built in, we were able to conduct human feasibility studies and gather early data. This allowed robust human data analysis and enabled us to take conversations from "So is this really going to work?" to "We have human data to show it works"
Can you share a "Eureka!" moment—a breakthrough in the development of your idea?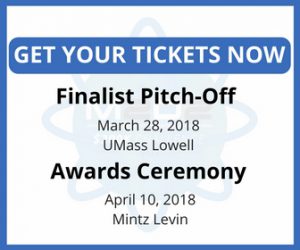 The unique design and implantation approach allows for a more patient-specific and nuanced corneal shape change. The first set of results from our initial keratoconus patient studies in 2016 took us a bit by surprise—not only did we have marked and near-instant improvement in patient vision, but more: We realized that the MAGarc had the potential to become a platform device. If we could elicit targeted shape change in a keratoconic patient, which is one of the most difficult and extreme corneal conditions, then our innovation could treat other conditions—and perhaps even combined corneal conditions as well. This was the "Eureka!" moment. Thus, we have conducted additional, smaller human studies on two other indications: presbyopes, as well as astigmatic patients.  This is the real power of our technology—a true corneal shape changing platform.
If you win, what's next?
We are transitioning from an innovation/POC phase to a more regulatory-focused one. To do so, we need to conduct independent US/FDA studies. This requires significantly more resources, human and financial. Given our lean team, we could benefit greatly from the powerhouse, med-tech intellectual ecosystem that Massachusetts has to offer to support further development and our US studies. Furthermore, this is a resource intensive device, so collaboration partners will be essential to our future milestones.
Learn more at www.magoptics.com
You're invited to meet ALL the finalists in person at the two upcoming events that will conclude the Challenge: