Introducing AMProtection, one of 20 medtech startups chosen as finalists in the 7th annual M2D2 $200K Challenge. Co-founder Todd Alexander shared the story of their innovation and its development so far. 
What is the innovation you've entered in the M2D2 $200K Challenge?
AMProtection provides platform antimicrobial coatings to prevent medical device-associated infections without promoting bacterial resistance.
What inspired you to develop your device?
Dr. Lindsay Lozeau and I were a part of a graduate fellowship at WPI called the IGERT: Training Leaders in Biofabricaton. There, we were encouraged to think about our fundamental science PhD projects, focused on deciphering the unique, biophysical mechanisms of antimicrobial peptides, in an applied way. Since we were working on surface-tethered peptides, it seemed a logical step to test the limits of what surfaces we could effectively attach our peptides to. Medical devices seemed the area where our work could have the highest positive impact.
What are the most significant barriers you've faced and overcome? 
Getting through the NSF I-Corps program was an intense challenge. Not only did we have to do a ton of customer interviews in a short period of time, but it also ended with a pivot for our company from orthopedic devices (like knees and hips) to urinary catheters. It was challenging to design the right experiments to test our coating on polymers, as opposed to metallic surfaces. Of course, we had to change all of our existing pitches, posters, and white papers. Along similar lines, we did all of this as PhD students, and it has been difficult for us to split our time effectively between our PhD work and company work. 
Can you share a "Eureka!" moment—a breakthrough in the development of your idea?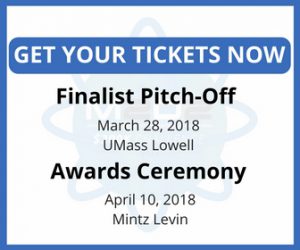 By April of 2016, we knew our science was good, we had published on it recently and filed for a provisional patent, and we'd done some small pitches as part of the IGERT program. But all in all, we were just two PhD students hoping to graduate. We had no company (officially), though our team had discussed the possibility several times.
That month, we pitched in front of the WPI community at the i3 competition, an internal WPI 3-minute pitch competition, and won first place. A few days later, we pitched at TheVentureForum 5-minute pitch competition, and won first place. We became a part of the VentureWell E-team program and were shortly thereafter named as inaugural Hitchcock Fellows at WPI. It seemed like everything had suddenly fallen into place for us, and we began thinking, "Maybe we can do this—start a company." We incorporated as AMProtection in August of 2016. 
If you win, what's next?
As a company that offers platform technologies, our future strategic partnerships are crucial. We hope to be able to establish partnerships for the development of our urinary catheter product so that we can continue to broaden our patent portfolio and expand the development our platform. We want to grow our company in Massachusetts as part of the M2D2 network. Our goal is to become the premier biotech company offering antimicrobial coatings that prevent infections without promoting resistance. 
Learn more at https://amprotection.us
You're invited to meet ALL the finalists in person at the two upcoming events that will conclude the Challenge: