Day 1
Walking into the building where the Hackathon was going to be held was definitely intimidating. I had a pretty brief understanding of what to expect from the conference and even though I was nervous, I was more excited to learn. We were split into groups and I was with my friend Autumn and five other people. To our and her surprise, we were supervised by our group leader, Regina!
With a notebook and pencil in hand, I jotted down a ton of notes regarding process and ideas. Our goal was to create a product that would help people of the ages 18-24 overcome or deal with depression. We were given many exercises that would help us come up with a solution to the brief. The more we started communicating with each other, the more ideas we got.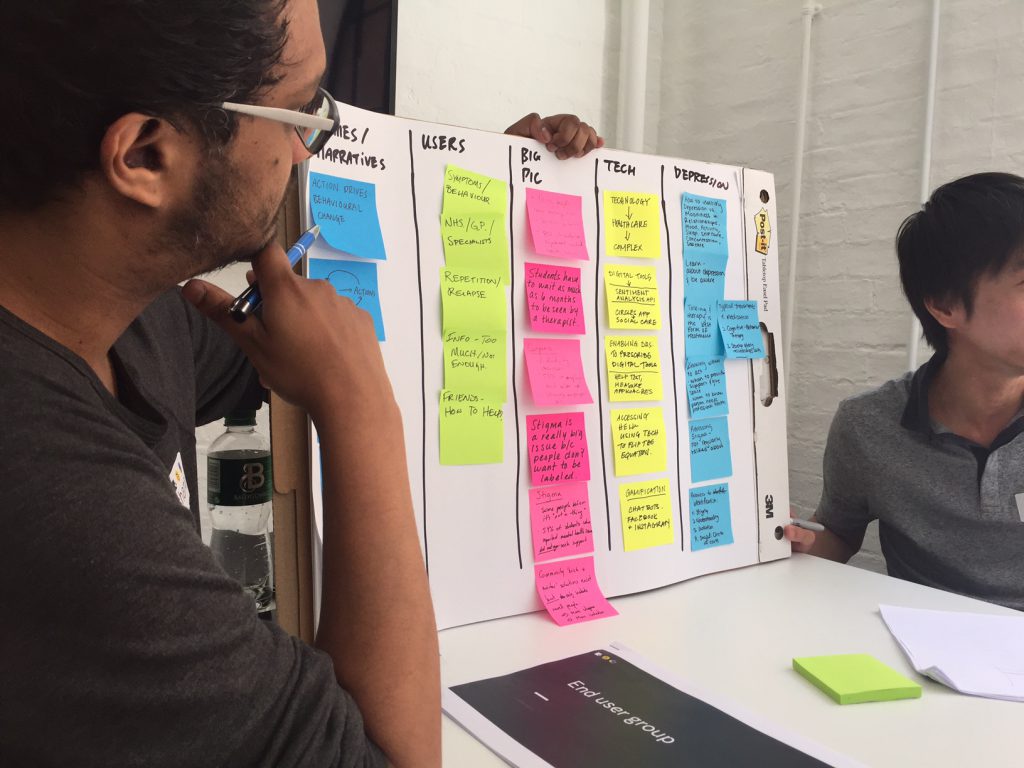 Here is the thing about sharing ideas. Not everyone is going to agree with each other. As people, we all know that. In a setting where you have a certain time frame to complete each task, it can be extremely challenging. It was hard to please everyone while staying in the constraints of the brief, but to me that was the reality of it. This is what people do every day no matter how frustrating it may get.
One thing I liked the most was that we were a diverse group. The others all had British citizenships but most came from different countries like Chile, China, Singapore, and Venezulea. The most surprising thing that I learned was that the UK doesn't have the resources that America has when it comes to mental help/health. People in the UK are so afraid of being labeled and admitting to having a problem that they do not go to get help. Even if they do seek help, they have to wait at least six months. Six months is a very long time for a depressed person. In America, we have facilities everywhere and could even walk into clinics or offices. We are also more open when talking about our issues and having our close ones reach out to us when they see a problem. The others in our group were so shocked to hear that we were that open and prepared. We really needed to come up with a solution to help these people.
Nine hours later, we were done for the day without a definite direction. We were all fried and stressed, but I was still hopeful for the next day. I came back from dinner and fell right to sleep.
Day 2
With a full nights rest, I was ready to pump out this project. The day started off way better than it did the day before. All group members were being cooperative and productive. We finalized our idea at the beginning of the day. We wanted to create a platform for students to go on and register to connect with others through a social, academic, and well being platform called WellU. "U" implying "you" or "university."

The design wouldn't be targeted to just one university, it would be a system for all universities to use. It would be a mandatory task for students to sign up for this site during orientation. Students will be notified of what there is to do on campus, what resources they can use for help, and where they can go for help. They will be able to further connect with a tappable device which they can choose from either a bracelet, key chain, and card that will be activated on the WebU website. The tappable device can connect you with other people by sharing your social media info and also could be how they tap into getting in buildings and paying for their meals. That way they have to wear it.
Here is a rough of what the homepage will look like: Untitled-2
I'm glad we did not go with our chat bot idea because a lot of other groups made a chat bot experience. We didn't want to point out depressed people as a whole, we wanted to create something that would get people out of their usual routines to get to know new people given the chance that they maybe depressed.
There were a lot of bumps towards the end of the time we had to work. We all had to bang out information and design in the last half hour. We had to work fast because we were the first ones to present!!! The time came and we presented our project. I was overwhelmed with emotions. These two days taught me a lot about working with others and learning the importance of process. I am proud that I was true to myself when times got really tough. I did not want to give up, I did not want to be discourage, and I definitely did not want to lose my characteristic of being patient and focused. I am very happy for the group that won today!! Overall, we ALL did a great job coming out of our comfort zones by delivering solutions. I am proud I was able to represent UMass Lowell along with my talented peers. A huge thanks to Big Radical, the company that held this event. They were the best with keep us entertained and focused. Lastly, I am very thankful to my professors, Ingrid and Regina, for giving me this opportunity. I could not imagine doing this without them. Much love!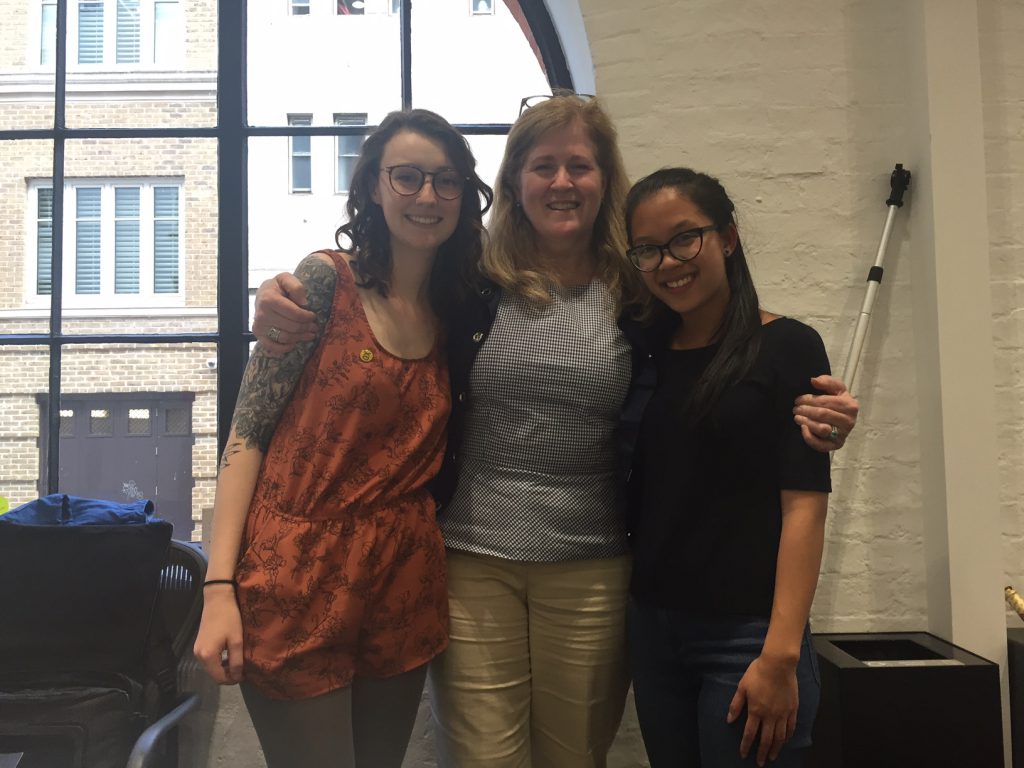 -Sheila