For our first round of museums, we visited Madame Tussauds Wax Museum and The British Museum. The weather was not on our side this morning. It was pouring and the wind made it even worse, but what do you expect? It is England after all. Today we also learned the hard way that the British walk on the left side like they drive on the left. Take the left stairwell whenever you visit London, it is a must especially when it gets really busy. The wax museum was definitely more for fun. It was scary seeing how real some of the sculptures actually looked. I even mistook real people for sculptures. Whoops!
The British Museum was my favorite of the day because I was able to see what I've  learned about from my college art courses but also what I've grew up learning about my whole life. Here is an example: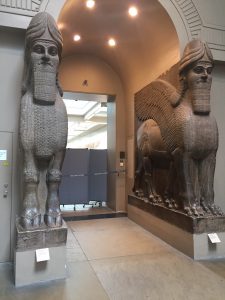 These are the Human headed winged lions from ancient Assyria. I remember learning about this first semester of sophomore year in Art History I. Seeing it in person was better than seeing it on a projected screen. The detail and the scale of it added to the effect of being extraordinary. Every person when they were kids was fascinated by mummies, so seeing the mummy of Cleopatra felt unreal.
We walked a bunch today and I cannot feel my feet at the moment. But that's okay, they will adjust one way or another! There will be more walking tomorrow for we will go to THE DESIGN MUSEUM! Can you tell how excited I am??
-Sheila