As many of us will begin on January 1 by making a New Year resolution, I will begin my 2015, not by making it, but living it. Not by eating a salad, or by transferring money into a saving's account, or heading to the gym to do my best "Rocky" montage, (which is Rocky IV by the way, "Hearts on Fire" song in the background, while Rocky chops down trees, lifts rocks, and sprints up mountains, while Drago is training on a space station) but by doing something completely new, in a new place halfway across the world, getting outside of my comfort zone and challenging all that I know to see our world from a new perspective and to continue to grow as an individual.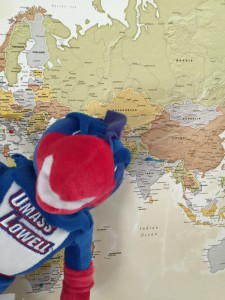 I have been given the opportunity to travel to India, not a new deli in Indiana, as many
of my family thought that heard over the holidays, to take part in an Innovation & Entrepreneurship Program on the global scale.  Traveling with Rowdy (photo)
along with a dozen fellow Umass classmates, we will be learning with a purpose as we team up with a local engineering college and work on real projects with real companies ranging from sustainable development through agriculture to working with physiotherapists to aid patients who cannot walk.
Just as many of us do not know what the rest of the year will bring or if we will even make it past February till we conclude that skinny jeans are dumb and not for me, tonight is full of excitement and wonder, thinking about the future accomplishment of this year's new year decree and all the change it will bring.
With my bags packed, and visa in hand, here comes India and the year 2015…..
5 – 4 – 3 – 2 – 1….Happy New Year!