Web Content is here to help you upload, edit and design meaningful content for your department's web pages. This blog will address frequently asked content and layout questions, provide tips, and inform you about the web editorial process.
Content
In general, all content should follow the Associated Press (AP) style. Newspapers and organizations follow this to professionalize their content and so do we. Having the annual "Associated Press Stylebook" available (an actual book) is a good idea, but our office also provides this style guide.
Common changes we make:
Dr. Brown becomes James Brown, Ph.D. (unless he is an M.D.).
Use Master of Science or master's.
3:00 A.M. becomes 3 a.m., 12 noon or 12:00 becomes noon.
January 10th becomes Jan. 10.
UMass Lowell specific style:
We are UMass Lowell or University of Massachusetts Lowell, not UML.
We no longer capitalize university when used alone in a sentence.
River Hawks is two words.
Our taglines are available on the branding guide page.
Our logos and PowerPoint templates are available on the logos page.
Layout
The web is a great place to display high-quality photography. Low-quality photos make the university look low quality. We have hired many photographers over the years to photograph UMass Lowell events, hopefully your department or we can find something beautiful for your web page in our own photo gallery or archives. You also can purchase high-quality photos from iStock or other photo outlets (by purchasing the photo you have gained permission to use it, but read the restrictions). Do not download images from the internet and assume they are for use by the general public. Someone took the photo and someone owns the photo – get permission.
Embedded Photos – If you want to embed a photo on the page see the Tridion Site Edit guide.

Feature Photo Location – Web Content will size and edit photos for feature photo locations. Just email your high-resolution photo and the web address (url) where you would like it located to webcontent@uml.edu.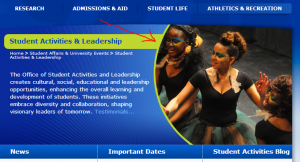 Stay Tuned
Please stay tuned for monthly, detailed content and layout tips!
For questions about how to use Site Edit please refer to the Web Services' site, where you will find the Tridion training manual, FAQs and contact information (and by that we mean Hichame's ext.)!
For questions about content or design call Web Content at ext. 4-3875 or email us at webcontent@uml.edu.