So far so good in Santiago, Chile except for my awful cold (thanks fellow sick co-workers). We have not ran into too many problems, beside getting lost…A LOT. However, we are getting much better with the buses and subways. I do not ride public transportation much back home, so I cannot accurately compare the two, but we have had an abundance of transportation available to us here in the city. The city reminds most of usof a Boston or New York. We are excited to travel to Talca today, to see how those in the suburbs live.
Yesterday while exploring the city we discovered a nursing store. It was closed so we could not enter, but we were peaking through the glass to see what they had. Across the street we also found an orthopedic rehabilitation center. We hadn't seen any of those yet, so that was nice to see. Throughout the streets we have seen a lot of people in wheelchairs, and several amputees. There has been a mixture of handicapaccessibleareas. The public transportation does a good job, but other local streets do not.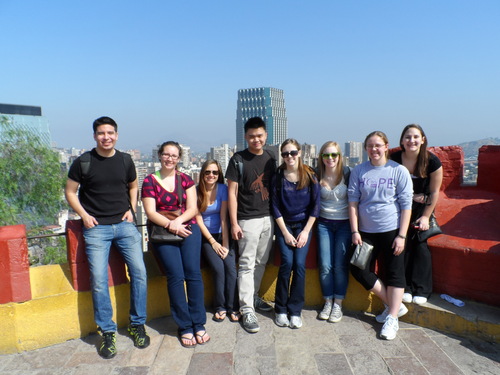 We have also been enjoying using ourSpanish Javier, ourliaisonhas been very helpful. MySpanishis decent so I have been enjoying using mySpanishskills with the locals. The other students at first were asking for help or translation with everything by Javier, Alli or me. However it has been great to see them gradually ask us less and try to communicate on their own.
We are off to a 3.5 hour bus ride, where we are looking forward to seeing a contrast of Santiago. Ourhospitalexperience begins on Monday. We arealleager but nervous for the hospital. We are not sure if we will have wifi or a computer yet, but we will see how it goes!!
We will try to keep you all updated!!
Sincerely,
Sarah Post
View a photo gallery from the trip.
Read older (and newer) posts in thearchive.