The worn streets and plazas are overflowing with activity. As soon as one song fades from our range of hearing, a completely different one takes its place. Stray dogs and cats trot about with confidence. Strong odors, alternating between pleasant and offensive, attack our nostrils. People to the sides either try furiously to attract our attention or gaze at us with mild curiosity. We weave our way through the throngs of people, doing our best to take everything in.
Today is our third full day in Cuba. Over the past few days, we've explored Ernest Hemingway's dwellings, been solidly defeated by a local youth baseball team, and gotten a feel for our residential neighborhood of Vedado. Now, we are making our way through the fascinating historic district of Old Havana. I have noticed so many new details that I forget that it is our second journey through this bustling labyrinth of streets, plazas, and alleys.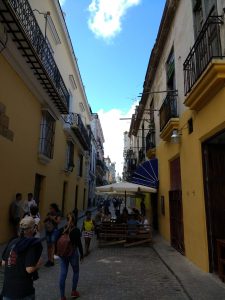 We had started our day at the Centro Estudios Martianos. Like many things in Cuba, this location is tied to the name of José Martí. No one title – academic, poet, revolutionary, writer – is adequate to describe this legendary figure. Though he became a martyr for the cause in his first battle, Martí was the face of the Cuban War for Independence (AKA the Spanish-American War) and a hero among Cubans. We have already encountered his image more times than I can recall. In a small yet comfortable classroom (which featured no less than four of these images), our guest lecturer provided a brief overview of Martí's life and work. The speaker emphasized his humanist perspective and universal value of his writings. As she admitted herself, however, explaining the importance of a man so central to the Cuban identity is an impossible goal for a single lecture.
Following the lecture and a coffee break, we dined at a paladar, a private restaurant sustained primarily by the business of tourists. These venues tend to provide far superior food and service compared to the state-run restaurants. Today's lunch was among the best meals we've had so far, featuring typical Cuban cuisine: rice, beans, fried plantains, chicken, and ropa vieja, a signature dish consisting of shredded beef. Later, our plans to visit Martí's memorial were thwarted by an issue with the site's electricity. Such unforeseen problems in Cuba are not uncommon, and adapting to them is a part of the experience of living here. In keeping with this spirit, we had been released to explore the city independently for the remainder of the day.
Here in Old Havana, I find that my eyes are continually drawn upwards, enticed by architecture that remains beautiful despite its age. No two buildings are the same. Intricate columns and etchings are prominent not only on churches, but also on businesses and residences. Many buildings are covered in solid coats of paint, some of which have been bleached by the intense sun. Staircases, facades, and balconies jut into the straight streets. We frequently spot the Cuban flag suspended proudly above. With every sighting, I am gradually realizing that Cuban patriotism rivals that of the United States.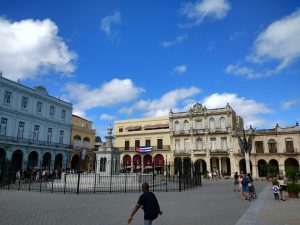 Our return to the logical grid of Vedado is just as stimulating. Every zone we've entered has been packed with points of interest. As we near the edge of Old Havana, we find ourselves in the vicinity of the capitol building, the Great Theatre of Havana, Hemingway's favorite bars, and the former Presidential Palace. Here, the wider streets are shared by large tour buses, horse-drawn carriages, ancient cars, and anything that fits Cuba's loose definition of "taxi". Later, the route takes us along the Malecón, the sea barrier that extends for miles along the coast and is informally known as "the city's couch". Despite the nearby skyscrapers and busy roads, Cuba's natural appeal is as strong as ever here. Pelicans soar through a brilliant blue sky. Waves hurl themselves against the base of the Malecón with such ferocity that spray leaps over the wall. Lush tropical plants frame the sidewalks and buildings. It is easy to see why the island was a top tourist destination in the years leading up to the sweeping Cuban Revolution.
As we approach the recently-reopened U.S. embassy, Martí makes yet another appearance. A dramatic statue of his unmistakable figure stands several hundred yards away from the imposing building. With one arm, he shields a young child; with the other, he raises an accusing finger towards the embassy. The scene is a reminder of the complicated, often-antagonistic relationship between the island nation and its northern neighbor. With the Cuban War for Independence, the island prevailed over Spanish imperialism only to face a new challenger in the United States. Hostility between the two countries reached a maximum sometime after Fidel Castro's Communist revolution, and the U.S. embassy remained closed for most of the Cold War and beyond. Its reopening less than four years ago was one of many landmark strides made by President Obama and Raúl Castro. Today, however, lingering political differences, thorny issues, and President Trump's apparent indifference towards Cuba have given the nations' relationship an uncertain future.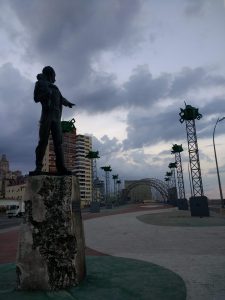 Perhaps this unusual history with our own nation explains my unusual feeling; exploring Cuba feels like exploring something forbidden. It is a country that has only recently opened up to the U.S., one that is just starting to pick up technologies that are commonplace for us. Strange as it is, this feeling is overwhelmed by my excitement. The city's undercurrent of energy is palpable both night and day. It beckons us to explore, and we heed its call almost feverishly. Though it is impossible to experience everything it has to offer, I am certain that Cuba will continue to amaze me in the coming days.