Time has passed very fast. Now, I have already traveled in Cuba for several days. Today, we finished our delicious breakfast at our residence house very early. After breakfast, a bus took us to the Centro de Estudios Martianos for Evelina Cardet's lecture which talked about cooking. Cuba is an island country. It has its special food culture. Evelina Cardet is a faculty from the university of tourism in Holguin. She has her own cooking opinion. "Eating well doesn't mean eating a lot. Eating well is the most important things in health maintain." She put lots of music and songs in her cooking books to make the recipes very attractive. Cuban food is inspired by three major places: Spain, America, and Africa. Most of their original flavors are pineapple, pawpaw, guava, pumpkin, squash, yum and nuts. Most of their meat is shellfish and fish. When the Spanish moved in, they brought grain, rice, spices, onion and garlic and wine. She also mentioned that they combined Chinese food with Cuban food. They use steamed cooking, frying and Chinese sauces. They also learned that Chinese people use some vegetable to make flowers. They call that Chinese butterfly. They found that the Chinese food usually always included rice in their meals. From the French, Cubans included coffee and baking. While from the Americans they got fast food, which the Cubans include with birthday cake for their fast food.
After the Cuban cooking class, I tried to continue researching the history of Cuban cuisine. Cuban cuisine is strongly influenced by southern Spain and particularly Andalucía. In addition, it also contained strong influences from Africa, a little influence from Haiti and French, a little influence from Italian and even some influence from Chinese. This various mix of cultures resulted in delicious flavors with distinctive seasoning and spice. Cuban rum is especially popular and known around the world. They also create the unique flavor combinations within Rum cocktails and drinks.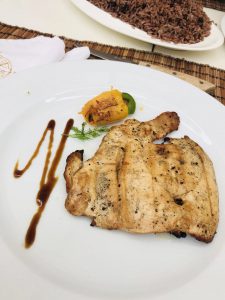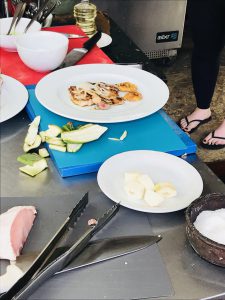 Before I came here, I cannot believe that Cubans eat fruit, beans, and rice with almost every meal. I also feel so grateful that we have meat every day. After I came here, I compared the food's difference between Cuba and China. Although Chinese and Cubans use similar vegetables and fruits for daily life, they still have some different. In China, we eat a lot of white rice without beans. In addition, we cook vegetable with meats and sea food, because meats and sea food are very common in China. Furthermore, in Cuba, people like boiling as a form of cooking. They offer a lot of soup, for example, red bean soup, bean corn with meat. I recall one Cuban professor telling me me Cuba's rice is completely different from the Chinese, and he really misses Chinese rice. In Cuba, if you want some Chinese rice, you should buy it from California. So, a lot of Chinese restaurants in Cuba do not have really Chinese food because they are lack of materials. As a business student, I can understand those restaurant owners. In order to attract more customers, they must reduce the cost. Profit is the most important thing to a business person.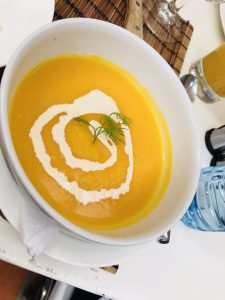 After learning about Cuban cooking culture, we visited a local Paladar Las Bulerias and learned about the rise of privately-owned business in Cuba. We also practiced Cuban cooking in the private restaurant. I learned how to make a sauce for meat. We used garlic, onion, vinegar and oil to make the meat sauce. It is so much more delicious than just eating fried meat. I will try the recipe again when I go back home. We also tried to fry plantain. It needs four steps. First, you need to cut the plantain. Second, you need to use low temperature oil to fry it. Third, you need to press the plantain like a cake which you already be fried on first step. Fourth, you need using high temperature oil to refry it again. I am so happy that I learned a lot cooking tips from today's tour. I will use them after I go back.