Today, we finished our second week of our classes at the University of Cadiz. Divided amongst various classes, those in my class, along with myself, have learned many tenses essential towards establishing the foundation for a future of fluency in Spanish. Our two wonderful professors, Almu and Albierto, have taught us the past, future, and conditional, answering any questions we may have, with patience. Throughout the past two weeks, many of us students have seen an increase with our confidence in the Spanish language and look forward to continuing our education after the program comes to an end.
Aside from the language, I have also learned a lot about the culture and history of Spain, and it's current state. During this study abroad program, I opted into an option third class, focusing on these topics specifically. Although, I have gained a far better understanding of these by also being aware of my environment and engaging in conversations about these matters with my professors, and some of the locals. For example, one thing that took me by surprise was learning that Spain's unemployment rate is approximately at 18%, a figure that is very high. Though incredibly high, the unemployment rate is far better than the 30% that it once was in the recent past. Not only does my textbook cover this topic, and discussion regarding to it occasionally appears in class, it is also present in public. There are many times that I am approached by a stranger asking for money. It is quite sad how frequently it happens and to know how hard it must be for them to find work. Other times, I will witness street performances, showcasing talent or offering some form of entertainment or service for donations. Here is a photo of a headless man, sitting out in public, trying to make a living through such entertainment: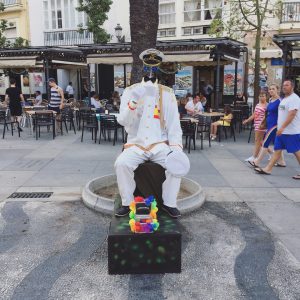 Some great ways that have helped immerse us into the culture are the many excursions we have been on so far. Within the province of Cadiz, we took a journey to Baelo Claudia, which is an ancient Roman archaeological site, containing Roman remains from the period when Spain was a part of the Roman Empire. To better grasp an understanding of many of the topics, they are researched and presented on by the students of the additional class. A classmate, by the name of Phil, and I gave the presentation on Spain in the Roman times. Below is a photo of the ruins.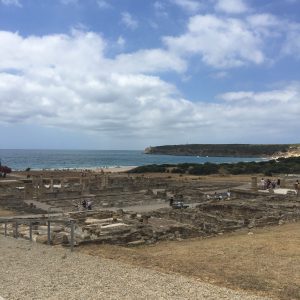 Earlier in the week, we all took a cooking class to learn how to make tapas. And yesterday, we took a ferry to the Port of Santa Maria and partook in wine tasting and sightseeing.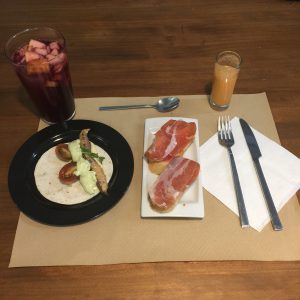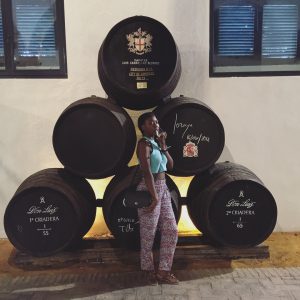 Among the various activities, I have noticed some – I do not want to refer to them as culture shocks – differences. (I, personally, find myself to be very free spirited and openminded that the differences I experience here, in comparison to the United States and England, are no less stunning than seeing the odd things that people back home do.) Anyways, I think one of the two big differences for me are the hours in which the Spaniards eat their meals, for instance dinner is eaten after 21:00, and the permittance of toplessness at the beaches. Another interesting occurrence is the presence of young children at the park across the street after midnight/one in the morning. The community here is interestingly enough: liberal, diverse, and, for the most part, safe.
One experience I really enjoyed since being here, was being at the bar one night and having a woman approach me, speaking English. First, she assured me that she was not trying to sell me anything, and then began to tell me that she was, at that time, working. Her job was to conduct a meet-and-greet situation at the establishment. She was handing out stickers of different flags from different countries. The purpose was to wear the flags of all the languages you spoke and to walk around meeting new people interested in learning or helping teach the language. It was quite a nice activity to partake in because not only did I get the chance to practice my Spanish, but I also got the opportunity to practice my French, and help someone with their English – all in one night.
With so much accomplished in just two weeks, I cannot wait to see what next week has to offer.